Hands-On with the Sony RX1R II Full-Frame Compact Camera
First impressions of Sony's new high-end fixed-lens compact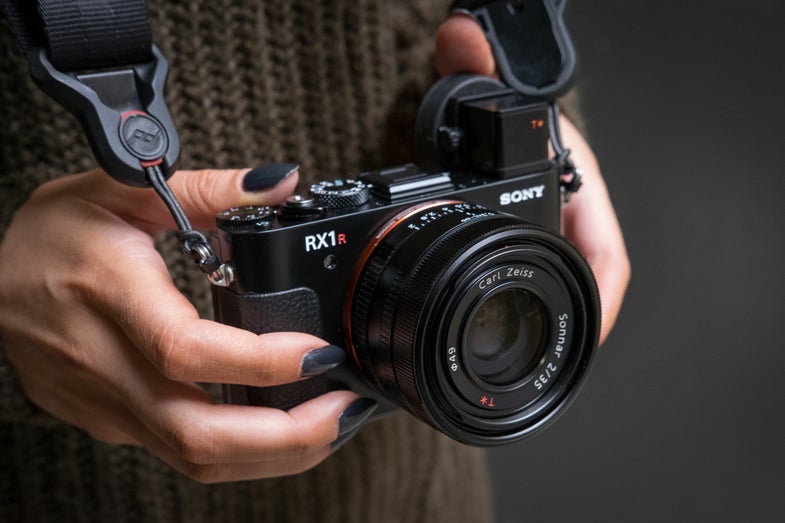 We may earn revenue from the products available on this page and participate in affiliate programs. Learn more ›
Hands-on with the Sony RX1R II
Hands-on with the Sony RX1R II
Hands-on with the Sony RX1R II
Hands-on with the Sony RX1R II
Hands-on with the Sony RX1R II
Hands-on with the Sony RX1R II
Hands-on with the Sony RX1R II
Hands-on with the Sony RX1R II
Hands-on with the Sony RX1R II
Hands-on with the Sony RX1R II
Hands-on with the Sony RX1R II
Hands-on with the Sony RX1R II
Hands-on with the Sony RX1R II
Hands-on with the Sony RX1R II – Bokeh at f/2
Hands-on with the Sony RX1R II – bokeh at f/5.6
Hands-on with the Sony RX1R II – Bokeh at f/11
Hands-on with the Sony RX1R II – bokeh at f/22
About a month ago, I was invited to Sony's Manhattan HQ for a major new camera release – the unveiling of the Sony RX1R II. At the time, I was excited to hear about its specifications, hold it and take pictures of it but I didn't get the opportunity to actually shoot with one until yesterday.
Before picking it up myself, I already knew this fixed-lens compact sported a full-frame, back side illuminated 42 MP chip and a 35mm f/2 Zeiss Sonnar lens. Having held it a few times, I was familiar with its design – with a mostly metal body and pop-up EVF. As I suspected, it was a hoot to shoot with.
From a physical standpoint, the RX1R II is great to hold. For a compact camera it has real heft, due in no small part to its Zeiss glass, I'm sure, as well as its durable construction. The top-mounted dials and selector switches have a good deal of mechanical resistance to them – ensuring that you won't change your settings accidentally in your pocket. Moving in 1/3 stops, the aperture ring likewise requires enough force to make you believe the lens is mechanically controlled.
Despite its small size, shooting with the RX1R II didn't make me feel like I was using a compact. Actually, I found it more comfortable to shoot and compose with than many DSLRs and medium-format cameras I use regularly. Skeptical? I wouldn't blame you. The RX1R II isn't for everybody. In particular, I wouldn't recommend it for eyeglass wearers. As an NMP (non-myopic person), I'm free to jam all kinds of awkward eyepieces and diopters into my face, something that the bespectacled photographer can't always do.
The new Sony RX1R has a 0.39 2.36 million dot OLED EVF (more on that in a minute) that pops out of the top left-hand corner of the camera. Sony kindly includes a circular rubber eyecup that fits over the EVF with the camera. When attached, the eyecup allowed the viewfinder to fit surprisingly comfortably into my eye socket. Meanwhile, a small rubber protrusion on the back of the camera provided an ideal place to press my thumb while resting my index finger on the shutter release. The set-up provided for a very natural feel that I didn't expect from a compact camera.
Although I'm not predisposed to enjoying EVF's – the "Tru-Finder" on the RX1R II made me almost forget I wasn't using an optical finder. A fast refresh rate provided for imperceptible lag-time and it's small but magnified display presented a smooth and crisp picture, remarkably so for its size. While I was impressed with it, I did regret that the viewfinder necessitated an eyecup to make it worth using as the accessory prevents the EVF from folding back into the camera, is difficult to take off and on and frequently got caught on my camera strap.
After returning from my first shoot with the new Sony and unloading my RAW files, I was impressed with the results. The Zeiss optics (which are forever-coupled with the RX1R II's CMOS sensor) delivered well-rendered, sharp images with little noticeable light falloff or distortion. Shooting wide open at f/2, the bokeh was smooth and clean and left little to be desired. With its fixed 35mm focal length, this camera makes an ideal companion for the street-shooter or landscape aficionado more than the portrait photographer. Those who like to get up close and personal however, will be keen on it's 7.87 inch focusing distance when clicked into an optional macro mode.
Overall, I quite enjoyed trying out the RX1R II. The only downside, apart from my qualms with the viewfinder situation, is the battery life. With only screen-based options for composing, the Sony chews through batteries like a '57 Chevy chugs gas. With a full charge, I hit the last bar of my battery life after about 30-40 minutes of shooting. One way to solve the problem might be to stick a sports finder, like this Ikodot in the hot shoe and compose the old fashioned way. Either way, serious shooters will want to bring plenty of batteries with them if they intend to put this camera through its motions.