Check Out All the Camera Gear at the Olympics
Nikon and Canon brought full-on camera arsenals to the Tokyo Olympics. Here's a look inside their epic gear rooms.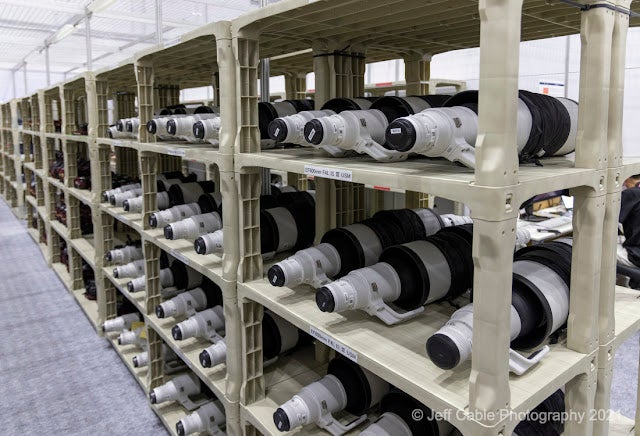 The Tokyo 2020 Olympics aren't just a showcase of incredible athletic performances—they're also a showcase of the latest and greatest camera gear from Canon and Nikon. Let's have a look inside their gear rooms. 
What are Canon and Nikon doing at the Olympics?
Canon and Nikon have long had a presence at big sporting events. For things like the World Cup, the summer and winter Olympics, and the Super Bowl, their Professional Services divisions are on hand to help out the hordes of sports photographers vying to capture every important moment of action—and maybe get a bit of publicity for themselves. (Canon has a suitably grandiose statement about it all on its website.)
As anyone who's shot even a kid's game of softball before knows, sports can be unpredictable. Gear can break or get stolen, dust or water can get stick on a lens element, and things can generally go wrong. Both Canon Professional Services and Nikon Professional Services are there to do everything they can to keep sports photographers shooting whatever happens. This includes things like servicing and repairing any gear that breaks (with a less-that-24-hour turnaround time!), as well as loaning any necessary replacement equipment, and leasing out super-expensive gear like Canon's $15,000 EF 600mm f/4L IS telephoto that photographers might not have in their kit bag as standard. 
To do all that, Canon and Nikon have to bring drool-worthy amounts of high end equipment. Just checkout the photos scattered through this article. Most contain enough gear that, even sold on the secondhand market, buying it all would cost more than a house (even in this market). Photographer Jeff Cable, who's at the games, was lucky enough to get some behind the scenes pictures. In the shot above, I can count somewhere around 30 of those 600mm Canon telephotos: that's close to half-a-million dollars worth of glass. Check out our interview with Cable from back in 2014.
What gear do they have to hand?
All the gear available from Canon and Nikon's war rooms give a really interesting insight into what professional sports photographers rely on the most. 
From what we can see, Canon has brought a lot of: 
1DX Mark III DSLRs.
EOS R5 and R6 mirrorless cameras.
Telephotos, like the EF 200-400mm f/4L and EF 400mm f/2.8L.
General purpose zooms, like the EF 24-70mm f/2.8L and the EF 16-35mm f/2.8L. 
While Nikon has gone with:
D6 DSLRs.
Z6 II and Z7 II mirrorless cameras. 
Every lens you can imagine, from 14mm wide angles up to 800mm super telephotos. 
A peek at what's to come
Events like the Olympics are also an opportunity for Canon and Nikon to do some serious real world testing of any forthcoming gear. 
To that end, some lucky photographers—like the aforementioned Cable—have been shooting with pre-production units of unreleased camera bodies. From what we can tell, Canon has photographers testing the R3 while Nikon is testing the Z9. Details are still a bit sparse, but it looks like the R3 at least will have a 24MP sensor and a 30 fps burst mode.