New Gear: The Canon XC10 Is a High-End Hybrid Camera That Shoots 4K Video
Canon's unique-looking camera shoots 4K video and 12-megapixel stills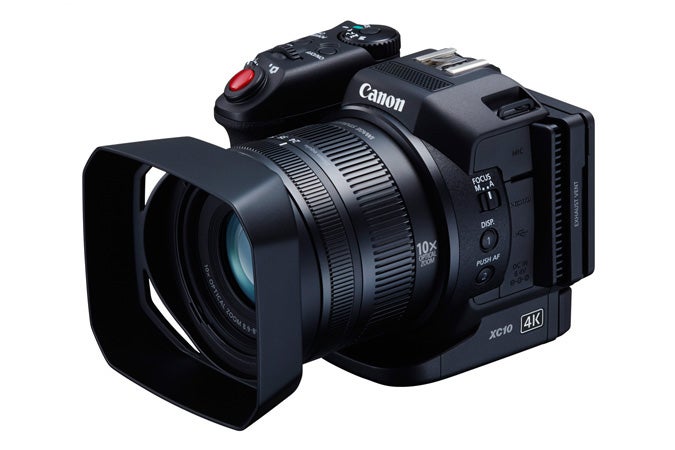 We may earn revenue from the products available on this page and participate in affiliate programs. Learn more ›
The NAB show is kicking off in Las Vegas pretty soon, so you can expect to see some interesting new video and audio products popping up in the next week. Canon is kicking things off with a rather unique camera, the XC10, which is meant to take the place of a more traditional camcorder.
The camera looks a bit like a hybrid between a super-zoom and the super-high-end cinema cameras like the C300. It has a 1-inch sensor inside and a 10x optical zoom lens attached to the front. It has a 35mm equivalent focal range of roughly 24.1-241mm in 12 megapixel still mode and 27.3-273mm in video mode.
The big draw here, obviously is that it shoots native 4K footage right to the memory cards (it has a pair of slots.) The whole thing weighs just over two-pounds, which means that you could, in theory, attach it to a drone.
The rest of the feature are very clearly taking aim at what used to be the camcorder market before DSLR video became the 800-pound gorilla. It uses the Digic DV5 video-specific image processor and has 5-way image stabilization built-in. It has a variety of different recording modes depending on the bitrate and Image quality you want on your footage. It also has dedicated microphone and headphone jacks, as well as a stereo mic that video shooters will probably never use.
The display rotates and so does the grip on the camera, so you can use it at waist level or hold it up over your head and still see what you're doing. There's also an eye-level finder adapter you can attach to the screen so you can use it that way if you prefer.
There's built-in Wifi as well as an integrated ND filter so you can take finer control over your shutter speed in a wider variety of lighting conditions.
In short, it really does do pretty much everything you'd expect a high-end camcorder to do. The camera will cost $2,499 and come with a 64 GB CFast card as well as a reader for it. As photographers, we're not used to paying that much for a camera with an integrated lens, but in terms of video cameras, it seems more reasonable. If you want a 4K video camera that can be dangled from a drone, this might be a good option. It will be interesting to see how it stacks up against its competition, which comes in the form of the few other native 4K cameras like the Panasonic GH4.