Lens Test: Rokinon 50MM F/1.4 AS IF UMC
A manual-focus speed demon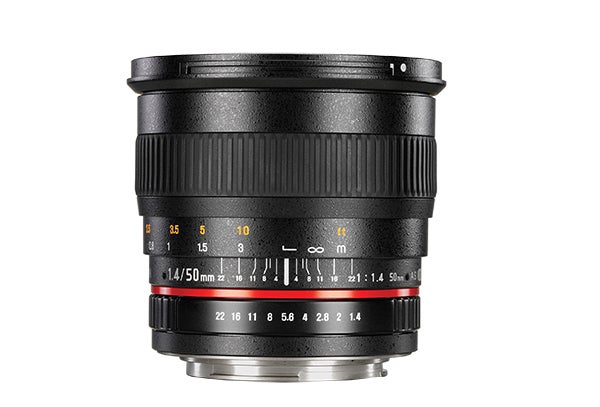 We may earn revenue from the products available on this page and participate in affiliate programs. Learn more ›
According to the manufacturer, fans of Rokinon's growing line of high-speed, manual-focus lenses—now 15 strong—were clamoring for a classic 50mm f/1.4. They finally got it; actually they got two. Rokinon now offers a standard 50mm f/1.4 AS IF UMC full-frame lens ($399, street) and its cousin, a video-friendly version known as the 50mm T/1.5 Cine DS. Both lenses are available in five mounts. Our test optic was the standard Canon-mount 50mm f/1.4 "Digital Photo" lens—so named to distinguish it from the Cine variant.
The lens has an aluminum alloy barrel and weighs in at 1.18 pounds, about 6 ounces heavier than most 50mm f/1.4 glass that we've tested from Canon, Nikon, Sony, and Zeiss. Only Sigma's 1.83-pounder weighs more. The same holds true for length: At 3.22 inches, the Rokinon is longer than all the others except the Sigma at 4.1 inches.
The focusing ring is easy to grip, and its 140-degree turning radius suits it to extremely fine focusing. Its turn was inaudible in a test video. The focusing-scale numerals in feet (orange) and meters (white) are nice and bright; the orange practically glows. The depth-of-field scale spans the entire aperture range, and came in very handy in situations in which precision-focusing ranges mattered most.
While this lens made a strong showing in the Popular Photography Test Lab, it really won us over in the field. Especially when shooting close in at maximum aperture, it pro-duced strongly satisfying sharpness in the in-focus subject and a nice bokeh just inches before and beyond.
Setting exposures on our Canon EOS-1D X test body was easy. Aperture Priority and Program modes automatically set correct shutter speeds for the lens-set apertures. In Shutter Priority and Manual modes, we referred to the viewfinder metering scale.
On our lab's optical test bench, the Rokinon earned Excellent-range SQF scores that roughly matched the other 50mm f/1.4s. In our distortion tests using DxO Analyzer 5.3, though, it did not perform as strongly, landing in the Visible range (0.32% barrel distortion) as opposed to the Slight- or Impercept-ible-range showings of the other models.
The Rokinon rebounded in our vignetting tests, however, matching its Canon, Nikon, and Sony rivals with light falloff at f/2.8. The Zeiss and Sigma beat them narrowly at f/2. With close focusing distances, the Rokinon fell mid-pack, but its maximum subject magnification ratio of 1:5.79 was second only to the Sigma's 1:5.04.
Rokinon lenses usually carry the lowest price in their class, and this one is no exception. The Canon 50mm f/1.4 streets for the same price, but it offers autofocus, which remains a must for some shooters (unlike the Rokinon, it doesn't include a hood). Manual-focus fans, though, should definitely give this Rokinon a look.
SPECIFICATIONS
50mm (53.08mm tested), f/1.4
(1.54 tested), 9 elements in 6 groups. Focus ring turns 140 degrees.
Diagonal view angle: 46 degrees
Weight: 1.18 lbs
Filter size: 77mm
Mounts: Canon EF, Nikon, Pentax, Sony A, Sony E
Included: Lenshood, lens pouch
Street price: $399
Website: rokinon.com
TEST RESULTS
Distortion: 0.32% (Visible) barrel
Light falloff: Gone by f/2.8
Close-focusing ****distance: 17.25 inches
**Maximum magnification ratio: **1:5.79