Canon Drops Prices on a Bunch of High-End L-Series Lenses
Canon is giving their L-series lenses new lower prices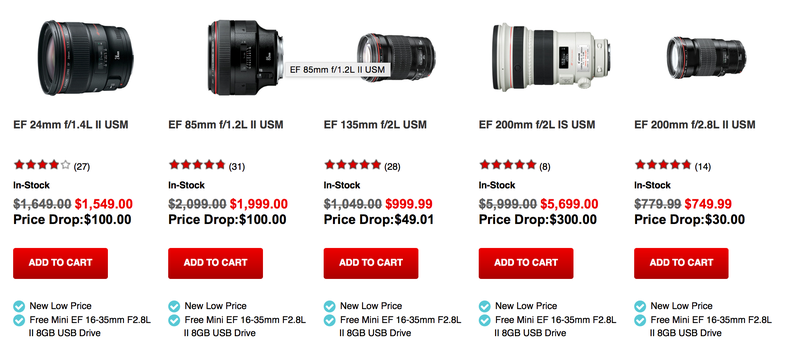 We may earn revenue from the products available on this page and participate in affiliate programs. Learn more ›
One of the things you learn early on when you start getting into photography is that good lenses aren't cheap. Canon, however, just dropped the prices on more than 30 of their lenses, some by hundreds of dollars.
The price drops seem to reach across almost the entire L-series. There's the typical stuff, like the 24-70mm F/2.8L II USM and the 70-200mm F/2.8L IS II, both of which have dropped by $100 to $1,899 and $2,099 respectively. Then, there's also the specialty lenses, like the 24mm TS-E F/3.5L II tilt-shift lens and the super massive 800mm F/5.6L IS. You'll also notice price reductions on just about everything in between.
These are Canon's high-end lenses, so you still won't be finding enough cash in the couch cushions to buy them, but these aren't insignificant discounts. It will be interesting to see how long the price reductions stick around and also how they affect overall sales.