Printer Test: Epson Surecolor P600
This new 13-inch printer gets great results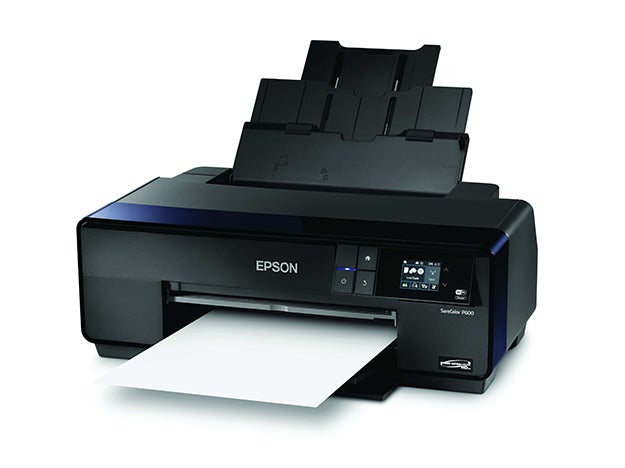 We may earn revenue from the products available on this page and participate in affiliate programs. Learn more ›
Desktop inkjets that make photo-quality pigment prints come along rarely. The 13-inch models now on the market have been around for a few years: Canon's Pixma Pro-1 and Pro-10 printers came out in 2013, and Epson's Stylus Photo R2000 is even older. That's just one reason we were glad to see Epson replace its aging Stylus Pro R3000 with the new SureColor P600 ($800, street).
Not by accident did Epson take the SureColor brand name from its line of professional studio production printers and apply it to this model, aimed more at enthusiasts. Our extensive field testing revealed superb print quality for both color and black-and-white images.
Fans of the R3000 will feel right at home with the P600, which lifts many features from its predecessor, including the way it loads media, its ink cartridge size, and the number of inks in the set. The SureColor P600 adds wireless capabilities, outputs much longer prints (up to 129 inches, especially good for canvas panoramas), and boasts greater black ink density and color saturation for noticeably better image quality. A new touchscreen control panel contributes to its ease of use.
A step up from the R2000 (which remains on Epson's roster), the P600 swaps black inks for more effective printing on different media, and its cartridges hold more ink—25.9 versus 17 milliliters. And while it falls below Epson's popular Stylus Pro 3880 17-inch printer in the company's lineup, its print quality and speed may make it the better choice if you don't need the larger size.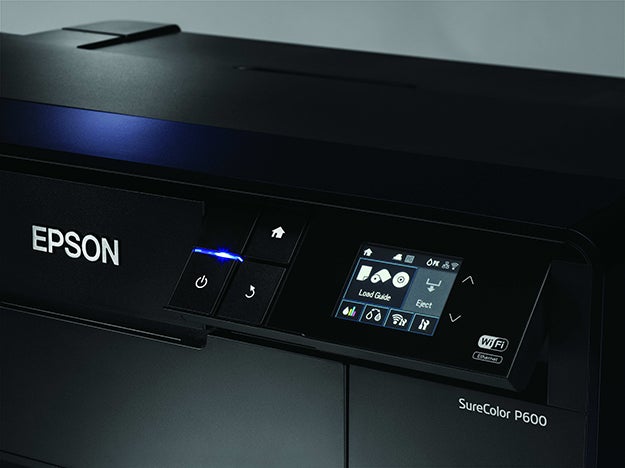 Setup and Speed
The SureColor P600 is a well-designed and elegant-looking machine. About 24 inches wide and 15 inches deep when no trays are extended, it will easily fit on most desks or rolling carts. When open, the rear support feeder adds about 2 inches to the depth, and the two roll-paper attachments, which can be removed and stored when not in use, add about 5 inches. Its boxy shape and light weight of 35 pounds make it easy to move around a home or studio—or bring to events for on-the-spot printing.
Setup is similar to other inkjet printers. Charging the inks took about 10 minutes. Installing the printer driver, downloaded from epson.com, was fairly straightforward. Wait until prompted by the installer to connect your printer to your computer, or you may install a very basic driver instead of the full-featured one. (Look for more tips in the expanded version of this review on PopPhoto.com.)
The P600's new 2.7-inch color touchscreen is a true joy to use. One of the nicest of its many features is step-by-step guidance for feeding different media. With just the touch of a button from the home screen, it also provides a clear and colorful representation of the ink levels and indicates which black ink is loaded.
The five feed options include a main top-loading feeder in the center of the machine, two roll-paper holders that hook onto the back, a front feed tray intended for sheets too thick for the top-loading feeder (which maxes out at 1.3mm), and a CD/DVD tray. Using the front feed can get tedious, since for each print you must open the tray before loading then close it before printing.
Luckily, we found that many heavy papers fed just fine through the main (top-loading) feeder, including Epson's Hot Press Bright (17 mil thick, with a weight of 330 gsm). Still, it's best to load heavy sheets one at a time. In our tests, the main feed tray held and fed about 40 sheets of 10.4 mil photo paper (4×6-inch and letter-size) with no problems—a good quantity for long sessions. Epson states that the P600 will hold up to 120 sheets of plain paper and 30 sheets of photo paper; it can hold fewer sturdily as the sheet size increases.
Printing images from our computer hard-wired to the printer was considerably faster than with the competing Canon pigment ink printers and similar to the Epson R3000, but not as fast as the R2000, which uses fewer inks. Wireless printing speeds were noticeably slower, taking more than 50 percent longer, even with an excellent network connection; you may notice a lag if your wireless network bandwidth falls below 50 Mbps, especially when making large prints.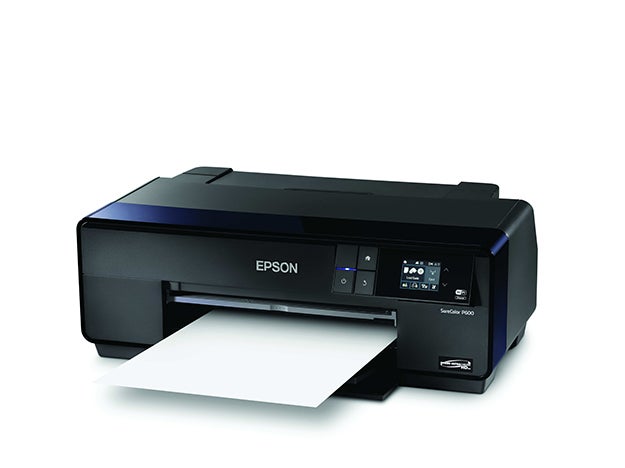 We performed these tests with the Photo Black ink and Ultra Premium Photo Paper Luster at the Luster Paper setting. At the Photo 1440 setting (middle quality option), the P600 took a little more than 4 minutes to crank out an 8×10-inch picture on 8.5×11-inch paper and less than 10 minutes for a 12×18-inch photo on 13×19-inch paper. Using the High Speed mode, in which the print head lays down ink in both directions as it moves back and forth, cuts the print time by more than half. (See the table on the previous page for more details.)
Being able to print a borderless 4×6 in about 35 seconds at the SuperFine 1440 setting with High Speed enabled was a pleasant surprise and convinced us that the P600 could be ideal for use at events or fast-paced studio sessions. At the fastest settings, it printed semigloss 8x10s about a minute faster than Canon's Pro-10, and matte 8x10s about two minutes faster.
We tested the P600's wireless capabilities using Epson's free iPrint app on Apple devices running iOS 8. It was extremely easy to select a photo from our Camera Roll or iCloud drive, then choose a paper size and paper type. We could also set up a queue for multiple prints. During printing, the app would not allow us to prepare any more images to print, as we could in Adobe Photoshop or Lightroom, but we could use other smartphone functions.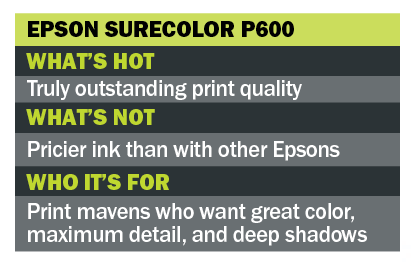 Photo Print Quality
Like the Stylus Pro R3000 and 3880, the SureColor P600 has nine inks on board, of which eight work at any one time. The matte and photo black inks share a channel, so a swap must occur when you want to switch from semigloss or gloss papers to matte media. We were hoping this would not be needed with this new model, but at least Epson has reduced the time it takes, as well as the amount of ink it eats up. Our test print in Save Ink Mode looked just fine, so we recommend applying it to hold your ink costs to about 1ml (about $1) each time you switch between the black inks.
In assessing image quality, one of the SureColor P600's greatest strengths is the density of the deep shadow areas. This counts among its chief advantages over every other pigment inkjet printer we've reviewed to date. The increased density was noticeable with all the media we tested, including Epson's Ultra Premium Photo Paper Luster, Metallic Photo Paper (Glossy and Luster), and Exhibition Canvas Satin, as well as in fiber inkjet papers from Canson, Hahnemühle, and Red River Paper. Monochrome prints made using Epson's Advanced Black and White mode (built into the driver) produced stunning results on all the papers we tested.
But where things really got exciting was with matte media such as Epson's Hot Press Bright and Ultra Premium Presentation Paper Matte as well as a few matte canvas products, which benefit from an extra punch in the deep shadow areas.
Printing at higher res will boost overall contrast and detail to bring out the most of the P600's new ink set (especially with semigloss and glossy papers). In our tests, avoiding High Speed mode resulted in slightly better detail and better shadow density at the same print resolution. But on matte papers and canvas, the variations in print quality at different settings were much less apparent, letting us make an extremely high-quality 11×60-inch print on a 13-inch-wide roll of Epson Exhibition Canvas Natural Gloss using the Photo 1440 in High Speed mode in just 10 minutes 40 seconds.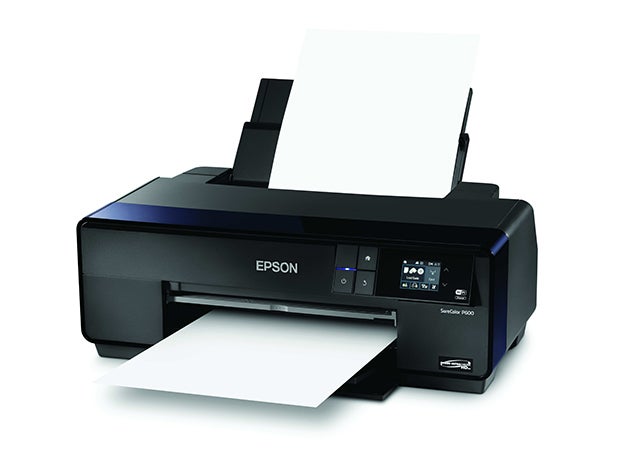 Bottom Line
The SureColor P600 costs about $150 more than Epson's Stylus Pro R2000 (that's before Epson's frequent rebates). Priced between its two 13-inch rivals from Canon, it streets for about $100 more than the Pixma Pro-10 and $200 less than the Pro-1.
The cost of ink is also a consideration, but it's hard to compare price across ink sets, since each printer uses ink differently. While the P600 has nine inks, the Pro-1 holds 12, five of them monochrome, in 36ml tanks; the Pro-10 has 10 inks, three of them monochrome, in 14ml tanks. More inks should result in fewer ink changes, but it also means you'll have to purchase more cartridges if you want to have an extra one on hand at all times. All of these printers come with full cartridges.
For our money, Epson's SureColor P600 is worth the price. It's not every day that a groundbreaking printer comes along. We were truly blown away by the depth of shadows, color saturation, sharpness, and detail on all of the media we tested it with. Being able to print fast (especially with matte media and canvas) with only a small sacrifice in quality was another big plus. And having a printer at the ready to print straight from a phone was icing on the cake.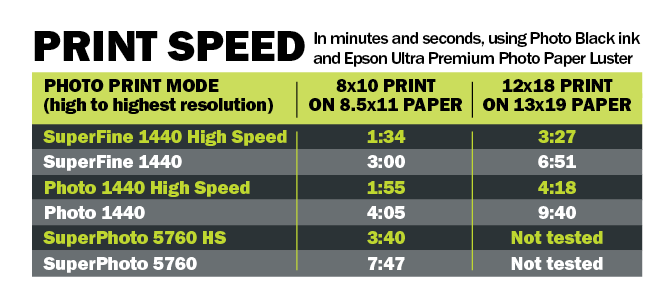 _This table shows how print speed varies by resolution and size, clocked from when the P600 lays down the first line of ink. _
SPECS:
**MAXIMUM PAPER SIZE: **13×129 inches (through all feed paths)
**INK TYPE: **Pigment-based
INK TANKS: New nine-ink Epson UltraChrome HD set: (eight used at any one time), 25.9 ml each: Photo Black, Matte Black, Cyan,
Vivid Magenta, Yellow, Light Cyan, Vivid Light Magenta, Light Black,
Light Light Black
**MEDIA: **Cut-sheet and roll media from 3.5×5 in. to 13×129 in.; plain, glossy, semi-gloss, matte, fine art paper; roll paper and canvas; CD/DVD
RESOLUTION: Up to 5760×1440 dpi (color and black) 2.7-inch tilting touch-panel LCD, Wireless LAN, Ethernet, Hi-Speed USB (cables not included)
COMPATIBLE WIRELESS PRINTING SOFTWARE: Epson Connect; Epson iPrint Mobile App; Apple Airprint; Google Cloud Print
**SOFTWARE:****** Raster photographic drivers, Print CD app (Mac/Windows)
DIMENSIONS: 24.2×14.5×9 in. (WxDxH); 35 lbs
STREET PRICE: $800
INFO: epson.com
Andrew Darlow (imagingbuffet.com) is a photographer and author of _301 Inkjet Tips and Techniques._