eBay Watch: This Massive Canon Manual Focus Collection Costs a Cool $100K
Let's get this and go shooting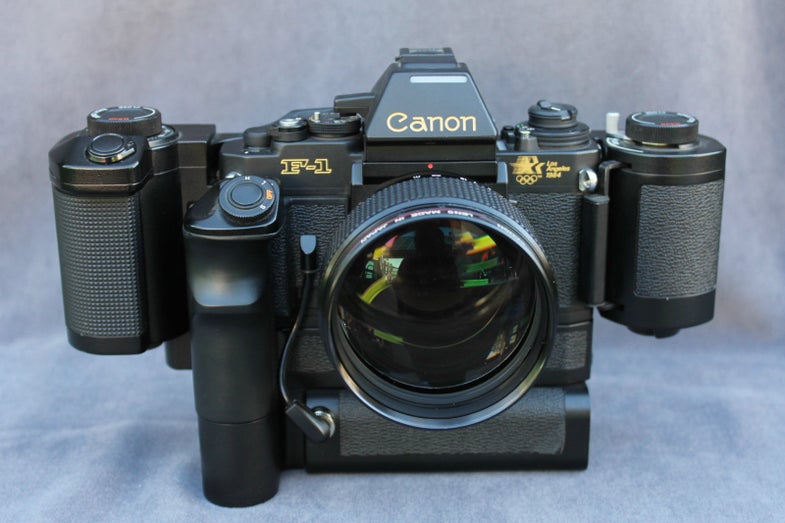 Many of the super-expensive auction items we write about here on the site are collector's items that aren't really meant to be used for photography anymore. This massive collection of Canon manual-focus bodies and FD lenses, however, looks like it would be a ton of fun to run some rolls of film through.
The auction has a handful of bodies, including a pair of F-1s and an A-1, but the interesting part is how many accessories come bundled with them. That beautiful monster up above is an F-1 Los Angeles that was released for the Olympic Games. It's a veritable Voltron with the motor drives, high-powered battery packs, extended film chamber, and even alternative screens and finders. The other bodies have a similar suite of awesome accessories.
On the lens front, the auction has some real gems, many of which come from the original L-series manual-focus line-up. The massive FD 800mm F/5.6 alone is quite a find. The auction has everything from wide angle primes like the 24mm F/1.4L to some classic zooms like the 80-200mm F/4.
The rest of the auction includes extenders, converters, caps, original battery packs, a couple old flashes, "more than a hundred original Canon filters," and tons of documentation.
Sadly, since Canon changed the flange distance when they went from their FD mount to the EF mount, none of these will work easily with modern Canon DSLRs. However, it sure would be amazing to grab a brick of film, load up the bodies with the big lenses and pretend it's the good old days.