Lens Test: Zeiss Otus APO Planar T* 85mm f/1.4 ZF.2
Meet 
the best 
85mm we've seen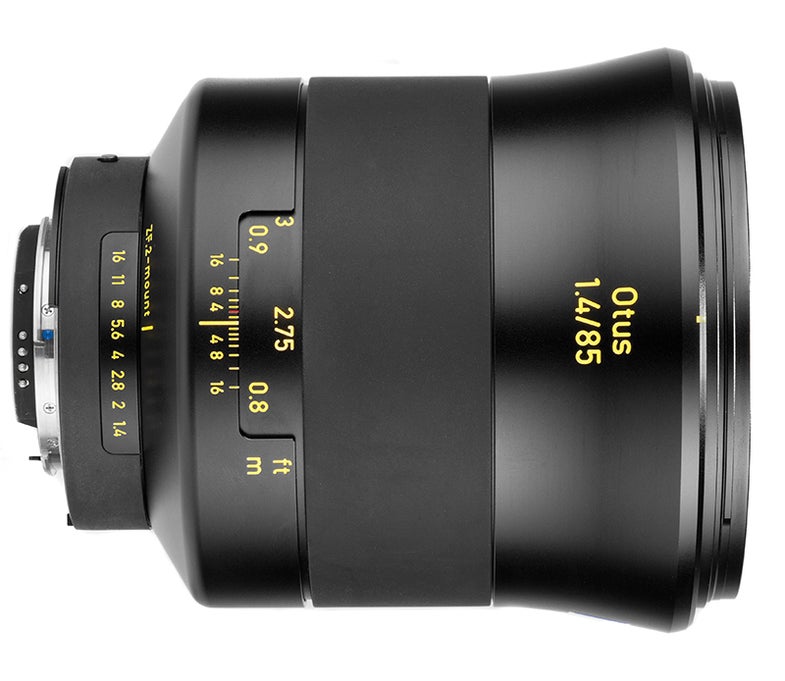 We may earn revenue from the products available on this page and participate in affiliate programs. Learn more ›
Of all the eight 85mm lenses we've ever tested on our optical bench, the Zeiss Otus APO Planar T* 85mm f/1.4 ZF.2 (Nikon mount) and ZE (Canon mount) lenses are the largest, heaviest, and most expensive. Compare our Nikon mount's street price of $4,490 to Sony's 85mm f/1.4 Carl Zeiss Planar T* ($1,698, street). Why the gaping disparity? In part because, like the 55mm Otus before it, this lens—the second focal length represented in Zeiss's ultra-premium Otus line—includes some pricey elements. One aspheric element boosts sharpness, especially at the edges, and several low-dispersion optics control chromatic aberration. It's also a gorgeous precision instrument.
The all-metal body has a beautiful matte black finish. The ZF.2 version we used is the heaviest 85mm we tested—11 ounces over Sigma's 85mm f/1.4 EX DG HSM. It is also the longest of the current crop of 85mm f/1.4s, and it takes 86mm filters
—most lenses in this category have 72mm or 77mm threads.
Made for precise manual focusing—no autofocus here—the large rubberized focusing ring turns a massive 280 degrees. Its action is silky smooth, but prepare to work slowly at first. The wide maximum aperture and the limited depth of field that go with it make it a bit of a challenge to keep your focus-confirmation alert illuminated.
On our Nikon D810 test body, the focus confirmation worked perfectly, and with practice we were able to find accurate focus reasonably quickly. Nikon shooters, note that you'll need to activate aperture ring control in the custom settings if you want to use the lens's aperture ring instead of the camera body's command wheel. To use the camera to control aperture, the aperture ring has to be set to f/16. Video shooters will experience a slight amount of focus breathing, meaning that the framing shifts a bit as you change the plane of focus.
On our optical bench, the 85mm Otus showed the best SQF results for sharpness and contrast of any of the current 85mm f/1.4 lenses we've tested. Especially impressive were its results at its maximum aperture: Where other 85mm lenses faltered slightly, this Otus remained razor sharp. Sigma's 50mm f/1.4 EX DG HSM ($349, street) managed to beat it on SQF, but the Otus is still among the best lenses we've run through this test.
In DxO Analyzer 5.3 distortion tests, the 85mm Otus matched the Sigma and Zeiss's own Planar T* 85mm f/1.4, showing Imperceptible levels of complex distortion. Granted, all of the other current 85mm f/1.4 lenses we've tested have shown Imperceptible barrel distortion, but those from Nikon, Rokinon, and Sony came closer to dropping a grade. The Otus, along with the Sigma and a non-Otus Zeiss, were nearly distortion-free.
Light falloff is the one area where the Otus loses to its rivals. Zeiss's other 85mm vignettes to f/2; Nikon and Sigma check in at f/1.8; and the Sony is the best of the bunch, with vignetting gone by f/1.7. The Otus, on the other hand, doesn't eliminate light falloff until f/2.5. Given that this can be corrected easily in post-production, such vignetting is not horrible—plus, if Zeiss had to make a sacrifice in one area, this is the best place to do so.
On its website, Zeiss calls the 85mm Otus "the best short tele lens in the world." With the level of detail we saw in the images we captured and the luxurious feel of shooting with this massive lens, we're inclined to agree. The lack of autofocus and the hefty price will make some shooters pass on this lens. But those who choose to buy one will likely have found a best friend for life.
SPECIFICATIONS
**85mm: **(84.93mm tested), f/1.4*, 
11 elements in 9 groups. Focus ring turns 280 degrees.
Diagonal View Angle: 28 degrees
Weight: 2.39 lbs
Filter Size: 86mm
Mounts: Canon, Nikon
Included: Lenshood
Street price: $4,490
Website: zeiss.com
TEST RESULTS
Distortion: 0.02% (Imperceptible) complex
Light Falloff: Gone by f/2.5
Close-focusing Distance: 31 inches
Maximum Magnification Ratio: 1:7.20