First Impressions: Sigma 150-600mm F/5-6.3 DG OS HSM Telephoto Zoom Lens
We take Sigma's new monster zoom lens for a spin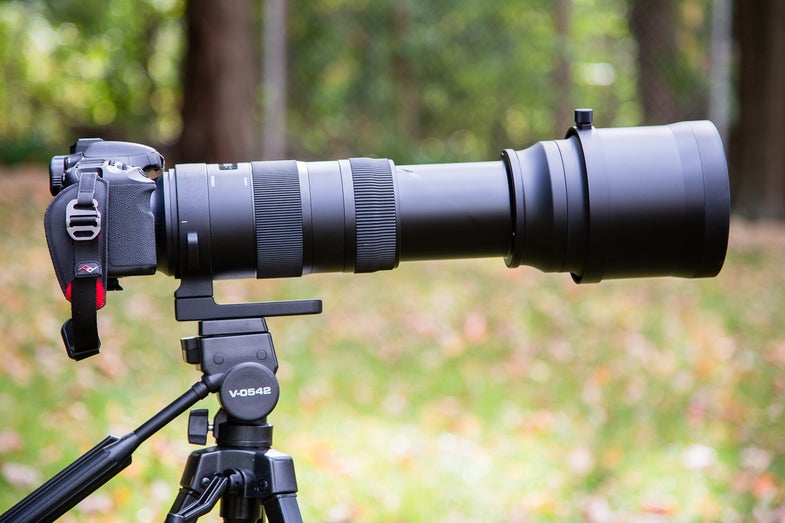 We may earn revenue from the products available on this page and participate in affiliate programs. Learn more ›
To be completely honest, 600mm is not a focal length with which I feel intimately familiar. But, when I got the chance to spend a few days with Sigma's new 150-600mm F/5-6.3 super-telephoto zoom lens, I was eager to dig out my tripod and point my camera at some things far away. While this isn't a full lab test, I do have some initial thoughts and impressions to share about the lens.
Using it
With a zoom range like 150-600mm, you expect a lens to be big, and this one doesn't disappoint. It weighs over 6.25 pounds and, when fully-extended, it's about the length of my forearm from my elbow to my finger tips. So, yes, it's big. It comes with a rather nice case for carrying it around. I also managed to squeeze it into my full-sized Lowepro camera bag if I detached the body, the tripod collar and the hood, so it's not a total bazooka.
As the OS in the name suggests, it has optical image stabilization built-in, which is pretty much a necessity in a lens this long. While our lab tests will determine exactly how effective the OS is, I did find it to be pretty effective, giving me opportunities to shoot hand-held at F/6.3 when zoomed all the way to 600mm.
Both the zoom and focus rings feel incredibly sturdy and smooth and are plenty big, so they're easy to find and manipulate without taking your eye away from the viewfinder. There's also a lock switch for the zoom ring. That came in handy when mounted on a tripod (hate to mess up a shot you took forever to set up), but it's even more important when you're walking around. Since the lens and hood is so heavy, sometimes it would slide to full extension as you walked with it. The lock prevents that.
Build
One of the things I really like about this lens is that just about everything on it is made of metal. That seems especially important for a lens that extends when it zooms. And, while it makes the whole package rather heavy, it also makes it very sturdy, which is crucial for a sports lens like this one.
The front and back elements have protective coatings meant to repel things like water and finger prints. With a 105mm front element, there's lots of room for both. And while I couldn't bring myself to jab a grimy thumb onto the front element, I did take it out in some tough conditions.. Between the burly metal hood and the coatings, the glass stayed looked remarkably pristine. I was impressed.
The tripod collar is also appropriately burly, offering three different quarter 20 ports on the bottom for mounting on a tripod or hanging from a strap. I found that even when I was shooting handheld, the collar gave me something handy to hold onto.
Performance

For a sports lens like this, AF is a crucial thing for me, and Sigma seems to have put a lot of work in there. It's not the fastest AF in the world, likely because of how heavy all those glass elements are, but it never felt sluggish. It's also extremely silent and very smooth, which are both pluses.

A 100% crop of a small grasshopper. Noise as a result of the 3200 ISO.
From an image quality standpoint, it was able to turn out some extremely pleasing bokeh. That might not be something you expect from a lens with a maximum aperture range of F/5-6.3, but you have to remember just how many millimeters of focal length we're dealing with. Get close and zoom to 600mm and you can make an entire background scene pretty much melt completely.
I did notice some vignetting at the corners on a full-frame body, which seemed to be fairly consistent all the way through the zoom range. It's not severe and it's easily corrected, but it's worth mentioning.
I found the images to be a little flat in terms of contrast, but that's honestly how I prefer them, so I can make my adjustments in post. They were still bright and didn't overwhelm the image with contrast, which has been the case with some other super-telephoto lenses I've used.
For a $2,000 lens, it seems to do a lot. At 150mm, it's not impossible to shoot very nice portraits with it. I could hand-hold it, but I also have the hands of a yeti. At 600mm, you can pick out subjects like birds or individual players on a sports field without a problem.
Mounted to a crop-sensor body, the amount of reach you can get is actually pretty astounding. At one point, I had it mounted to a Canon 7D with a 1.4x tele extender on it. At that point, though, it went to F/8 as its maximum aperture and the AF stopped working.
Check back in a few weeks for our lab test to see how it fares.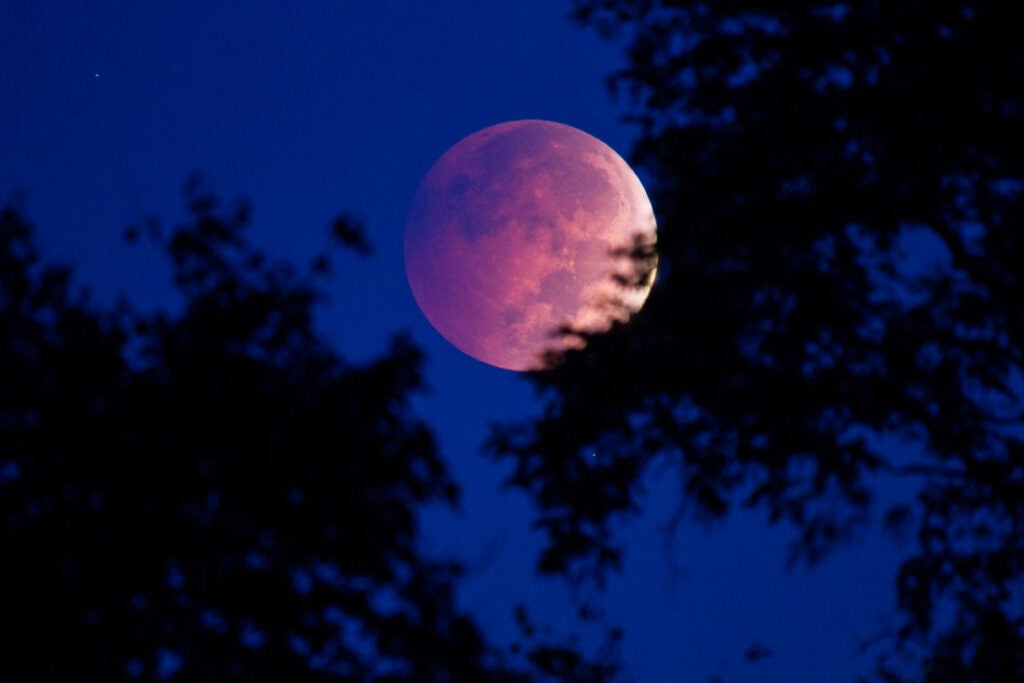 Blood Moon
I was lucky enough to have this lens on-hand when the recent blood moon happened. For this shot, the lens was coupled with a Canon 7D for a bit more reach. It was mounted to a tripod and I was using a shutter release cable because at 1 second and 600mm, triggering the camera without blurring the shot was a challenge. Tech Specs: 600mm at ISO 800. 1 second exposure at an aperture of F/6.3.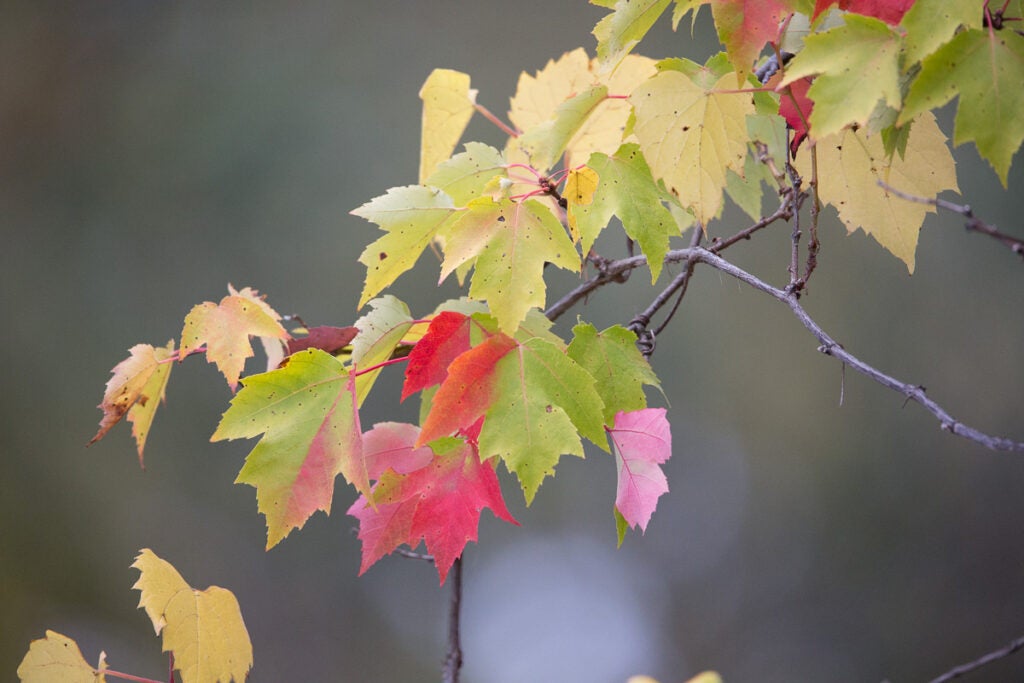 Foliage
Here's an example of the super-smooth bokeh that's possible when you get close and zoom to 600mm. This was actually shot hand-held when I was trying out the image stabilization system. At 1/320 sec, it actually performed admirably. Tech Specs: 600mm at ISO 3200 on a Canon 5D Mark III. Aperture F/6.3 for 1/320th sec.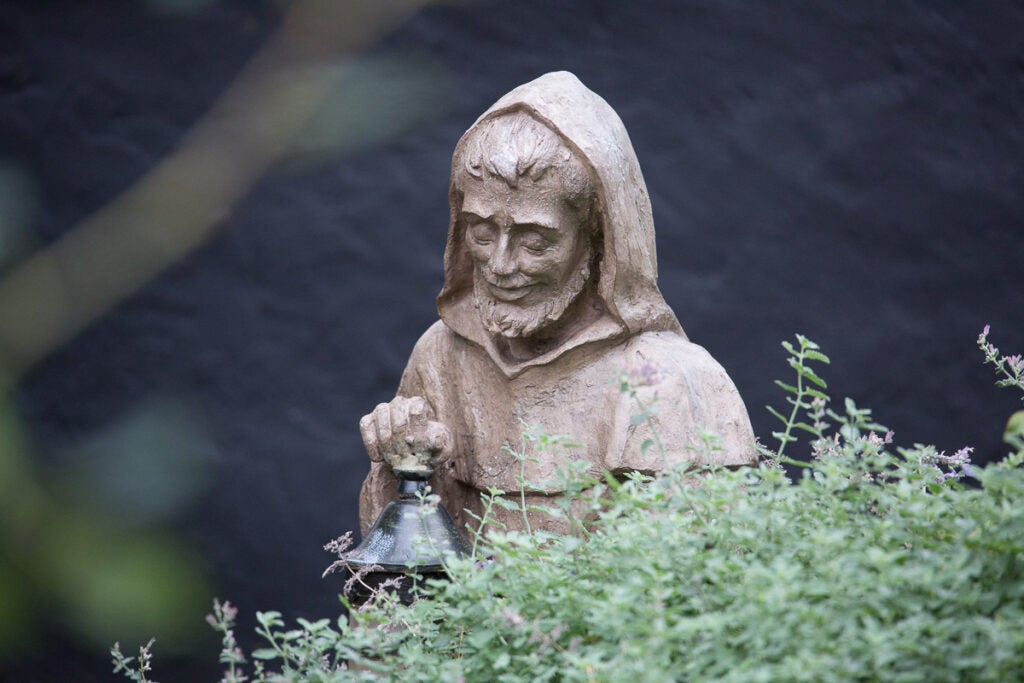 Statue
Another hand-held example shot at 600mm. This time, the shutter speed was cranked up a bit to 1/500 to make things a little more manageable. This one is actually very sharp right out of the camera. I did add a small amount of brightness in Lightroom. Tech Specs: ISO 1600 at 600mm. F/6.3 for 1/500 sec.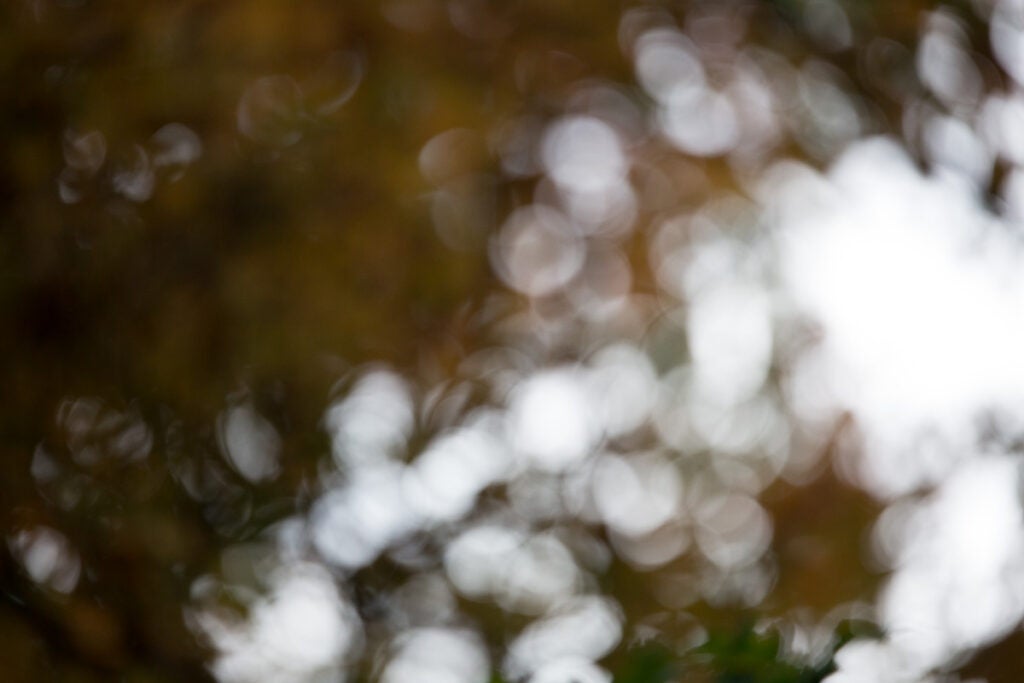 Bokeh
Here's a clear example of the bokeh capabilities of the lens. This is a shot of some trees from below. You can see, there's not an overwhelming amount of contrast as you might expect from a scene that's so contrasty. The circles form nicely and blend into one another in a pleasant way. Tech specs: ISO 1,000 at 512mm. F/6.3 for 1/1,250 sec.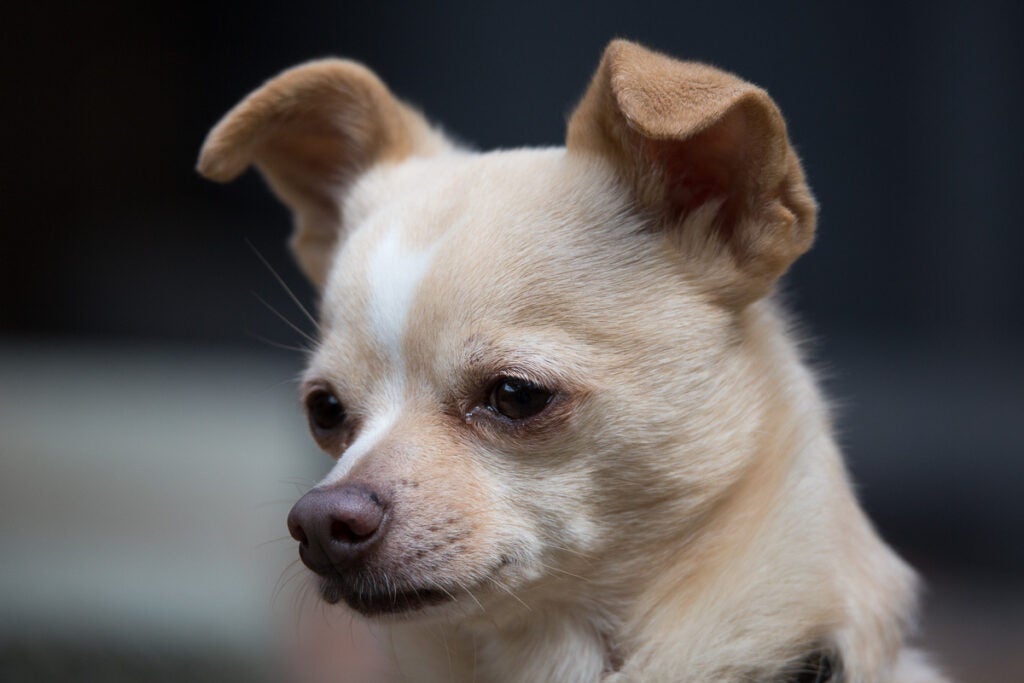 Dog
I didn't run across all that much wildlife during my testing period, so I settled for what fauna I did have access to. Shot at 600mm, you can see the compression effect making the top of the head look tall, but it's extremely sharp. Tech Specs: ISO 1,000 at 600mm. F/6.3 at 1/320 sec.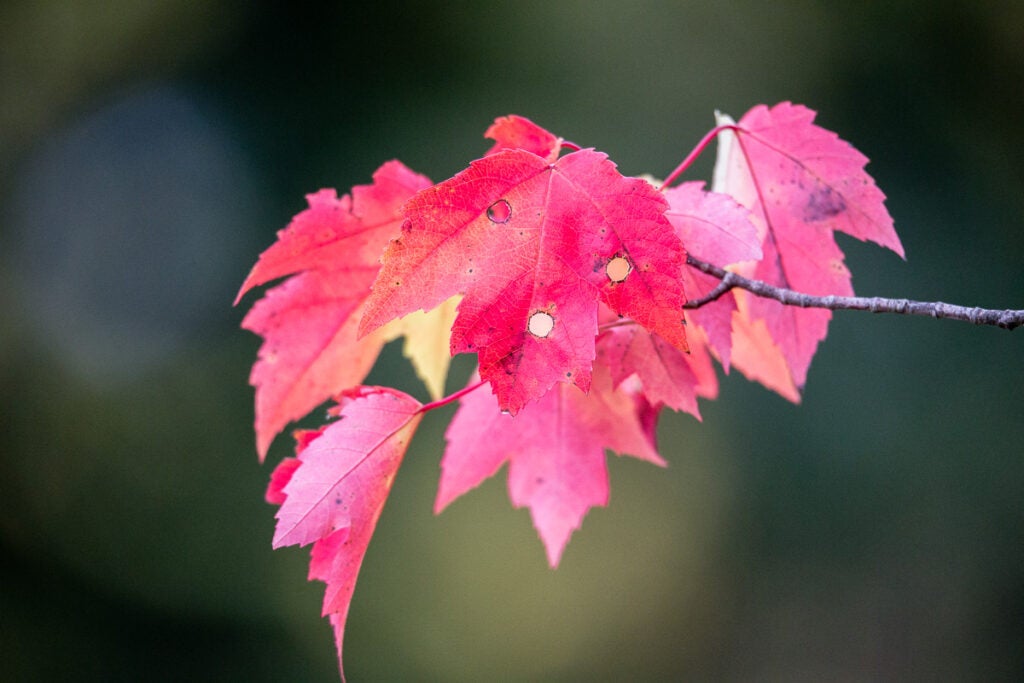 More foliage
Another leaf shot because, frankly, it's hard not to shoot leaves this time of year. ISO 3200 at 600mm. F/6.3 at 1/320 sec.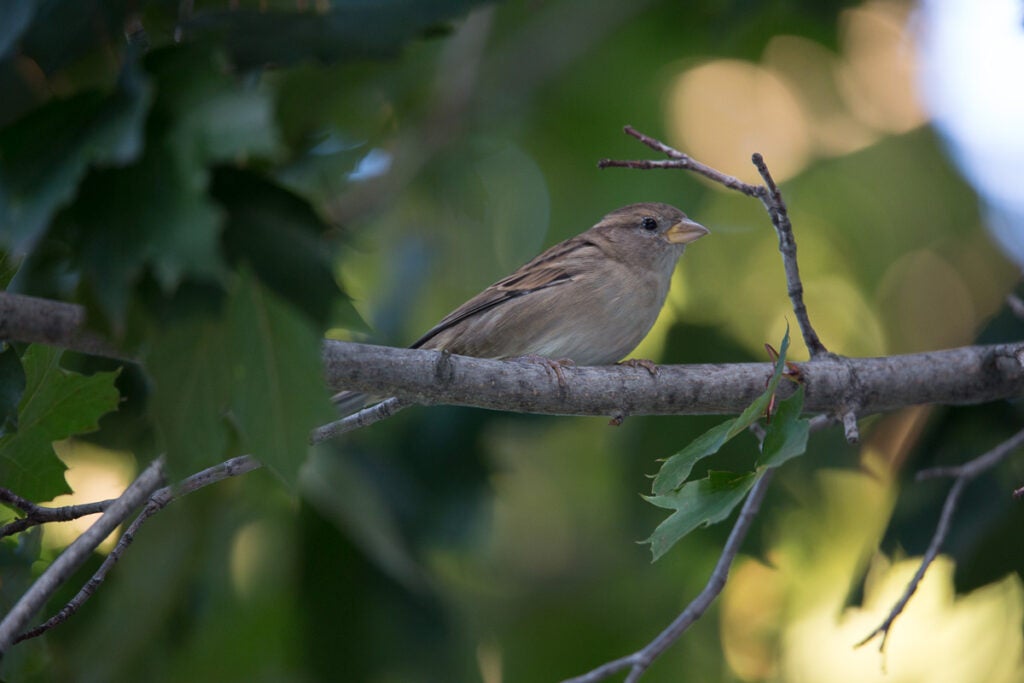 Bird
The bird isn't perfectly sharp, but that's a product of my own screw up rather than the lens. This shot is more to demonstrate the lens's ability to create nice separation between the subject and the background. In the hands of a more capable bird photographer, this could be a monster of a lens. Still, it's pretty impressive how close to sharp I was able to get hand holding a 600mm lens at 1/40th sec. Tech specs: ISO 1600 at 600mm. F/6.3 at 1/40th sec.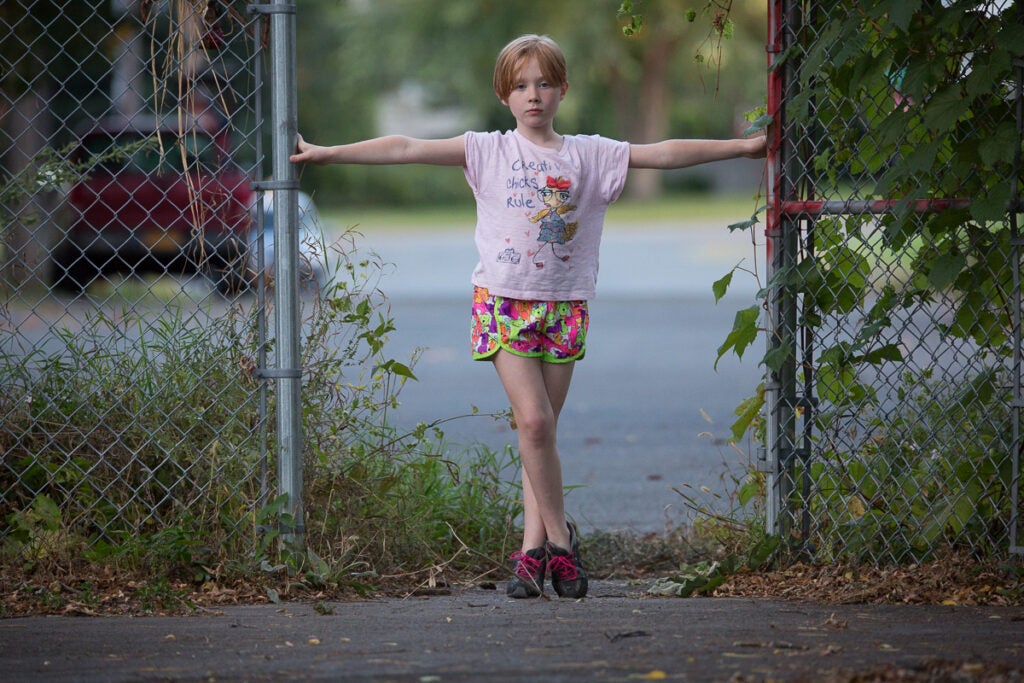 Portrait
The complete lack of distortion at 400mm makes shots with straight lines easy to pull off. Tech Specs: ISO 3200 at 400mm. F/6.3 for 1/320th sec.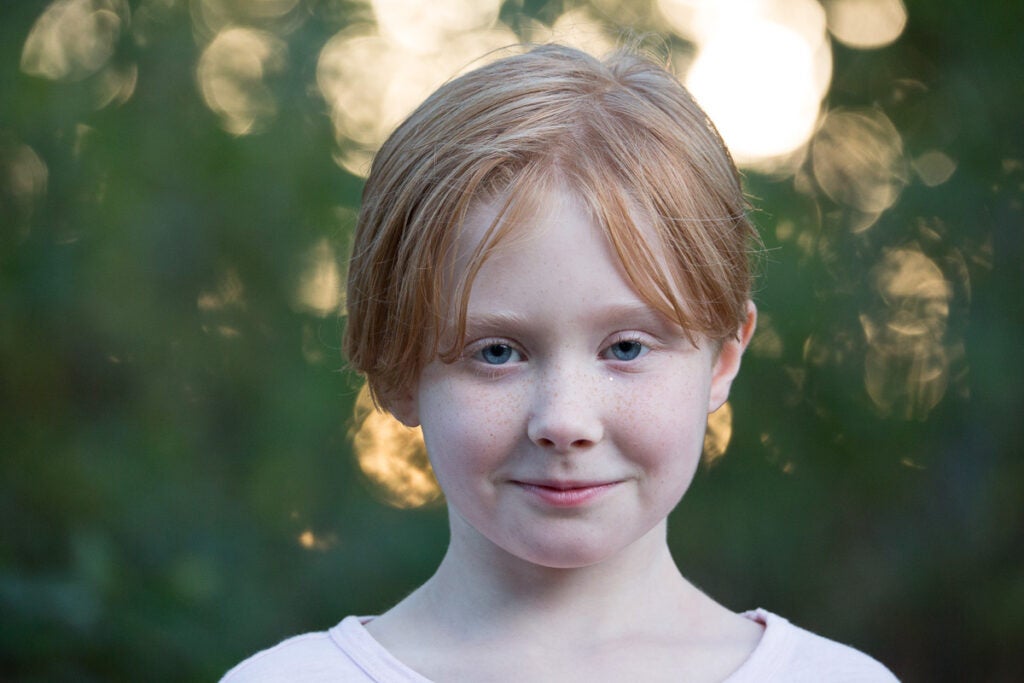 Headshot
This is why you don't shoot head shots at 600mm. The Frankenstein head effect is real. The bokeh and skintones are both really nice, though.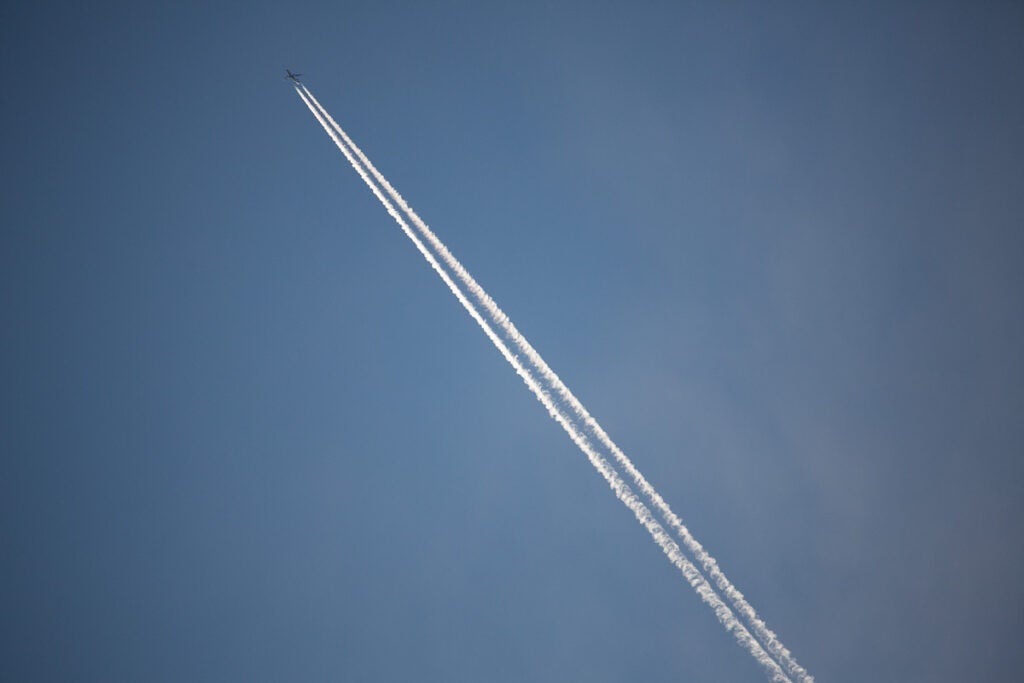 Plane
Here's an example of the vignetting that you can expect to see. This was shot into a clear sky at 600mm.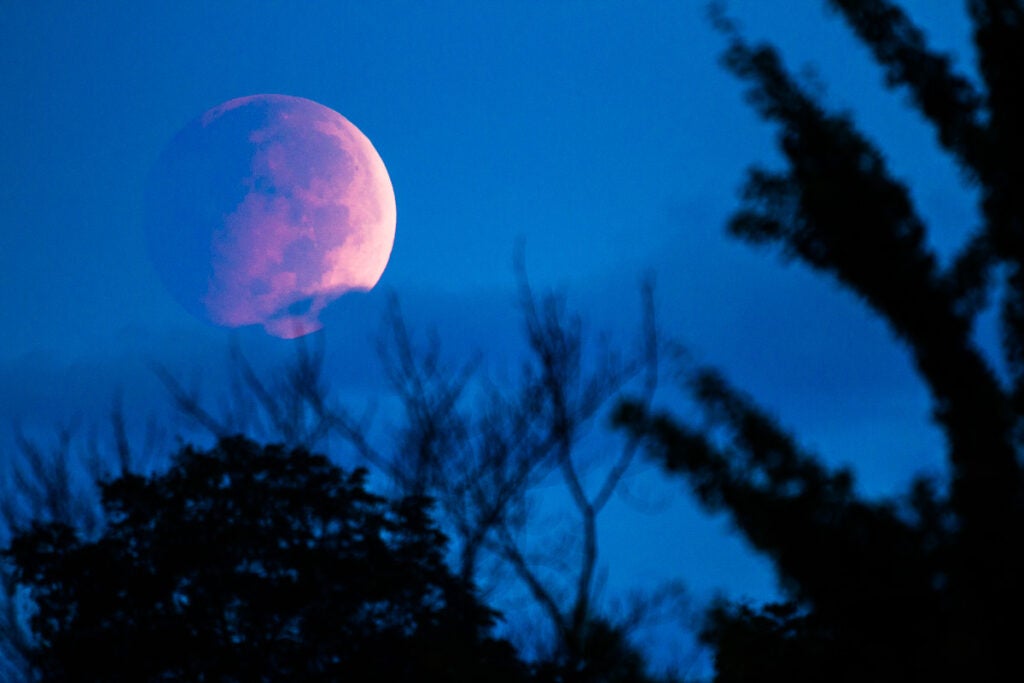 Blood Moon
Another shot of the blood moon. This one was taken as the sun was beginning to come up so the background is lighter.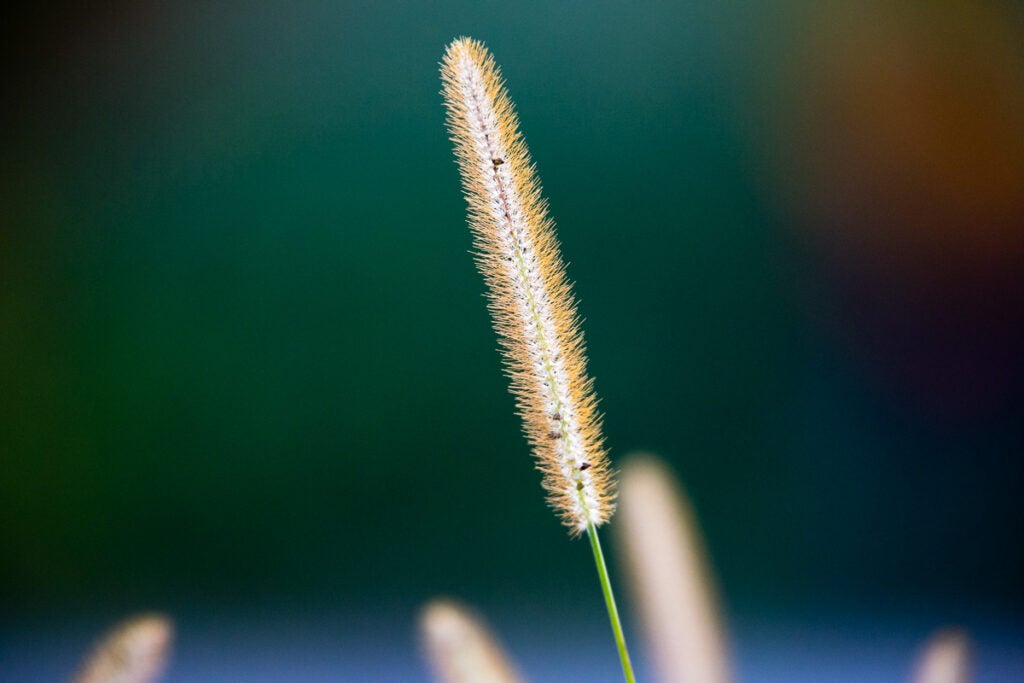 More bokeh
Here's another example of how the backgrounds can melt into bokeh. The blob in the back is another yard. Contrast added in Lightroom. Tech Specs: ISO 3200 at 600mm. F/6.3 at 1/160th sec.
High contrast foliage
This high-contrast scene seems like an easy place to make chromatic aberration happen, but it wasn't the case here, even on the really high-contrast borders.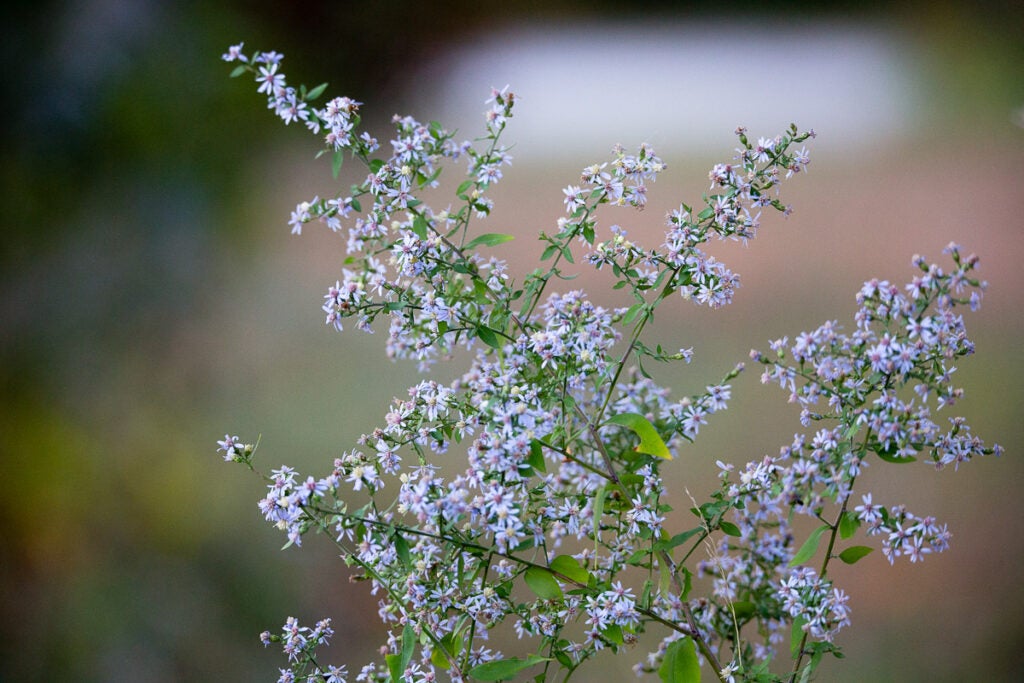 Bokeh at 300mm
At 309mm, the bokeh leaves a little more detail in the background. ISO 3200 at 309mm. F/5.6 for 1/640th sec.