Tamron SP 15-30mm F/2.8 VS Wide-Angle Zoom Lens
Spend some early quality time with Tamron's promising new wide-angle zoom.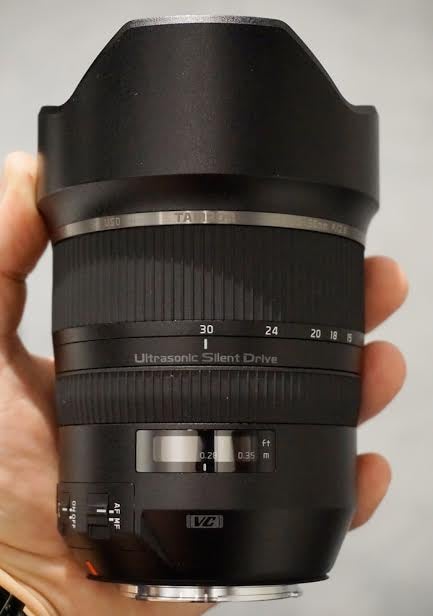 We may earn revenue from the products available on this page and participate in affiliate programs. Learn more ›
The new super-wide zoom from Tamron is under glass on the Photokina 2014 show floor, but they were kind enough to give us a few minutes to experience it in person.
In terms of size, the lens seems a bit less bulky than the popular Nikon 14-24mm F/2.8, and roughly the same size as the Canon 16-35mm F/2.8L, maybe a little bigger. The difference here, of course, is that the Tamron 15-30mm has built-in Vibration Compensation and an F/2.8 constant aperture, which sets it apart.
One of the things you immediately notice is that the front element bulges out a bit, as is sometimes the case with wide angle lenses. Tamron has done a few things to help protect it when you're out shooting. As you can see in the video, the new fluorine coating does a pretty excellent job of resisting smudges and finger prints. They did a demo for us where they tried to write on the front element with a permanent marker and it wiped right off. This isn't the first lens to use a fluorine coating, but it certainly makes a lot of sense in this context.
The integrated hood also has a clever design intended to protect the glass. When you zoom, the front element comes forward, and with it comes another layer of plastic inside the hood to make it more robust.
Of course, we'll have to wait to make a judgement on the lens once we have all the details and can see how it performs from an imaging standpoint, but so far, this lens seems to stand up to the hype it has received here at the show. There's still no pricing or availability information at this time, but we'll update you as soon as we know.