New Gear: Panasonic CM1 Smartphone with 1-Inch Camera Sensor
Currently only available in Europe, the CM1 runs Android 4.4 and offers full-manual camera controls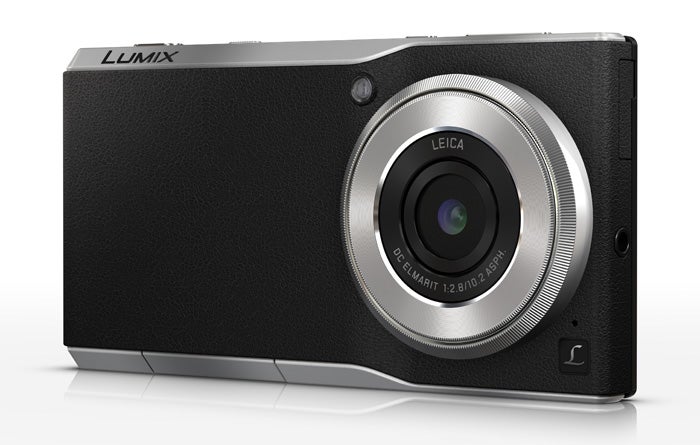 We may earn revenue from the products available on this page and participate in affiliate programs. Learn more ›
In a surprise announcement at the Photokina trade show in Cologne, Germany, Panasonic revealed the new CM1 dedicated cellular camera. Referring to it as the world's first "communications camera," it has a one-inch 20.1 MP CMOS sensor and a 28mm (equivalent) f/2.8 Leica DC Elmarit prime lens. The camera runs on the Android 4.4 (KitKat) operating system with Qualcomm's MSM8974AB 2.3 GHz Quad-core CPU, and can operate on LTE, WCDMA and GSM networks, though there was no mention of any agreements with wireless providers so far.
There's no viewfinder, but a large 4.7-inch 6,220,000-dot LCD touchscreen lets you frame your shots and seems to be the main way to control the camera as there are no buttons on the back, though there is a dedicated shutter button on the edge of the device. A ring around the lens also lets you change camera settings. A microSDXC slot accepts cards up to 128GB. A mechanical shutter is built-in to govern exposure times, but with the limit of 1/500th second in the shutter in the company's GM1 body, we wouldn't be surprised if there is a similar restriction on the CM1. Apertures range from f/2.8 to f/11 and aperture-priority, shutter-priority, and manual shooting modes are available.
Video shooting tops out at 4K at 15fps. Plus, Panasonic' new 4K Photo mode is built-in as well. The CM1 comes with 2GB of RAM built-in and can be supplemented by the aforementioned card slot. A 2600mAh, 3.8V, 9.9Wh Li-ion battery powers the CM1, though there's no mention of battery life. Dimensions are 5.3×2.7×0.8 inches with the lens extended, though it shrinks to a depth of 0.6 inch when the lens is retracted into the body. The weight is 0.4 pounds with battery, UIM card, and memory card. It seems that the CM1 will only be sold in Germany and France when it first becomes available toward the end of this year.