New Gear: Spider Memory Card Organizer and Medium Lens Pouch
Spider wants to load up your hip with some more gear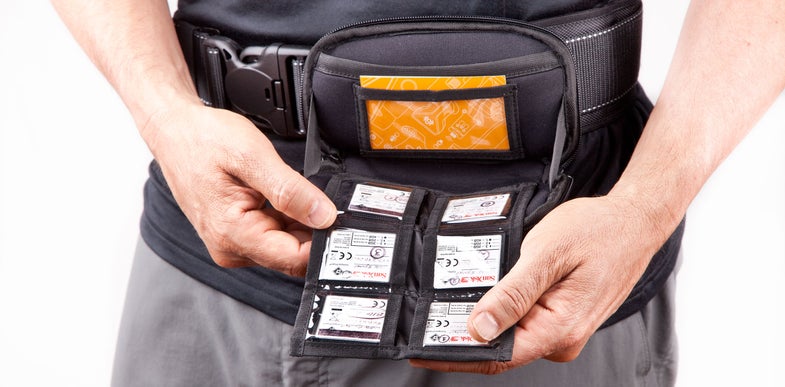 We may earn revenue from the products available on this page and participate in affiliate programs. Learn more ›
Spider Holsters has announced two new products designed to slide around your belt, giving you access to two things that a photographer needs on hand frequently: lenses and memory cards, with the new Medium Lens Pouch and Memory Card Organizer.
The $65 Medium Lens Pouch is designed to store a medium length professional level lens, lenshood and all, and stash it in a way that's easy for you to quickly pull out when you want to swap it out. The pouch features a zip along the side so that you can easily get a grip along the entire length of the body, and has a built-in tether for keeping the rear cap out of mischief. In case of inclement weather, there's also a removable pouch hood to protect from the elements. And, just in case you need to add as much as possible to your belt, it also has a slot for Spider Monkey accessories so you can strap in your flash, light meter, or other lighter tool in place, too.
The $35 Spider Memory Card Organizer is perilously close to the label of "fanny pack", but serves a very useful set of organizational tasks. It has space for keeping 6 CF cards and 9 SD cards, all of which are individually separated from one another. But it also has a slot for your business cards, one for your phone (which is close enough to your body that you'll actually feel it when it vibrates), and has an extra front pocket that you can get into without unzipping. And thanks to the "shelf" design, you can open the organizer one-handed, and not worry about it flopping all over the place. And, let's face it, sartorial dignity went out the window as soon as you got into photography.
[via PhotographyBlog]