New Gear: DJI Spreading Wings S900 Drone
The new DJI is lighter, more powerful, and easier to transport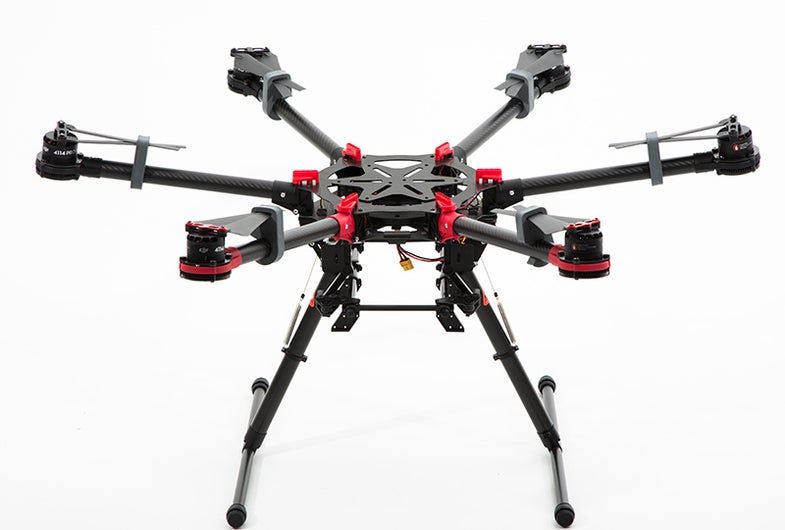 We may earn revenue from the products available on this page and participate in affiliate programs. Learn more ›
DJI has announced yet another professional level photography drone, with the ability to lift more than 10lbs of camera gear into the air for an 18 minute flight. The new Spreading Wings S900 is lighter and more powerful than other models, and has features like retractable landing gear, and a removable upper center board for better customization.
The S900 is priced about what you'd expect, with a retail value of $3800. It has collapsing carbon fiber arms and blades to make it easy to transport and keep down on weight. The upper center board can be removed to reveal eight mounting platforms for accessories such as your main controller, iOSD, or Lightbridge. It has a new power distribution system that's designed to be more reliable, and with plugs that can't accidentally spark when not in use.
The 12000mAh battery powers the six motors for 18 minutes of flying time. It generates enough power to lift 8.2kg, and once you take the rig's own 3.3kg weight into effect, that gives you almost 5kg of weight to play with. The S900 also features a low gimabl mount and retractable landing gear to give you the widest possible selection of angles to shoot from, and is specifically compatible with DJI's own Zenmuse gimbals.
With a $2800 pricetag, this obviously isn't a copter for beginners—but for pro level users looking something between DJI's S1000 and S800, it's an obvious contender.
[via Engadget[