Massive, Ultra-Rare Canon EF 1200mm f/5.6 L USM Lens Up For Sale
For the bargain price of £99,000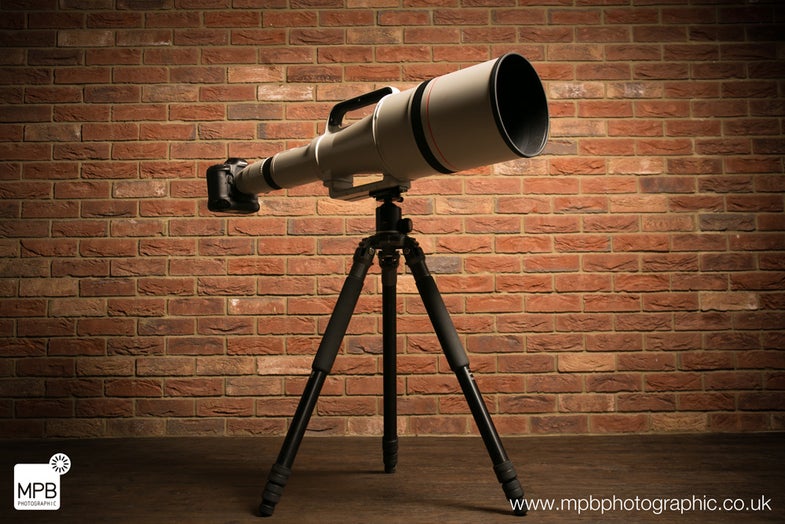 We may earn revenue from the products available on this page and participate in affiliate programs. Learn more ›
In the 1990s, Canon made around 20 or so of the Canon EF 1200mm f/5.6L USM Super-telephoto Lens, one of the largest autofocus lenses ever created. Weighing a whopping 36lbs, it has an angle of view of just 2.5°—and MPB Photographic in the UK has just managed to get hold of one for sale.
MPB is asking for £99,000 for the lens (that's including VAT), and apparently it's in excellent condition. It has no marks or scratches on any of the 13 elements, and comes complete with a hard, locking flight case; leather lens cap; rear lens cap; and Gelatin II drop in filter. Allegedly, the fluorite elements in the lens took almost a year to grow to a size they could be used in such a monstrous body.
In 2009, B&H did a full hands on with it, and had a used one in stock with an asking price of $120,000. According to them, "Using a Canon EOS 1Ds Mark III, faces were recognizable at distances up to a mile or more."
Even with so few of these lenses in existence, it's not exactly clear who owns what stock there is. According to B&H, Sports Illustrated has two, Canon Professional Services has two, and National Geographic has one. That's 1/4 of the estimated number accounted for right there.
This is one of the few opportunities you'll see to purchase one of these lenses—but with that high a price tag, you'd better be sure that you need one. At $165,000, that could buy you a house.
[via ePhotoZine]