New Gear: Metz Mecablitz 64 AF-1 Digital Flash
Metz has announced its newest high-end flash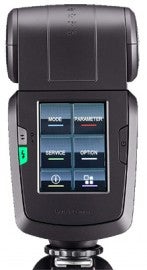 We may earn revenue from the products available on this page and participate in affiliate programs. Learn more ›
German manufacturer Metz has unveiled its newest flash unit, the previously rumored Mecablitz 64 AF-1 digital. It features not just an impressive guide number of 64, but also a 24-200mm zoom capability, as well as a USB port for firmware updates. Perhaps most interesting for most photographers is the touchscreen rear, which you can use to control the unit without fiddling over buttons.
The 64 AF-1 will also play nicely with most major camera systems, offering TTL flash and remote modes for Nikon, Canon, Sony, Pentax, and Olympus/Panasonic/Leica camera. It runs off of 4 AA batteries, or an external power pack. Here's its full feature list:
Secondary reflector with 2 light levels
Vertical (–9/+90°) and horizontal (300°) swivel reflector
Large illuminated, graphic touch display in colour, with automatic rotating function (90°)
Simple operating concept
Motorised zoom for 24–200 mm illumination
Spot and extended zoom Integrated wide-angle diffuser for 12 mm illumination
Flip-out reflector card
Modelling light (permanent light for checking shadows)
Integrated autofocus multi-zone flash metering
Flash readiness indicator and correct exposure display on unit and on camera
TFT flash range display
Acoustic status notifications (beep)
Automatic unit shut-off and manual key lock
Wake-up function via the camera Integrated sync cable socket
Power pack connection
Rapid mode
Programme memory (4 memory locations)
Metal base with quick lock
Unfortunately, we don't know exactly how much the 62 AF-1 is expected to fetch, but given that the 58 AF-2 goes for around $400, we imagine the 62 AF-1 will go for more than that.
[via PhotoRumors]