Tamron 150-600mm Lens Test
Meet the Tamron 150-600mm, the world's longest tele-zoom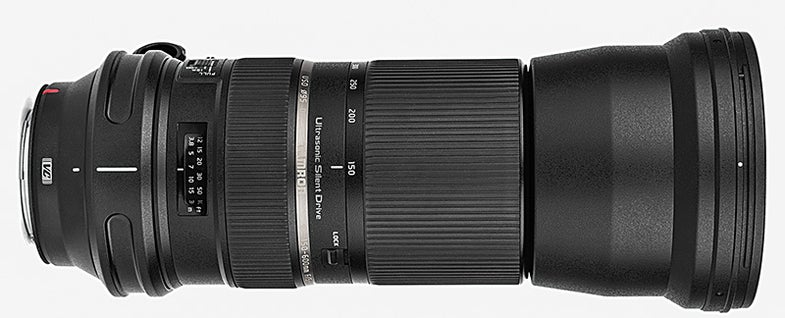 We may earn revenue from the products available on this page and participate in affiliate programs. Learn more ›
The Tamron 150–600mm f/5–6.3 Di VC USD zoom sports one of the class's broadest focal-length ranges (4X) as well as the longest reach in the tele-zoom category, to 600mm. It also packs Vibration Compensation (VC), an Ultrasonic Silent autofocus drive, three low-dispersion elements for suppressing color fringing, a new eBAND lens coating the company claims will improve anti-reflection performance, and a let's-get-covetous street price of just over a grand ($1,069, street).
A full-frame lens that reaches the equivalent of 960mm on Canon APS-C bodies (900mm on Nikon and Sony), the lens has a removable tripod collar, lenshood, and rubber cowl around its mount to fend off the elements.
Among lenses with this much telephoto reach, this Tamron 150-600mm is by far the most compact and, at least for short periods, hand-holdable. At 4.5 pounds, it weighs about half as much as Canon's 600mm f/4L, for example, and fully racked out it measures about four inches shorter. Its removable tripod collar has finger notches that improve the grip when handholding. That said, it still requires at least a monopod for extended use.
In the field, we liked the large, ribbed zoom ring for its convenient placement and easy, albeit slightly uneven, turn. The zoom lock, which confines the lens to its contracted 150mm position, prevented the zoom creep that can occur when walking with the rig on a neck strap. We really appreciated the focus-limiter switch, which has full and non-closeup ranges. The latter, going from about 50 feet to infinity, worked well for wildlife and sports.
On the Popular Photography optical bench, the Tamron 150-600mm lens delivered Excellent-range SQF numbers at 150 and 200mm. At 300mm, the longest setting our bench allowed, tested performance dropped only one notch into Very Good numbers. Most other tele-zooms we've tested have dropped a rating notch further, into the Good range, at their 300mm focal lengths. (These include the Tamron 70–300mm f/4–5.6 Di VC USD and the Sigma 70–300mm f/4–5.6 DG OS.)
Our DxO Analyzer Version 5.3 tests found pincushion distortion in the mid-Slight range at all focal lengths, a significant improvement over the uniform Visible-range pincushioning of Tamron's 200–500mm lens. Light falloff was gone from the corners by f/5.6 at 150mm and f/8 at 600mm. At 300mm, we found no detectable vignetting, a performance that tops all of the earlier tested tele-zooms at this focal length. Tamron's VC mechanism helped three testers to an average of 2.33 extra stops of handheld sharpness versus without VC engaged.
The appeal of this lens for focal-reach-hungry photographers is ob­vious. Relative to others that reach 600mm, its handling could hardly be more user-friendly. And that price! (The Canon 600mm f/4L streets for nearly $13,000.) Performance of the Tamron 150-600mm outstrips the closest comparable tele-zooms. Plus, it comes with Tamron's customized version of the Silkypix's RAW converter, which automatically corrects for distortion, chromatic aberration, and edge falloff in this and every other Tamron SP-series lens. Nice!
Specifications:
150­–600mm (149.96mm–n.a. tested*), f/5­­­–6.3 (f/4.32–n.a. tested*), 20 ele­ments
in 13 groups. Focus ring turns 130 degrees. Zoom ring turns 150 degrees. Focal lengths marked at 150-, 200-, 250-, 300-, 350-,
400-, 450-, 500-, and 600mm.
Diagonal view angle: 16–4 degrees
Weight: 4.5 lbs
Filter size: 95mm
Mounts: Canon AF, Nikon AF, Sony AF
Included: Lenshood, removable tripod collar, Silkypix Developer Studio software
Street price: $1,069
Website: tamron-usa.com
Test Results:
Distortion: At 150mm, 0.21% (Slight) pincushion; at 300mm, 0.20% (Slight) pincushion; at 600mm, 0.20% (Slight) pincushion.
Light falloff: At 150mm, gone by f/5.6; at 300mm, none; at 600mm, gone by f/8
Close-focusing distance: 94.75 inches
Maximum magnification ratio: At 150mm, 1:14.46; at 300mm, 1:7.6; at 600mm, 1:4.03
Image Stabilization: 2.33 stops** **