Lens Test: Fujifilm 56MM F/1.2 R Fujinon XF
An awesome high-speed portrait lens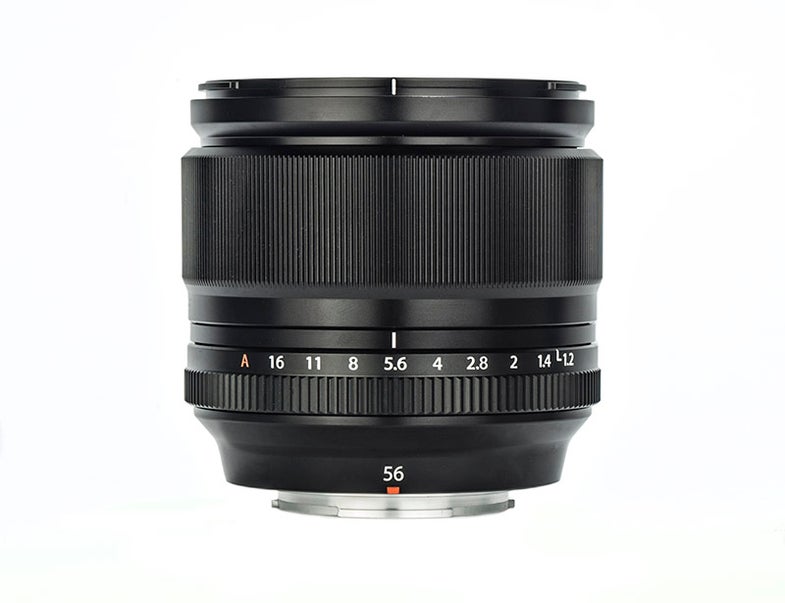 We may earn revenue from the products available on this page and participate in affiliate programs. Learn more ›
Among portrait shooters, the 85mm f/1.4 or f/1.2 full-frame lens has been the time-honored holy grail of glass. Allowing dreamily defocused fore- and backgrounds that set off the subject to great effect, and the perfect focal length for flattering the human face, these lenses have found their way into the hands of serious portraitists since forever. Earlier this year, Fujifilm offered its X-camera shooters the APS-C equivalent of such a valuable tool: the 56mm f/1.2 R Fujinon XF ($999, street).
The fastest lens in the Fujifilm X-series optical arsenal, this mid telephoto-range prime (full-frame equivalent: 85mm) is also among the speediest—and most prestigious—glass available for smaller-than-full-frame cameras. It looked quite at home on our test camera, the Fujifilm X-T1, and had the rugged feel of all-metal construction. That said, at 0.92 pounds, the lens is quite light by mid-tele f/1.2 standards—the Canon 85mm f/1.2 for SLRs, for example, weighs well over 2 pounds. Cosmetically, its finely ribbed focusing ring is reminiscent of Leica glass. Its conventionally styled aperture ring offers click stops in 1/3 stop intervals-—a welcome retro aura, as well.
The lens handles nearly perfectly in the field. Its autofocus is fast and quiet on the X-T1, with occasional hunting required near max-imum sharpness.
If this impressive lens could be said to have an Achilles heel, for us, it would be the electronic manual-focus system. With one of the longest turning radiuses in recent memory (220 degrees), it takes a while to go from near to far. As you make that trip, because there's no hard stop at either end of the range, you inevitably overshoot the mark and have to backfocus a bit. As is common with electronic manual focus, the lens has no subject distance scale, which prevents pre-focusing.
In the Popular Photography Test Lab, the lens delivered Excellent-range SQF numbers for sharpness and contrast—even at its (massive) maximum aperture. Still more impressive were its 0.03% Imperceptible barrel distortion and best-in-class complete absence of edge falloff uncovered in our DxO Analyzer Version 5.3 tests. The lens delivered a maximum subject magnification of only 1:9.66—for portraits, not a bad thing.
Great for all typical low-light projects, and obviously perfect for portraits, this lens makes a welcome addition to the X-camera lens lineup. While that $999 price may induce some sticker shock, keep in mind that a comparable full-frame equivalent could easily cost two to three times as much.
SPECIFICATIONS
56mm (57.14mm tested), f/1.2 (1.25 tested), 11 elements in 8 groups. Focus ring turns 220 degrees.
Diagonal View Angle: 28 degrees
Weight: 0.92 lbs Filter size: 62 mm
Mounts: Fujifilm Fujinon X
Included: Lenshood, microfiber lens pouch
Street Price: $999
Website: fujifilmusa.com
TEST RESULTS
Distortion: 0.03% (Imperceptible) barrel
Light Falloff: None
Close-Focusing Distance: 24 inches
**Maximum Magnification Ratio: **1:9.66