New Gear: Foldio Portable Pop-Up Studio From Photojojo
A tiny, collapsible studio for all your product photography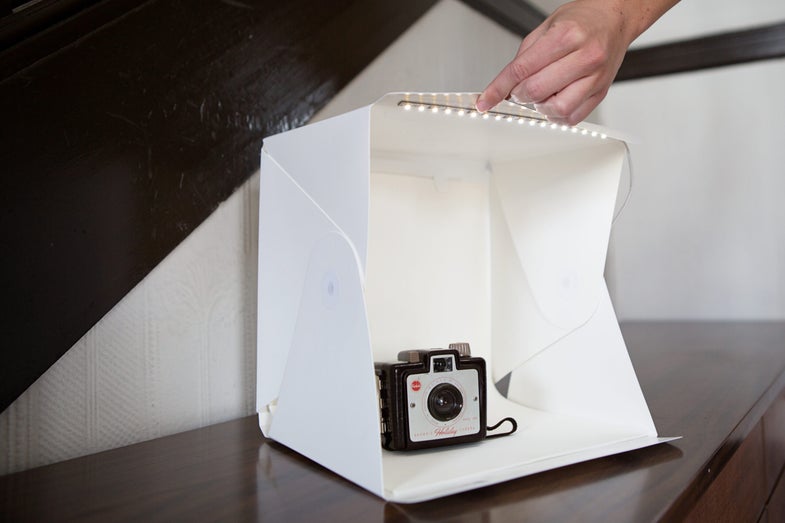 We may earn revenue from the products available on this page and participate in affiliate programs. Learn more ›
Photojojo, sellers of all things twee, instant, and mobile, has just announced a new addition to its store. The Foldio is a portable, collapsible photo studio, the perfect size for snapping a product shot for something you're going to sell on eBay, or getting a great image of your baked goods to share on Instagram.
The Foldio began life as a Kickstarter, which shipped out to backers in April. Also available to purchase directly from the manufacturer (at what looks to be a slightly cheaper rate, too) the Foldio is a 10-inch cube when fully expanded, but collapses down to just 0.59-inches thick. Once clipped into place, it gives a diffuse, smooth background for product photography, allowing you to quickly and easily snap a shot using either your smartphone or camera. It also comes with either one or two strips of LED lights, powered by a single 9v battery.
Mini, portable lighting studios are hardly a new idea—even Sky Mall has had one for sale for years; and they're a frequent target of DIY projects. But at the $50-60 mark, the Foldio represents a fairly affordable take on the concept, especially considering how small it collapses when not in use.
Update: Photojojo is now matching the direct price and is also including the battery.