Apple Hires Ex-Nokia Photography Lead
Can one of the men behind the Lumia smartphones make the iPhone an even better photography machine?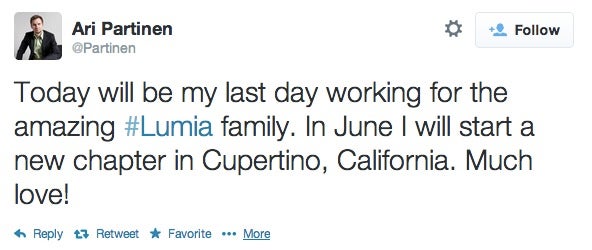 While the iPhone may continue to be one of the most popular digital cameras in the world, for the last few years its been Nokia that's really been pushing the boundaries on what smartphones can do with their cameras. Now that Nokia as we know it is no more, Apple has hired one of the men behind the ambitious Lumia camera program: Lumia photography lead Ari Partinen.
Called by Nokia "(our) own camera expert", Partinen was co-author on a paper about Nokia's oversampling technology, and according to reporting by the Verge, he previously "worked with mobile imaging, starting from camera module production all the way to final image quality tuning and verification" for models like the N8 and 808 PureView, and was previously a commercial photographer.
Partinen announced the move over Twitter:
With the Lumia series, Nokia massively pushed the boundaries of smartphone imaging technology. Raw files, comparatively big sensors, optical image stabilization, and more. If Partinen can bring some of that skill and expertise to Apple, iPhoneography may be getting that much better.