Adobe Working on Adding Full Touch Compatibility To Photoshop CC
Soon you could be controlling Photoshop with your fingertips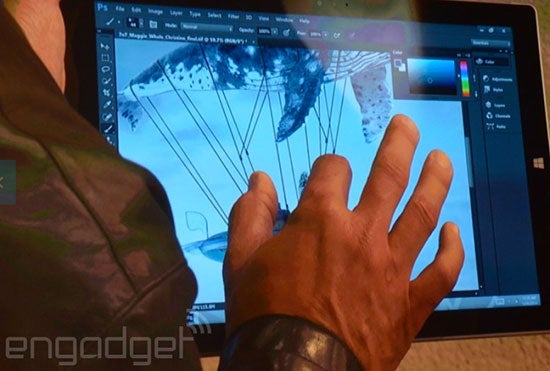 We may earn revenue from the products available on this page and participate in affiliate programs. Learn more ›
Lightroom for the iPad is an interesting piece of software that lets you do a lot more in terms of photo editing than most other tablet apps. Still, there's no touch-enabled version of Photoshop. That may change, though. Accroding to a demo given at a recent Microsoft Surface press event, Adobe is working on making Photoshop CC fully functional on tablets.
Yesterday, Microsoft announced the Surface Pro 3, and at the reveal showed off a number of powerful apps—which included bringing Adobe on stage to demo a new version of Photoshop. According to reports by Engadget and Mashable, this is a fully functional version of Photoshop CC, but the UI elements have been doubled in size to make them more appropriate for use with fingers and styli. The touch interface will also allow gestures like pinch, rotate, and swipe to be used to navigate or edit the image.
This version of the software is obviously designed for use with Windows 8, which is what runs on the new Surface—so who knows if a version this powerful will also make its way to Android and iOS. But for photographers who do their work on the road, the possibility of a full version of Photoshop in a tablet is a strong draw.