New Gear: The Wanderlust Travelwide Is An Affordable Large Format Film Camera
Take 4x5 film with you on the road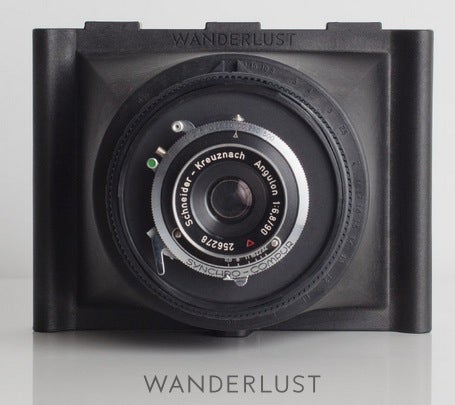 We may earn revenue from the products available on this page and participate in affiliate programs. Learn more ›
The Travelwide is a new large format film camera that costs just $149, but shoots on 4×5 film. If you've ever wanted to experiment with analog writ large, this is probably one of the most affordable ways you'll be able to do it—and in a package that's small enough to take with you to just about anywhere you want.
The Travelwide weighs just 9.7oz, and can focus from infinity down to 2 feet. However, it only comes with a pinhole lens—so for anything more advanced, you're going to need to spend some time scouring eBay and used lens listings to get the right sort of glass. It's designed for use with the Schneider Angulon 90mm ƒ/6.8, and will also accept most 90mm ƒ/8 lenses. You'll also need to load it up with a film holder for the back, either a standard 4×5, or else a Polaroid 545i if you want to shoot instant film.
It also comes with three cold shoes for mounting accessories, including the metal sports viewfinder that it ships with. And while it might not come with a real lens, there is a pinhole lens included so you can at least get started shooting something pretty quickly.
If you want to have a look at the images out of the Travelwide, a number are up on Flickr. If you'd like to know more, you can either check out the Travelwide site, or else the Kickstarter that begat it.
[via DPReview]