Lens Test: Nikon 18–140mm f/3.5–5.6g DX ED VR AF-S Zoom
Nikon replaces its wide-to-long lens with great handling and zoom range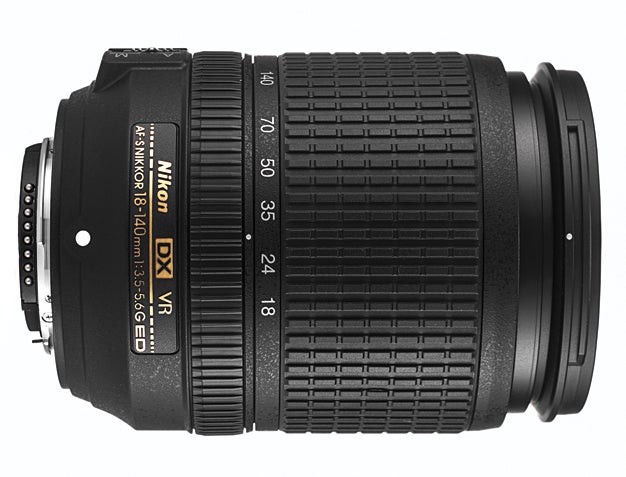 We may earn revenue from the products available on this page and participate in affiliate programs. Learn more ›
Released in August 2013, Nikon's 18–140mm f/3.5–5.6G DX ED VR for APS-C bodies replaces its popular 18–135mm f/3.5–5.6G zoom, adding Vibration Reduction and 5mm of reach at the long end. This utility zoom lacks the ranges of Nikon's 18–200mm or 18–300mm f/3.5–5.6G VR all-in-ones, but the lens ($597, street) is lighter and more compact and—for our money—handles noticeably better than either of those two. It sports one ED element for controlling chromatic distortion, Nikon's ultra-quiet SWM autofocus motor, and a 7.8X zoom range that's the full-frame equivalent of 27–210mm.
Weighing 1.15 pounds, the lens balanced nicely on our D5300 test camera. It's also less bulky than the lens it replaces and takes relatively small 67mm filters. It is, however, large enough to cast a shadow at wider focal lengths when used with the D5300's built-in flash. Attractive and well-marked (albeit without a depth-of-field scale), the lens offers smooth-turning zoom and focusing rings, as well as rapid, accurate, and essentially inaudible autofocusing.
On our optical bench, the lens produced Excellent-range SQF results across its tested focal lengths. Its numbers, in mid-90th percentile, proved slightly better than the four comparable APS-C zooms we've tested from Canon, Nikon, Pentax and Tokina. The Pentax and Canon, for example, both turned in low-90th percentile SQF numbers.
In our DxO Analyzer 5.3 tests of distortion control, we found Visible barrel at 18mm (0.70%), and Visible- and Slight-range pincushion at 70mm (0.35%), and 140mm (0.29%), respectively—roughly similar to the other tested zooms. The Nikon's control of edge vignetting (gone by f/8 at three tested focal lengths), however, scored slightly below that of the other glass.
Three testers each gained 3 extra stops of sharp handholdability with the Nikon's VR engaged—noticeably better than the Canon's 2.5 stops.
With superior handling, a generous zoom range, and an effective stabilization system, this lens will deliver almost everything photographers would expect from a wide-to-tele, multitasking zoom.
SPECIFICATIONS
18–140mm (18.44–148.65mm tested), f/3.5–5.6 (f/3.49–5.66 tested), 17 elements in 12 groups. Focus ring turns 130 degrees. Zoom ring turns 80 degrees. Focal length marked at 18-, 24-, 35-, 50-, 70-, and 140mm.
Diagonal View Angle: 76–11 degrees
Weight: 1.15 lbs Filter size: 67mm
Mounts: Nikon AF
Street price: $597
Website: nikonusa.com
TEST RESULTS
Distortion: At 18mm, 0.70% (Visible) barrel; at 70mm, 0.35% (Visible) pincushion; at 140mm, 0.29% (Slight) pincushion.
Light Falloff: At 18mm, gone by f/8; at 70mm, gone by f/8; at 140mm, gone by f/8
Close-focusing Distance: 15.99 inches
Maximum Magnification Ratio: At 18mm, 1:15; at 70mm, 1:5.16; at 140mm, 1:3.59
Image Stabilization: 3 stops