Philips OneSpace Wants To Turn Your Entire Ceiling Into One Huge Softbox
Blanket an entire room in truly even light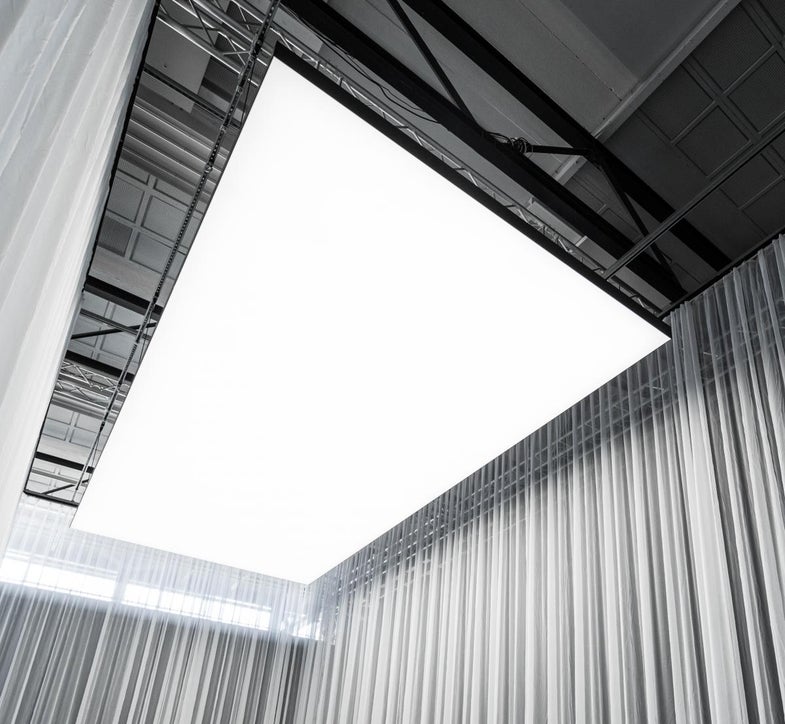 Ever dreamed about a room with perfectly even lighting? One where you could adjust the entire room to a soft diffuse glow? It seems you're not the only one, as Philips has unveiled the OneSpace, a luminous ceiling that would provide even light for an entire room.
Available in sizes from 2.4×2.4m up to 3x10m, these single panels are a system of LED lights above a diffuser, designed to produce universal and even lighting. Perhaps Philips' most bold claim is that "OneSpace delivers glare-free LED light that eliminates shadows completely so you can view objects in their true light." According to the official specs, the lighting is set to 4000K, but can also be tuned to 3000K (halogen) or 5000K (daylight). Illumination runs m 450 cd/m2(1420 lm/m2) at 18 W/m2 to 780 cd/m2(2460 lm/m2) @ 38 W/m2, and can be dimmed down to just 10%.
Philips is advertising this for show rooms and airport spaces, but we think there are a lot of photographers who would be intrigued by something like this. Product photographers would definitely love a room with totally even lighting and no shadows, and if you're involved with image testing at all, something like this would mean lighting and color charts would be totally evenly illuminated. If you're a portrait photographer you could even use it so that you wouldn't require quite as powerful off camera lighting for your directional lights.
We have no idea what the OneSpace will cost, and Philips is currently demoing it at the Light + Building fair in Frankfurt from March 30 – April 4, 2014—but it's an intriguing and different take on how to light a room.