New Gear: Vizelex Fotodiox ND Throttle Adapter With Built-In Neutral Density Filter
Mount Canon lenses on E-mount bodies, and also control the amount of light getting in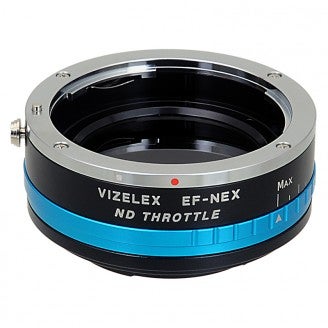 We may earn revenue from the products available on this page and participate in affiliate programs. Learn more ›
Good news for fans of the long exposure. Fotodiox has announced a new Canon EF- to Sony E-mount adapter, but it's one that comes with a built-in ND filter, so you can limit the amount of light hitting your sensor.
The Vizelex ND Throttle Adapter has a blue ring at the base of the mount adapter, which lets you adjust the ND filter to varying degrees of light stoppage. As with all ND filters, this means that even in bright sunlight you can then use large aperture lenses with narrow depth of field. Or, if you're a fan of long exposure, you can take extended shots even in bright conditions.
The mount adapter has an asking price of $99, and will allow any Canon EOS mount lens to be used with a Sony E-mount (APS-C sized) camera. As with most adapters, it won't allow you to autofocus, and you'll give up some of the other automatic features of modern lenses, but Fotodiox does guarantee infinity focus on any lens.
So if you're trying to adapt some old Canon glass to go on your Sony mirrorless gear, this adapter could give you the freedom to shoot in brightly sunlight in ways you wouldn't have been able to otherwise.