Olympus Files Patent For 12mm f/1.0 and 14mm f/1.0 Micro Four Thirds Lenses
They may never see the light of day, but these fast lenses exist on paper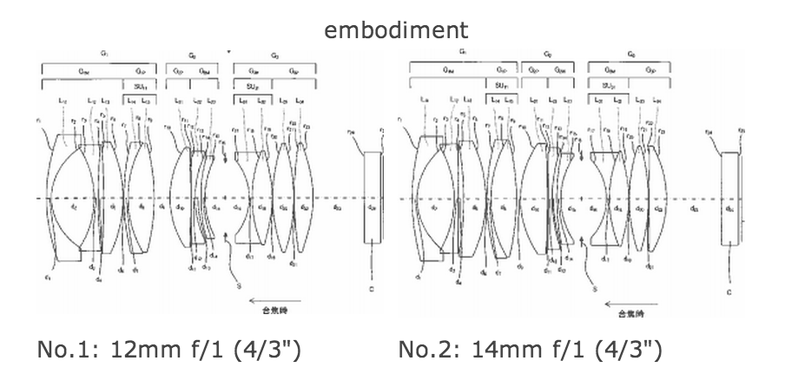 We may earn revenue from the products available on this page and participate in affiliate programs. Learn more ›
Olympus has been on a lens patenting spree in Japan, and has nabbed itself six patents for f/1.0 lenses—including two focal lengths for Micro Four Thirds.
Spotted by Japanese blog Egami, the patents are for two different lens configurations each of a 12mm f/1.0 (24mm equivalent) and 14mm f/1.0 (28mm equivalent) lens for Micro Four Thirds, as well as a 9mm f/1.0 (24mm equivalent) for a 1-inch sensor, and a 5.46mm f/1.0 (25mm equivalent) for 1/1.7-inch sensor.
For Micro Four Thirds shooters, the prospect of official, first party, f/1.0 lenses is extremely exciting.
The other two lenses would both be major boons for high-end compact shooters. While Olympus doesn't have any 1-inch sensor compacts right now, the success of the Sony RX100 has caused a lot of attention to come to large-sensor point-and-shoots. And given the close relationship between Sony and Olympus, maybe that Olympus f/1.0 lens might find its way onto a Sony 1-inch sensor at some point in the future.
Finally, the f/1.0 lens for a 1/1.7-inch sensor would be the perfect addition to the Olympus XZ or Stylus families of camera. Currently the fastest lens in this class is f/1.4, and that extra brightness would definitely be a feather in Olympus' hat.
Now we just have to wait and see if these lenses actually ever get produced or not.