The Real Oscar Winner? ARRI Cameras
How is almost every Oscar nominated film shot with one brand of camera?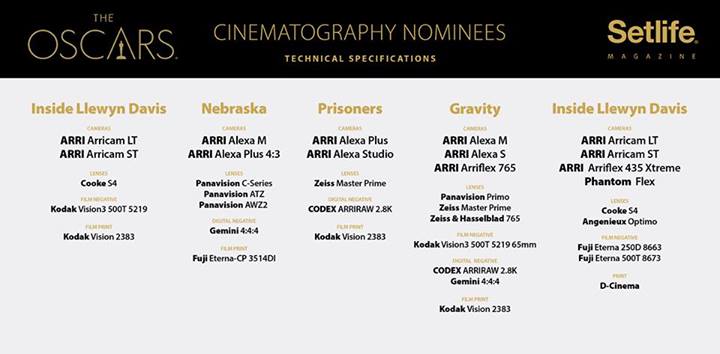 Imagine a world, where every single nominated image for a major photography contest, say the World Press or National Geographic awards, were all shot on just a single brand of camera. If every single image that had even a chance was shot on a Canon. Or a Nikon. Or a Pentax. As bizarre as that sounds, something very similar to that has happened with the Academy Awards, with every single nominee for cinematography, directing, or best film at least partially using ARRI cameras.
Setlife magazine put together a series of images of the technical specifications for the directing, cinematography, and best picture nominees. And every single one of them uses an ARRI camera. Sure, a few use other cameras as well. There are a couple of Canon C300 and C500s in there, a Phantom Flex, and even a GoPro HD Hero, which was used in Captain Phillips. But even so, it's almost entirely ARRI — with the only real debate seeming to be which Alexa version you use. And there's not a single RED to be seen.
This of course raises questions about why the ARRI options are so widely used. Are they really that superior? Is it a matter of ease of use? Or that that's what people are comfortable using? Regardless of the answer, this clean sweep for ARRI shows that it's the de facto choice for serious cinematography.
[via NoFilmSchool]