Lens Test: Sigma 24–105mm f/4 DG OS HSM
The latest Sigma "A" lens ranks an A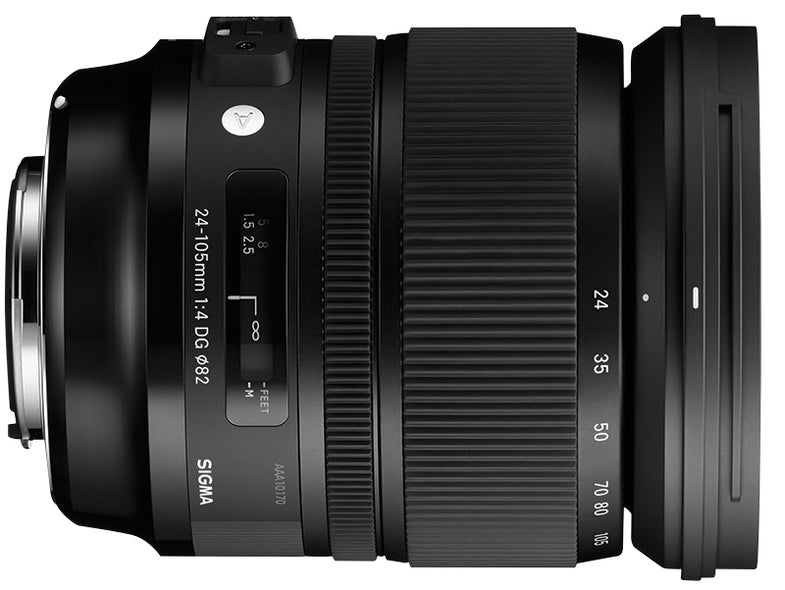 We may earn revenue from the products available on this page and participate in affiliate programs. Learn more ›
Sigma continues to expand its impressive line of "Art" lenses, which are characterized by high speed, constant apertures, impressive build quality, and unusually attractive cosmetics. The Sigma 24–105mm f/4 DG OS HSM ($899, street) incorporates Sigma's relatively new Thermally Stable Composite (TSC) plastic, boasts two SLD and two FLD elements, and is stabilized. On APS-C bodies, it functions (approximately) as a 36–157.5mm or 38–168mm equivalent.
The lens offers a hefty hand feel that bespeaks top-line construction. Large, it resembles a standard-range f/2.8 zoom, and in fact is slightly heavier than Tamron's 24–70mm f/2.8. With a beautiful matte black finish and crisp barrel markings, the lens is undeniably handsome. Its zoom action is silky, but the manual focus ring is relatively small and stiff-turning. The non-rotating front filter ring and quick, quiet hypersonic focusing motor are nice perks. Oddly, it goes without a moisture-resisting O-ring at the lensmount.
On our optical bench, the lens turned in very good—in some cases, nearly flawless—numbers. Light falloff was gone by f/8 (24mm), f/6.3 (70mm), and f/5.6 (105mm). Not great results, but significantly better than Canon's comparable 24–105mm f/4L, which at 24mm showed vignetting out to f/13. Its maximum subject magnification of 1:3.89 (105mm) again trounced the Canon's 1:4.6. Its OS system also significantly outperformed Canon's: 2 extra stops of hand-holdability, compared to 1.33.
As a standard-range zoom, this lens is suitable for the majority of common subjects. What really caught our eye, though, was its compatibility with a new Sigma feature: mount conversion. Should you ever decide to change camera bodies, Sigma, for a fee, will switch out internal electronics and the lens mount so your 24–105mm f/4 OS will work on your new body, be it Canon, Nikon, Sigma, or Sony. Pretty cool.
SPECIFICATIONS
24–105mm (25.17–104.98mm tested), f/4 (f/3.85–3.93 tested), 19 elements in 14 groups. Focus ring turns 90 degrees. Zoom ring turns 80 degrees. Focal length marked at 24-, 35-, 50-, 70-, 80-, and 105mm.
Diagonal view angle: 84–23 degrees
Weight: 1.98 lbs Filter size: 82mm
Mounts: Canon AF, Nikon AF, Sigma AF, Sony AF
Included: Lenshood, case
Street price: $899
Website: sigmaphoto.com
TEST RESULTS
Distortion: At 24mm, 0.60% (Visible) barrel; at 70mm, 0.30% (Slight) pincushion; at 105mm, 0.28% (Slight) pincushion.
Light falloff: At 24mm, gone by f/8; at 70mm, gone by f/6.3; at 105mm, gone by f/5.6
Close-focusing distance: 16.08 inches
Maximum magnification ratio: At 24mm, 1:11.7; at 70mm, 1:4.91; at 105mm, 1:3.89
IMAGE STABILIZATION: 2 stops