Lens Test: Canon EF 24-70MM F/2.8L II USM Zoom
Canon's standard flagship zoom comes on strong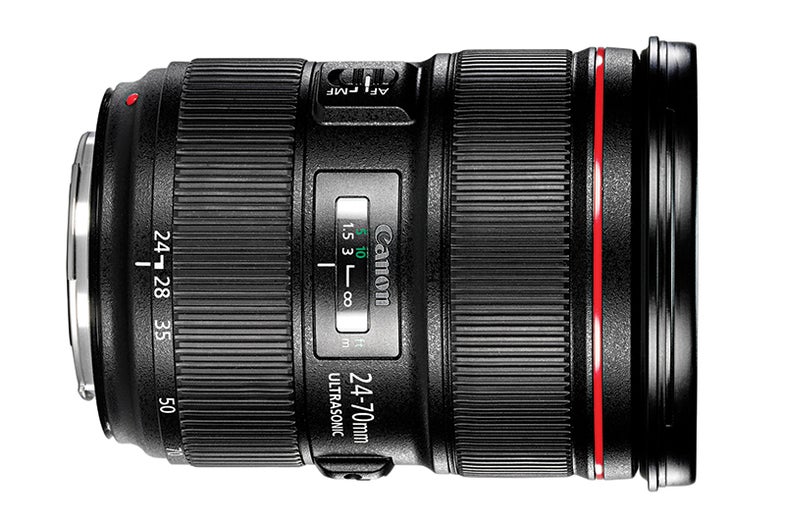 We may earn revenue from the products available on this page and participate in affiliate programs. Learn more ›
The latest in a line of storied lenses going back to the 28–80mm f/2.8–4L of April 1989, this is Canon's fourth high-speed, full-frame, standard-range, L-series autofocus zoom. The previous 24–70mm f/2.8L was introduced in November 2002, and compared with that lens, this version II ($2,299, street) has better weather-sealing, AF processing, and a more rugged build. Its major upgrade, however, is the addition of more high-end glass. The previous 24–70mm had two aspheric elements and one of ultra-low dispersion (UD) glass. This one offers three aspherics, two elements of UD glass, and one of Super UD glass.
About five ounces lighter and 0.5 inches shorter when racked out to 70mm, the new lens, while by no means compact, offers noticeably nicer handling. The turns of both zoom and manual-focus rings are smoother and more even than its predecessor's. The MF ring is larger, and there's a zoom lock.
Despite the noticeably smaller profile, its filter threading has ballooned to 82mm from 77mm; upgraders should factor in the cost of new filters.
In the field, the lens handled much like its predecessor, with AF that seemed equally fast, quiet, and accurate in both normal and dim lighting. Like the earlier optic, our test lens lacks stabilization and its subject distance scale (in feet) is hard to read. The lens is, however, internally focusing, with a thankfully nonrotating barrel that's well suited to lens-mounted accessories.
On the Popular Photography optical bench, the lens produced Excellent-range SQF numbers. Somewhat disappointing, though, was subject magnification, which dropped to 1:4.27 from 1:3.5 at 70mm. Another surprise: At 24mm, edge falloff darkened the corners until we stopped down to f/6.3. Previously, it was gone by f/4.
The lens's real forte, it turns out, is distortion control. At 70mm, pincushioning improved to 0.20% (Slight) from the Noticeable 1.7% of its predecessor, a huge improvement. Other focal lengths followed suit.
Serious Canon shooters will flock to this lens. It's matched to the 70–200mm f/2.8L IS, and the two make a perfect pair. You may be tempted by Tamron's stabilized 24–70mm f/2.8 at $1,300, however. And, all things considered, you very well should be.
SPECIFICATIONS
24–70mm (24.94–69.99mm tested), f/2.8 (2.67–2.95 tested), 18 elements in 13 groups. Focus ring turns 150 degrees. Zoom ring turns 80 degrees. Focal length marked at 24-, 28-, 35-, 50-, and 70mm.
Diagonal view angle: 84–34 degrees
Weight: 1.91 lbs filter size: 82mm
Mounts: Canon AF
Included: Lenshood, soft case
Street price: $2,299
Website: usa.canon.com
TEST RESULTS
Distortion: At 24mm, 0.47% (Visible) barrel; at 50mm, 0.15% (Slight) pincushion; at 70mm, 0.20% (Slight) pincushion
Light falloff: At 24mm, gone by f/6.3; at 50mm, gone by f/5; at 70mm, gone by f/4
Close-focusing distance: 14.21 inches
Maximum magnification ratio: At 24mm, 1:9.54; at 50mm, 1:5.39; at 70mm, 1:4.27