CES 2014 Canon PowerShot N100 Compact Camera With Rear-Facing Camera
Take a picture and a selfie...at the same time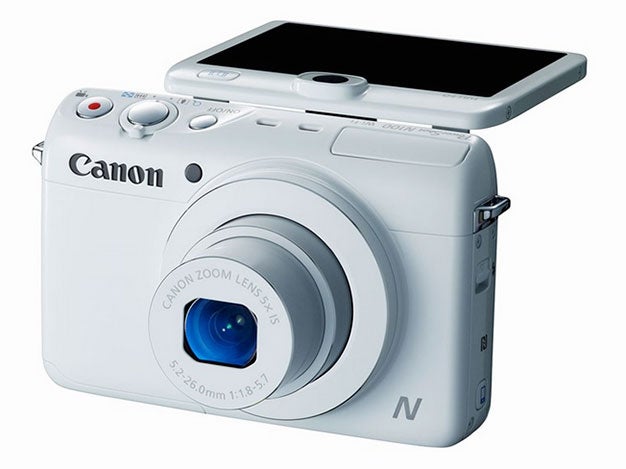 We may earn revenue from the products available on this page and participate in affiliate programs. Learn more ›
The Canon PowerShot N was an interesting camera. It was square and used a non-traditional shutter button. But, now, Canon has given the PowerShot N series an overhaul with the N100. It's shaped more like a traditional compact camera, but now it has a 25mm rear-facing camera as well to snap your photo every time you snap a photo. It's a built-in selfie machine.
Photographically speaking, the N100 is actually a decent step up from its predecessor. It uses the 24-120mm F/1.8-5.7 zoom lens and 12.1-megapixel sensor from their popular S110 camera. It has a 3-inch LCD that tilts upward as well, like the camera that came before it.
The real feature to call-out here is the rear-facing camera. When you take a photo or video, you can actually have the camera overlay an image of your own face into the image you just took. It's not an entirely new concept as we've seen some apps that do the same thing, but it's relatively new territory for the big camera brands.
Why would you want to do that? Well, Canon's focus with this camera seems to be about "storytelling." The camera has NFC and Wifi for connecting to mobile devices and they seem to be encouraging immediate sharing, which is actually kind of a smart move on their part.
They've added other decidedly app-like features like a Story Highlights mode, which automatically picks what it thinks to be the best moments of your photos and videos, then combines them.
The camera will be available in May for $349. We'll be interested to see how its received. Would you want a photo of your own face whenever you take a photo? (Man, that's a weird question to ask)