Camera Test: Nikon D5300
Nikon shooters looking to take a step up from an entry-level DSLR will find a worthy camera in the D5300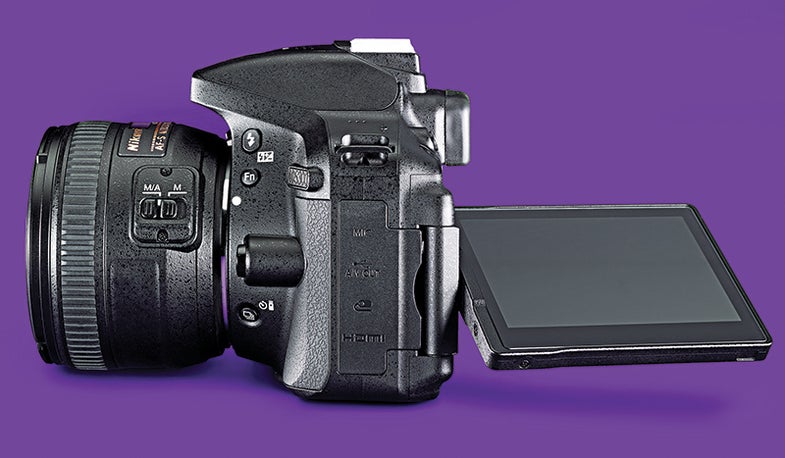 We may earn revenue from the products available on this page and participate in affiliate programs. Learn more ›
Unwired Update
While Nikon is taking its time to replace the venerable D300S, in recent years the company has been churning through updates of its more mainstream DSLRs. The latest, the D5300, essentially adds Wi-Fi capability to the features of its predecessor, the D5200, tested back in our May 2013 issue.
The D5300 ($797, street, body only; $1,097 with 18–140mm f/3.5­–5.6G ED VR kit lens) also sports a new sensor and, although its 24.2MP APS-C-sized CMOS doesn't add much to the pixel count over the D5200's 24.1MP imager, we discovered some key differences. The D5300's flip-out-and-swivel LCD sets it apart from most of Nikon's other DSLRs and makes for a real apples-to-apples showdown with Canon's EOS Rebel T5i.
We ran the D5300 through our lab and field-testing regimen to see how it stacks up.
In the Test Lab
The D5300 earned an Excellent rating in overall image quality from its lowest sensitivity of ISO 100 through ISO 1600. That's one stop more than the D5200 did, thanks to the D5300's slightly lower noise numbers.
In our resolution test, the D5300 delivered 2750 lines per picture height at ISO 100, easily securing an Excellent rating. At ISO 1600 the camera captured 2500 lines, exactly our cutoff for an Excellent rating. At ISO 3200 resolution dips to 2490 lines, and by its top ISO of 25,600 it drops to 2275 lines. That's still very impressive, but it marks a significant drop in comparative resolution along the sensitivity range.
At ISO 800 and below, the D5300 shows really clean images for an APS-C format camera of its pixel count. At ISO 100 through ISO 400 it scored Extremely Low ratings. At ISO 800 that rises to a Very Low rating, then to Low at ISO 1600. From there noise grows more precipitously, reaching Unacceptable levels at ISO 6400 and beyond.
Canon's 18MP EOS Rebel T5i can't match the D5300's resolution, and it showed more noise at lower ISOs than this Nikon. At ISO 3200 and above, the Canon holds noise down a little better, not reaching an Unacceptable rating until ISO 12,800, but we'd give the edge to the D5300 here with its clean, high-resolution images at lower sensitivity settings.
The D5300 earned an Excellent rating in Color Accuracy with an average Delta E of 6.8—a virtual match for the T5i's result.
In our autofocus test, the D5300 performed much like the D5200 before it, locking focus and capturing an image in 0.50 second at EV 12, the brightest light level in our test. That's notably slower than the 0.32 sec it took the Canon T5i to complete the same tasks. In fact, at EV 2, which is dimmer than most living rooms, the Canon was able to focus and fire in 0.51 sec, while it took the D5300 0.87 sec at that light level. The D5300's focusing time rises above a second at EV 0 and EV –1. Nikon rates the AF system as effective down to only EV –1 and, indeed, when we lowered the lights to EV –2, the D5300 hunted for focus to no avail. So, as far as autofocus goes, Canon's T5i is the clear winner.
In the Field
The D5300's body is extremely similar to the D5200's. It feels solid in the hand, with a well-designed grip and a nice rubber area on back for your thumb. A lever alongside the mode dial lets you switch between live view and the optical finder for framing your shots. This proved a very quick way to switch between these two types of shooting, or to jump into video capture on the fly.
We still receive email from people who pooh-pooh the importance of an articulated LCD screen, but the more time we spend framing with a screen that can at least tilt up and down, the more we feel that this should be a standard feature on all cameras. That's not to say that we don't love using an optical finder, but there are some situations in which an articulated LCD makes a whole lot of sense. The D5300 is the only Nikon DSLR with built-in Wi-Fi—though most other Nikon DSLRs will allow you the privilege of paying $60 to add it through the WU-1a adapter. We were pleased with the Wi-Fi experience of the D5300. Within minutes of installing the Nikon Wireless Mobile Utility app, we were able to transfer an image from the camera to a Samsung Galaxy S3 phone and email it from the phone to a family member.
The mobile app will let you transfer images that are so large you wouldn't be able to text them, though it also gives you easy options for transferring smaller files for texting or posting to social networking sites. We give Nikon kudos for allowing photographers the option to work with various sizes of the images, something that isn't always a given for smartphone apps.
The app also lets you trigger the camera's self-timer, and see the D5300's shutter speed and aperture settings, as well as remaining battery charge and available space on the memory card. But we wish there were more control of other camera settings. Other camera makers, notably those specializing in interchangeable-lens compacts, have added much more detailed controls in their smartphone apps; Nikon has little excuse not to follow suit.
Burst shooting remains at a top speed of 5 frames per second, but if you want to capture 14-bit RAW files, that will slow to 4 fps. In our field tests, the D5300's 3D tracking AF easily kept up with the camera's burst rate. Using a UHS-I-compliant SD card, we got seven 12-bit RAW shots before the buffer filled, or five 14-bit RAW shots. Switching to Large Fine JPEGs, we were able to grab 12 frames before the buffer filled. Given that this is a camera geared toward novice to mid-level shooters, this modest buffer is to be expected, though the Canon T5i will yield more JPEGs per burst, and 14-bit RAW won't slow it down.
Video from the D5300 was very satisfying, and there's even a stereo microphone input to supplement the built-in stereo mic. If you plan to make use of the 1920x1080p60 capture option, you'll be limited to a maximum clip size of 10 minutes. Stepping down to 1080p30 will get you to a maximum of 20 minutes. This may seem limiting, but if you've ever tried to sit through more than 10 minutes of continuous, unedited amateur video, you'll probably acquiesce quickly to the limitation. Jam bands looking to make videos of themselves should take note, though.
The Bottom Line
Nikon shooters looking to step up from an entry-level DSLR will find a worthy camera in the D5300—although it would be a very small upgrade from the D5200. It's extremely versatile and, with instant image-sharing becoming the norm these days, the camera's Wi-Fi makes it even more useful for the contemporary photographer.
Photographers not already ensconced in a system will have a harder choice to make. Canon's Rebel T5i is slightly less expensive than this Nikon, though the Canon lacks built-in Wi-Fi. And it's hard to point to either the D5300 or T5i as a clear winner in this matchup when it comes to our lab tests.
If you are not averse to mirrorless cameras, the decision becomes even harder. Both Sony's NEX-6 and Samsung's NX300, for example, currently sell for less than this Nikon, although neither offers quite the resolution of the D5300. But if your heart is set on a DSLR in this price range, the Nikon D5300 certainly won't disappoint, and it might well be the best option for its class.
SPECIFICATIONS
IMAGING: 24.2MP effective, APS-C-sized CMOS sensor captures images at 6000×4000 pixels with 12 or 14 bits/color in RAW mode
STORAGE: SD, SDHC, SDXC. Stores JPEG, NEF RAW, RAW + JPEG
VIDEO: Up to 1920x1080p60
MPEG-4/H.264 MOV; built-in stereo mic, stereo minijack mic input; contrast detection AF and face detection in video and live-view mode; maximum clip length approximately 29 min 59 sec
BURST RATE: Full-sized JPEGs (Fine mode): 5 fps up to 12 shots;
RAW (14-bit): 4 fps up to 5 shots when using a UHS-I memory card
AF SYSTEM: TTL phase detection with 39 focus points (9 cross-type). Single-shot and continuous with 3D predictive focus tracking.
SHUTTER SPEEDS: 1/4000 to 30 sec (1/3-EV increments); shutter life not rated
METERING: TTL metering using 2016-pixel RGB sensor with 3D Color Matrix (evaluative), centerweighted, and spot (approx. 2.5% of frame) metering; 0–20 EV (at ISO 100)
ISO RANGE: ISO 100–12,800 (in 1/3–EV increments); expandable to ISO 100–25,600
FLASH: Built-in pop-up with TTL autoflash, GN 39 (ISO 100, feet); flash sync to 1/200 sec
VIEWFINDER: Fixed eye-level pentamirror
LCD: Articulating 3.2-in. LCD with 1,037,000-dot resolution; 11-step brightness adjustment
OUTPUT: Hi-Speed USB 2.0, mini HDMI video, Wi-Fi
BATTERY: Rechargeable EN-EL14a Li-ion, CIPA rating 600 shots
SIZE/WEIGHT: 4.9×3.9×3.0 in., 1.2 lb with card and battery
STREET PRICE: $797, body only; $1,097, with AF-S DX Nikkor 18–140mm f/3.5–5.6G ED VR lens
FOR INFO: www.nikonusa.com
VIEWFINDER TEST: Accuracy, 95% (Excellent); Magnification, 0.82X (Very Good).