Camera Test: Leica M Digital Rangefinder Camera
M is for "more." Experience heavy-duty image quality in the best digital Leica yet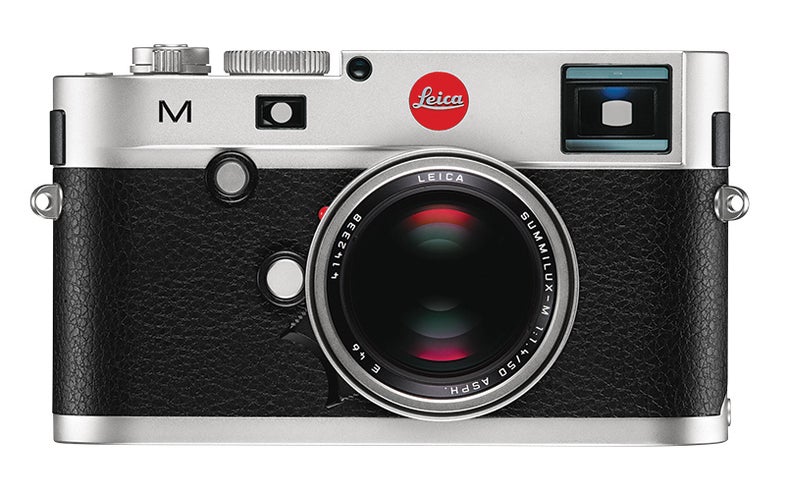 We may earn revenue from the products available on this page and participate in affiliate programs. Learn more ›
We at Pop Photo have long had a simple catchphrase to explain the mystique, foibles, cachet, and just plain quirkiness of Leica rangefinders: "It's a Leica."
As in:
"This camera cost more than my first car. My first new car."
"It's a Leica."
"The lens close-focuses to, um, one meter?"
"It's a Leica."
"The camera came in a box that's in another box in a velvet-lined drawer in another box."
"It's a Leica."
In other words, there are Leicas, and everything else. This latest imperiously unique Leica, the successor to the M9, is not named the M10 but just plain M. (Leicaphiles have taken to calling it the M240, Leica's internal designation for the model.) Its 24MP full-frame CMOS sensor has the most resolution yet in a digital Leica, and it's the first of its ilk to provide live view and Full HD (1920x1080p) video capture. Topping the company's digital line, it streets for $6,950, body only; an 18MP CCD sensor similar to that of the M9 soldiers on in Leica's current "economy" model, the M-E ($5,450, street, body only).
We were eager to find out just how much of a Leica this latest Leica is in our lab and field tests. Read on.
In the Test Lab
With ample resolving power, accurate color reproduction, and well-controlled noise, the Leica M easily earned top honors in our lab tests, conducted using a Leica APO-Summicron-M 50mm f/2 Asph lens. In overall image quality, the camera earned an Excellent rating from its lowest sensitivity of ISO 100 through ISO 1600.
As we did with the Leica M Monochrom and Samsung's NX300, both of which also ship with Adobe's Photoshop Lightroom for RAW conversion, we ran our lab tests with varying levels of noise reduction applied.
We found that applying 25% of Lightroom's noise-reduction capability provided the best compromise from ISO 100 through ISO 800. At ISO 1600 and above, we applied 50% of Lightroom's noise reduction. Doing so kept noise to acceptable levels through ISO 3200. Obviously, the amount of noise reduction you apply will vary based on the content of your image and your desired results. Even when there was noise in the M's images, it mostly took on a very fine-grained look, so some shooters might not find it all that objectionable and may prefer to leave the noise reduction low.
In our color accuracy test, the Leica M aced an Excellent rating with an average Delta E of 6.8.
Possibly most impressive is the M's resolving power. Given competition from the Nikon D800's and Sony Alpha A7R's 36MP sensors, the M doesn't shatter any records, but it does a great job of holding most of its resolution as sensitivity is increased. With 25% noise reduction applied, the M served up 2810 lines per picture height at ISO 100 in our test, well above the cutoff of 2500 lines for an Excellent rating. At ISO 800, where the camera earned a Very Low noise rating, it delivered 2700 lines in our resolution test. At the camera's top sensitivity setting of ISO 6400, with 50% noise reduction applied, the M still has enough resolving power for an Excellent rating with 2550 lines. Stepping down one stop to ISO 3200, with the same amount of noise reduction applied, resulted in 2640 lines. So, outside of the M's top sensitivity setting, the camera maintains its resolving power within 200 lines. Leica prides itself on consistency, and we'd say the company has well achieved it.
Of recently tested 24MP cameras, the APS-C-sensor Nikon D7100 put up very similar test results, and it gives you two more notches of sensitivity, to ISO 25,600, to boot. The Leica M does do a better job holding onto resolution at high ISOs. Cynics might sniff that, at a street price of $1,097, you could buy six of the Nikons and have change left over, but true believers will insist that the Leica is a completely different experience. And it is.
In the Field
It is now our duty to inform you that this is not your Uncle Bertholdt's Leica. Compared to its lineal ancestor, the M3, the new camera—the largest and heaviest M-series model to date—is thicker by about a third of an inch, and noticeably thicker than its immediate predecessor, the M9. And, at 1.5 pounds—nearly a quarter pound more than the M9—the M has considerable heft for a camera often considered compact.
Of course, there's a lot more stuff in the M, and the thick body does provide your hand a firm grip. But, not surprisingly for a camera whose body design is essentially 60 years old, the M isn't quite up to modern ergonomic standards. No sinuous rills here, no sculpted thumb rests or swoopy finger holds. We've always felt the shutter button on M-series Leicas isn't quite where it should be, and that the range/viewfinder in the very corner of the camera makes for somewhat clumsy eye-level holding. And yes, you still have to remove the base plate to switch out the battery or change your memory card.
Some of the controls on the M don't help matters. The exposure-compensation button on the front of the camera (Leicaphiles will notice that the frame-line preview lever has been eliminated) allows adjusting exposure with eye-level readouts in the finder. But the flush-mounted button needs to be pressed and held while you (try to) spin the rear command wheel, located inconveniently at the far right of the camera back. Not one of our testers had an easy time of it.
Exposure comp can always be adjusted easily enough through a quick menu (under the Set button), and menus in general are logical and easy to read. But still.
Of course fans will argue that this caviling misses the point, that just to hold a Leica is its own reward. And yes, to say the fit and finish of this camera are superb is to risk understatement. For anyone with appreciation of finely made mechanical objects, the M is simply a thing of beauty. And a nearly indestructible one at that.
The optical viewfinder is the same throwback: a reverse Galilean design that provides a clear, three-dimensional view. Bright frames for 28mm through 135mm lenses are now actively illuminated by LEDs, rather than passively by light-gathering window on previous M models. As per tradition, frame lines appear in pairs: 28/90mm, 35/135mm, 50/75mm, so you have to remember which ones to use. (It's a Leica.) Manual focusing is done by coincidence-type rangefinder; you adjust the lens' focusing ring or tab until a secondary image in the finder aligns with the subject image.
Burst shooters will not flock to the M. The camera is rated for up to 12 JPEGs or DNG RAW files at 3 frames per second, and we managed to get just that with a fast SD card. With JPEG plus DNG files, the buffer would choke at 8 frames.
As noted, Leica joins the HD video club with the M. The video record button on top of the camera is (thankfully) a press-and-release control that starts recording the instant you press it. You can also interrupt video at any time to take a still shot by pressing the shutter button. The M can capture 1920x1080p at 24 or 25 fps, but for 30 fps you must step down to (sheesh!) 640×480.
The video from the M looks very nice and didn't exhibit any more artifacts than what you'd find from a mid-level DSLR, which is to say very little. Depending on the lighting, you may want to set a custom white balance, as the auto white balance sometimes got things slightly wrong in mixed lighting, compared to an average DSLR. (This is more easily rectified in stills than in video.) We did notice a fairly pronounced Jell-o effect—the appearance that objects moving quickly through the frame are squirming and tilting to diagonal.
This was particularly evident in footage we shot of subway trains entering and leaving a station.
The Bottom Line
Now we come to the part of the report where we ordinarily compare the test camera to its competitors and make recommendations accordingly. In this case, that would be utterly irrelevant. As we said at the outset of this report, the people who will want this camera know who they are. And those who are baffled by the Leica mystique will continue to shake their heads.
But that Leica mystique is still real. While our report might sound harsh, it doesn't mean we didn't thoroughly enjoy using the M. It does take a while to get used to the absence of autofocus and autoexposure, save for aperture-priority. You then come to realize that those things can be distractions. You look down at the camera and see the shutter speed, and aperture, and distance setting. Raise the camera to your eye and match the two viewfinder images; press the shutter and it makes that characteristic Leica sound, not quite a click and not quite a thud. And you look at the picture and it's far better than you thought it would be.
It's a Leica.
SPECIFICATIONS
IMAGING: 24MP effective, full-frame CMOS sensor captures images at 5976×3992 pixels with 14 bits/color in RAW mode
STORAGE: SD, SDHC, SDXC slot stores JPEG, DNG RAW, RAW + JPEG files
BURST RATE: Full-sized JPEGs (Fine mode) or RAW, up to 12 shots at 3 fps; RAW + JPEG, up to 8 shots at 3 fps
VIEWFINDER: Reverse Galilean with coupled coincidence-type rangefinder; LED-illuminated bright framelines for 28mm, 35mm, 50mm, 75mm, 90mm, and 135mm lenses; automatic parallax compensation; eyelevel TTL viewing via the shoe-mounted Visoflex EVF2 electronic viewfinder ($499, street)
SHUTTER SPEEDS: 1/4000 to 60 sec, plus B (1-EV increments in manual exposure mode)
METERING: TTL metering with Multi-field (evaluative), centerweighted, spot (size of spot not specified); EV 0–20 (ISO 200)
ISO RANGE: ISO 100–6400 (in 1/3-EV increments)
VIDEO: Records at up to 1920x1080p 24 or 25 fps in Motion JPEG or Quicktime format; built-in mono microphone; stereo mic input via the accessory shoe with Leica microphone adapter set ($249, street); maximum clip length 29 minutes 59 seconds
FLASH: No built-in flash; TTL automation with Leica accessory flash units and SCA flashes; flash sync to 1/180 sec
MONITOR: Fixed 3-inch TFT LCD with 921,000-dot resolution; 5-step brightness adjustment
BATTERY: Rechargeable BP-SCL2 Li-ion, CIPA rating 600 shots; 300 with live view
SIZE/WEIGHT: 5.5×3.2×1.7 in., 1.5 lb with a card and battery
STREET PRICE: $6,950, body only
INFO: us.leica-camera.com