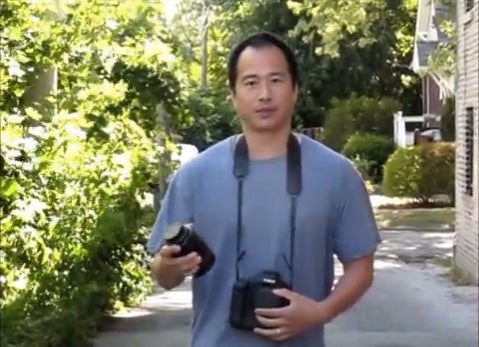 This video of a photographer attempting to show his one-handed lens mounting technique has gone viral over the weekend. As the unnamed star of the shoot attaches and then takes off his new Canon 24-70 L lens repeatedly, the inevitable happens for a viral video — he screws it up, and the $2,300 lens goes tumbling to the ground with a heart-rending sound.
We realize it's entirely possible this is some kind of viral marketing thing. Maybe it's the fact that the photographer keeps going on about how important expensive gear is, and how to change lenses "like a pro" — which is more than a little unprofessional. Or maybe it's the fact that for a pro, the video is really bad quality. Or even the fact that if you were trying to set up a series of professional geared tips and tricks, why would you upload such an obvious failure of a video? Or that it's the only video on this user's account.
The fact that he's actually mounting it on and off suggests that it's a real lens (rather than, say, a mug), but it could just have easily been an already broken one used just for this effect. Or maybe it's a real one, and you've just witnessed the spawning of a new viral marketing account.
Regardless, fake or not, the video will likely still make you cringe. That brief second after the lens goes flying is enough to make any photographer's heart leap out their chest.
[via Reddit]