Camera Test: Panasonic Lumix DMC-GX7
Working the Angles: The screen tilts, the finder tilts, the rig rocks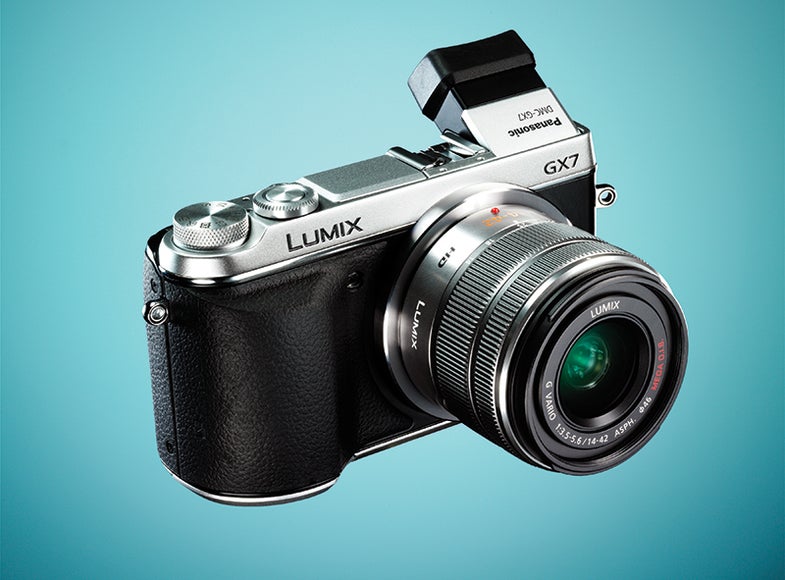 We may earn revenue from the products available on this page and participate in affiliate programs. Learn more ›
Panasonic's Lumix DMC-GX series of rangefinder-style Micro Four Thirds bodies is now in only its second generation, despite the model numbers jumping to GX7 from GX1. But given all the good stuff in the new GX7—a 16MP Live MOS sensor, tilting 3-inch LCD touchscreen, tilt-up 2.76-million-dot electronic viewfinder, and highly customizable set of controls—it makes sense that the line would skip a few grades. This upgrade also signifies the change in the perception of interchangeable-lens compact cameras. While many at first thought that ILCs would appeal mainly to inexperienced photographers, it soon became clear that even very advanced photographers wanted the option of shooting with small, lightweight system cameras. And the GX7 should make those high-level shooters sit up and take notice, considering the results from the Popular Photography Test Lab.
In the Test Lab
The Lumix GX7 fared well for a 16MP camera, earning an Extremely High rating in overall image quality from its lowest sensitivity of ISO 125 through ISO 400.
Resolution was the main limitation, keeping the camera just shy of an Excellent rating. With RAW images converted to uncompressed 16-bit TIFFs using the customized version of Silkypix included with the cameras, the GX7 turned in 2480 lines per picture height at ISO 125, with default noise reduction applied. Panasonic doesn't vary the amount of noise reduction applied as the ISO changes, so noise degradation and any other side effects of signal amplification gets most of the blame for lost resolving power as the ISO increases.
Not much resolution is lost until after ISO 6400, where the GX7 captured 2325 lines. By the camera's top sensitivity of ISO 25,600, resolution had fallen to 2160 lines.
As usual, the noise numbers for the Lumix GX7 reflect Panasonic's lackadaisical approach to RAW. At ISO 125 the camera earns an Extremely Low rating, and it drops to a Low rating at ISO 800. From there, noise rises faster, reaching an Unacceptable rating at ISO 1600. And at ISO 25,600, it was literally off the charts we use to deliver our test results.
As much as Panasonic seems to ignore RAW, it has been working hard on JPEG conversions lately. JPEGs straight from the GX7 show significantly less noise than their default-processed RAW counterparts, but you're forced to go to JPEG files' lower bit depth (8-bit) and sacrifice a noticeable amount of resolution to the noise reduction and JPEG compression.
In our color accuracy test, the GX7 got an Excellent rating with an average Delta E of 6.3. And in our field testing, the images captured by the GX7 did a great job of reproducing colors, including some (such as very deep purples) that would have flummoxed DSLRs as little as five years ago.
In the Field
Panasonic managed to pack a whole lot of camera into the tiny body of the GX7. The EVF doesn't significantly add to the camera's modest height, unless you decide to tilt it upward, which we found ourselves doing more often than we expected. It became especially useful when capturing low-angle shots. Photographing an image of graffiti on the lower part of a brick wall, we found it easier to kneel down and look down into the EVF to keep the sensor plane parallel to the wall, and thus avoid distortion in the brickwork pattern. Sure, the tilting touchscreen would let us do that as well, but we often find it easier to concentrate on composition when looking through a 100% accurate finder. Plus, the viewfinder, as a third point of contact between your body and the camera, helps keep your shots steadier than would two hands alone.
The camera's grip is slightly more prominent than the one on its predecessor, but its shape could use some refinement. The slope on the side nearest the lens should be steeper to increase stability when grasping it. Worse, though, is the way it cuts off just below the Lumix logo—with a little longer extension, perhaps a quarter of an inch, your middle finger would rest more comfortably on it. Alternately, extending the grip upward could also add to the stability of the handling of the GX7.
With grip gripes out of the way, we can move on to heaping praise on the camera's control system. Panasonic's touch interface lets you customize the quick menu to include the settings you need the most by simply dragging and dropping them on the touchscreen. Four assignable hard buttons adorn the back of the camera, in addition to plenty of other buttons dedicated to various frequently accessed controls. Two command wheels, one surrounding the shutter release button, the other embedded in the upper right corner of the camera back, make shooting in manual mode easier. The rear wheel is also clickable. Press it in while in aperture priority mode, and you get exposure compensation.
Once you get the camera customized to your liking, shooting becomes very seamless. Plus, thanks to the touchscreen, moving your AF point is as simple as touching the LCD in the spot where you want to place it. Autofocus proved quite fast. The Olympus OM-D EM-5 was slightly faster at focusing in our field testing, but we think that most shooters will be pleased with the GX7's focusing prowess.
The video we shot was sharp, and colors looked accurate and well-saturated. The built-in stereo microphone has a level control, but there's no mic input in the camera. So you'll have to go to a completely separate audio rig if you don't like the built-in option. Burst shooters might yearn for more than the GX7's capture of 4.3 frames per second, though if you give up continuous AF, it can be pushed up to 5 fps. RAW shooters will likely want a bigger buffer than the GX7's nine-shot capacity. Meanwhile, JPEG bursts can soldier on until your SD card fills up.
As has become nearly standard for new cameras, the Lumix GX7 has built-in Wi-Fi that lets you connect the camera with your smart­phone. Just download the free Panasonic Image app, make sure Wi-Fi is turned on for both the camera and the phone, press a few virtual buttons and you'll be up and running. The assignable Fn3 button is set as a default to start up the Wi-Fi connection, so if you plan to use this often, you may want to leave it set up that way.
The app is available for both iOS and Android devices. We used a Samsung Galaxy S3 to connect with the GX7, and were quickly able to transfer images we had shot earlier in the day to our phone and send them off to friends. The app lets you adjust all major camera settings associated with the shooting mode the camera is set to. So, if the camera is in aperture priority, you won't be able to change the shutter speed directly. But ISO, exposure compensation, AF point, and more are no more than a few button presses away.
The Bottom Line
The Panasonic Lumix GX7 is a nice upgrade from the GX1. The tilting EVF and interface upgrades alone make it worthwhile to step up. But when you pit the GX7 versus the similarly priced Micro Four Thirds camera from Olympus, the OM-D E-M5, the decision becomes harder. The E-M5 sports weather-sealing not found on the GX7, and has been rightfully lauded for its performance and image quality. But the E-M5 is a decidedly different camera design, more closely resembling a DSLR. Olympus's E-P5 is closer in design to the GX7 and offers similarly pleasing image quality. It lacks a built-in EVF, but it does capture bursts at 5 fps with continuous AF, for up to 18 RAW shots before the buffer fills up.
This is the first Panasonic with a sensor-shift image stabilization system, the kind of IS Olympus employs—notable, considering that they share a lens format—which works with any lens you mount on the body. So if you love legacy glass, sensor-shift is the way to go. (With other Panasonic ILCs, you need to acquire stabilized lenses.) Overall, though, we have seen that optically stabilized lenses can provide more effective stabilization than any sensor-shift system we've tested so far. The clearest lesson we're learning when considering all of these cameras is that the Micro Four Thirds system as a whole,—including the Lumix GX7—has grown into a serious force to be reckoned with in the camera world.
Specifications:
IMAGING: 16.0MP effective, Four Thirds-sized Live MOS sensor captures images at 4592×3448 pixels with 12 bits/color in RAW mode
STORAGE: SD, SDHC, SDXC slot stores JPEG, RW2 RAW, RAW + JPEG files
BURST RATE: Full-sized JPEGs (Fine mode), up to card capacity at 4.3 fps; RAW (12-bit), up to 9 shots at 4.3 fps
AF SYSTEM: TTL contrast detection with 23 selectable focus areas; single-shot and continuous AF with face detection and subject tracking
SHUTTER SPEEDS: 1/8000 to 60 sec, plus B (1/3-EV increments); shutter life not rated
METERING: 1,728-zone TTL metering, Multi-pattern (evaluative), centerweighted, spot (size of spot not specified); EV 0–18 (ISO 100)
ISO RANGE: Standard: ISO 200–25,600 (in 1/3-EV increments); Expanded: ISO 125–25,600
EVF: Tilting LCD with 2,764,800-dot resolution, 1.39x magnification
VIDEO: Records at up to 1920x1080p60 in AVCHD Progressive format; built-in stereo microphone; no mic input. Maximum clip length not restricted in the U.S. when using AVCHD.
FLASH: Built-in pop-up; GN 17 (feet, ISO 100); flash sync to 1/320 sec (built-in) or 1/250 sec (external flash). Wireless flash control with Panasonic external flashes.
MONITOR: Tilting 3-inch LCD touchscreen with 1,040,000-dot resolution; 7-step adjustments for brightness, contrast, red tint, and blue tint
OUTPUT: USB 2.0, mini HDMI video, composite video
BATTERY: Rechargeable DMW-BLG10PP Li-ion, CIPA rating 350 shots
SIZE/WEIGHT: 4.8×2.8×2.2 inches, 0.9 lb with a card and battery
STREET PRICE: $999, body only; $1,099, with 14–42mm f/3.5–5.6 Mega OIS lens
INFO: panasonic.net
For info on how we test DSLRs, visit our website at PopPhoto.com/reviews.
If you search the app store looking for the Panasonic Image App, don't be fooled by the older Lumix Link app. It'll let you move images to your phone, but won't give you control over the camera.