New Gear: ExpoDisc 2.0 White Balance Filter from ExpoImaging
Load up this filter, and generate a perfect white balance in seconds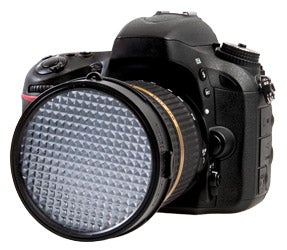 We may earn revenue from the products available on this page and participate in affiliate programs. Learn more ›
ExpoImaging has announced the new ExpoDisc 2.0, a way of generating a custom white balance from a scene using incident light rather than measuring off a grey card. Rather than taking a photograph of your typical 18% card, the ExpoDisc is a filter that sits in front of your lens and creates an appropriate white balance image across the entire frame.
The ExpoDisc 2.0 hasn't changed the way it filters the light since the original version, but offers a number of other features and a lower price. Now, the ExpoDisc uses spring mounts to firmly attach to your lens, which also means that it can be mounted in front of other filters that are already on your lens. The ExpoDisc 2.0 also comes with warming gels, which modify the white balance to produce warmer hues that work well with portrait photography.
Each disc is also hand calibrated to ensure its accuracy. As ExpoImaging explains it:
For now, the ExpoDisc 2.0 is only available in a 77mm version, which retails for $50. Other sizes are in the works, but until they come out, you can always just hold the filter in place while you take your reference shot.
[via Imaging-Resource]