Lens Test: Sigma 18–35mm f/1.8 DC HSM
The industry's fastest zoom lens is also one of the sharpest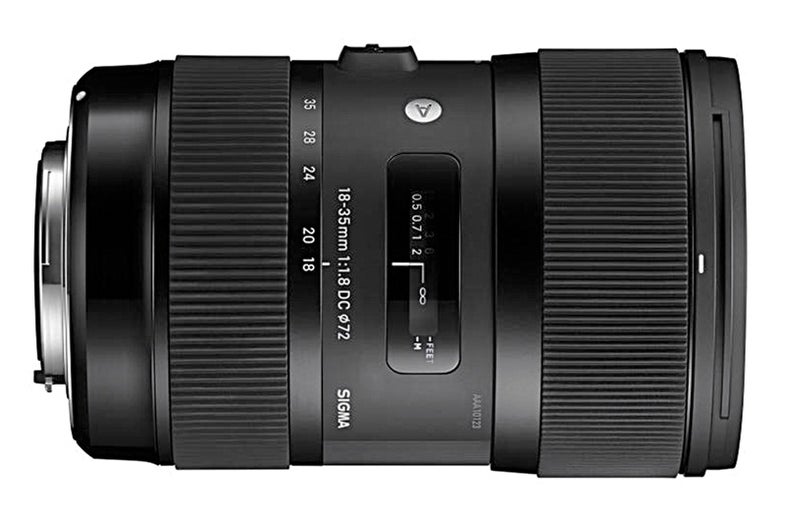 When the announcement of Sigma's new 18–35mm lens arrived, some of our staffers chuckled upon opening the e-mail. Why? Because of what appeared to be a typo in the headline: Instead of f/2.8, it quoted f/1.8 as the maximum aperture! But as we read further, we learned the joke was on us: The lens is the industry's first f/1.8 constant-aperture zoom, and thus the fastest. It comes in mounts for Canon, Nikon, Pentax, Sigma, and Sony DSLRs.
Designed for APS-C sensors, it's the full-frame equivalent of about a 29–56mm (Canon) or 27–52mm (all others). Sigma calls it an "Art" lens, suited to artistic effects such as pleasantly defocused backgrounds. Another significant perk: an element of high-cost SLD (Special Low-Dispersion) glass for controlling the image-softening effect of color fringing. It also zooms and focuses internally, which makes for a nonrotating, nonextending lens barrel that suits it to most lens-mounted accessories.
That barrel's polycarbonate is Sigma's thermally stable composite (TSC), which, in addition to being lighter than standard polycarbonates, promises to be less susceptible to contraction and expansion in changing temperatures, and thus less likely to lose sharpness due to misaligning of lens elements. Like the other Sigma Global Vision lenses, it's quite handsome, clad in matte black, with distinguished type that includes, among other info, the date of manufacture stamped near the lensmount. It has Sigma's new MF/AF switch, designed to tell you at a glance whether you're in auto- or manual focus. As with other Global Vision lenses, however, the subject distance scale's feet markings are small, dark, and hard to read.
The lens is large by 18–35mm standards, but still compact enough that its shadow wasn't cast into the frame when used with the built-in flash of our Canon EOS Rebel T4i field-test camera, at least at all but the very widest focal lengths. At almost 2 pounds, it will probably surprise APS-C shooters with its heft. For example, compared with Pentax's 16–50mm f/2.8—also a constant-aperture, nonstabilized APS-C wide-to-standard zoom—the Sigma is more than half a pound heavier—but a half-inch shorter than the racked-out Pentax.
The Sigma's manual focus ring has a nice, well-damped turn, and a long turning radius designed for fine focusing. Autofocus action could hardly be quieter, and it is satisfyingly fast. The zoom ring turns somewhat stiffly, though, and the lens mount goes without a weather-resistant O-ring.
As for comparative results from the Popular Photography tests, it's difficult to find glass to contrast it with, since there's no other zoom this fast. Of all recently tested zooms, the Pentax offers our sole point of comparison. Both lenses produced Excellent-range SQF numbers indicating outstanding sharpness and contrast. The Sigma is slightly sharper at the tele end, while the Pentax is slightly sharper in the mid-range focal lengths.
In our DxO Anaylzer 5.0 tests, this Sigma controlled distortion noticeably better than the Pentax, producing just barely Visible barrel distortion of 0.31% at the wide end, compared to the Pentax's Visible barreling of 0.60%—a significant difference.
A compelling choice for travel, landscape, low—light, and portrait shooters, this new lens also returns Sigma to its traditional status as a purveyor of superior glass at attractive pricing (the slower Pentax retails for $1,297, about 60% more). Welcome back, Sigma—we missed you!
SPECIFICATIONS
18–35mm (18.57–34.98mm tested), f/1.8 (1.83–1.95 tested), 17 elements in 12 groups. Focus ring turns 160 degrees. Zoom ring turns 70 degrees. Focal length marked at 18-, 20-, 24-, 28-, and 35mm.
Diagonal 
view angle: 76–44 degrees
Weight: 1.91 lbs Filter size: 72mm
Mounts: Canon AF, Nikon AF, Pentax AF, Sigma AF, Sony AF
Included: Lenshood
Street price: $799
Website: sigmaphoto.com
TEST RESULTS
Distortion: At 18mm, 0.31% (Visible) barrel; at 28mm, 
0.14% (Slight) pincushion; at 35mm, 0.17% (Slight) pincushion
Light falloff: At 18mm, gone 
by f/2; at 28mm, gone by f/2.5; 
at 35mm, gone by f/2.5
Close-focusing 
distance: 10.54 inches
Maximum magnification ratio: 
At 18mm, 1:7.02; at 28mm, 
1:4.56; at 35mm, 1:3.80