New Gear: iON Air Pro 3 Action Camera
Another Wi-Fi enabled, cylindrical camera enters the ranks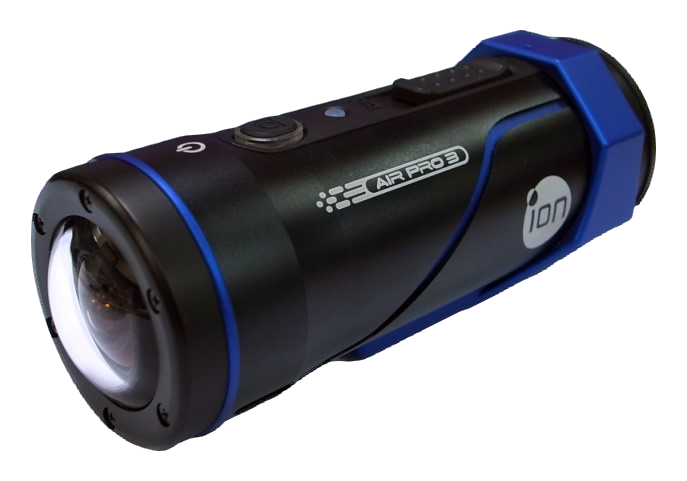 We may earn revenue from the products available on this page and participate in affiliate programs. Learn more ›
iON has unveiled the Air Pro 3, its third generation of action cam, less than a year after the previous edition was announced at CES. The new version features an improved sensor, better waterproofing, built-in image stabilization, as well as the small size and Wi-Fi controls of its predecessor.
The Air Pro 3 features a new 12-megapixel sensor, with a custom built f/2.8 160° lens (which can be cropped down to 140° or 150° through the mobile app). It can now capture 4000×3000 still images, and 1080p video at up to 60fps (up to 120fps at lower res). The Air Pro 3 also features "dual streaming to enable users to simultaneously "shoot and share" their recordings". iON is claiming the new sensor provides better dynamic range and light sensitivity than the Air Pro 2, which had a 14-megapixel sensor, 30fps footage, but a wider 180° field of view.
The new camera also has an "anti-shake" feature to help stabilize images, and wind noise reduction for video. The waterproofing of the design has also been improved, and it's now graded down to 49 feet. It has a 2.5 hour battery charge, and weighs just 5oz.
As with previous iterations of the device, it features:
– One-click capture: Easy to use, with intuitive controls and vibrating confirmation when starting or stopping recording
– Auto Rotation G-Sensor: Automatically adjusts image when camera is tilted
– CamLOCK system: Allows you to tilt or swivel camera without removing camera from mount
– Modular Wi-Fi PODZ (included with the Air Pro 3 Wi-Fi): Enables speedy, wireless uploading and sharing of videos and stills, without adding excess weight to the camera or requiring extra accessories.
– iOS and Android apps allow use of phones or tablets to start, stop and pause camera recording, change camera shooting modes, transfer files from camera to phone for easy uploading, check battery life, and more
– Built-in microphone: In addition to the noise-reduction feature, the Air Pro 3 also includes 3.5mm audio-in jack, enabling use of accessory microphones for optimum audio quality
– Multi-Region AC adapter: Comes standard with camera
iON has also rolled out a series of new mounts to go along with the new camera, including an FCS mount for putting it on snow and skateboards; a rollbar mount; and a headstrap and goggle mount.
The iON Air Pro 3 is available for pre-order for $349.99, with delivery starting in mid-November.
[via DPReview]