New Gear: Garry Fong Announces New Lightsphere, Speed Snoot, Kits
The popular lighting modifiers have been tweaked to mount and modify more easily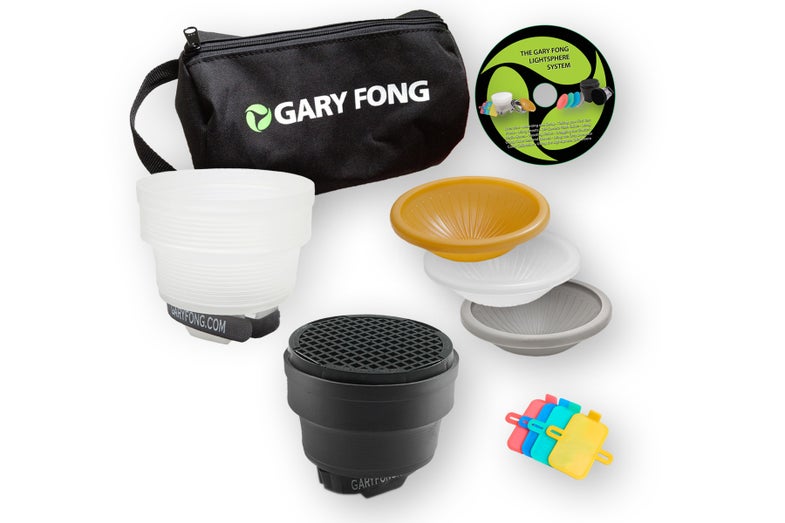 We may earn revenue from the products available on this page and participate in affiliate programs. Learn more ›
Gary Fong lighting has announced updated versions of two of its lighting modifiers, making both the collapsible Lightsphere and the Speed Snoot easier to mount and change. In addition to changing the way these two accessories are strapped to your flash, the company has also announced a trio of new lighting kits, involving the updated products.
The newest iteration of the collapsible Lightsphere will set go for $59.95. As before, it can be compressed down to just 1.5-inches thick, and with the ability to add domes to alter the color of the light that comes out. However, the big new change is the introduction of the "Speed Mount" system, which should make it quicker and easier to add to your flash.
Likewise, the updated collapsible Speed Snoot, which offers precise control of off camera lighting, and also gains the new mounting system.
Gary Fong has also announced three new flash diffuser kits, to make use of the updated versions of the Lightsphere and Speed Snoot. There's the $99.95 Wedding & Event kit, with the Lightsphere, a WhiteDome, AmberDome, GrayDome, an instructional DVD, and gear bag. The $129.95 Portrait kit comes with both the Lightsphere and the Speed Snoot, as well as WhiteDome, GrayDome, instructional DVD, and gear bag. And rounding out the new trio is the Fashion & Commerical kit, which will set you back $149.95, and includes the Lightsphere, Speed Snoot, a WhiteDome, AmberDome, GrayDome, colored gels for your flash, as well as the requisite DVD and gear bag.