New Gear: Olympus OM-D E-M1 Flagship Interchangeable-Lens Camera
The OM-D line gets a new captain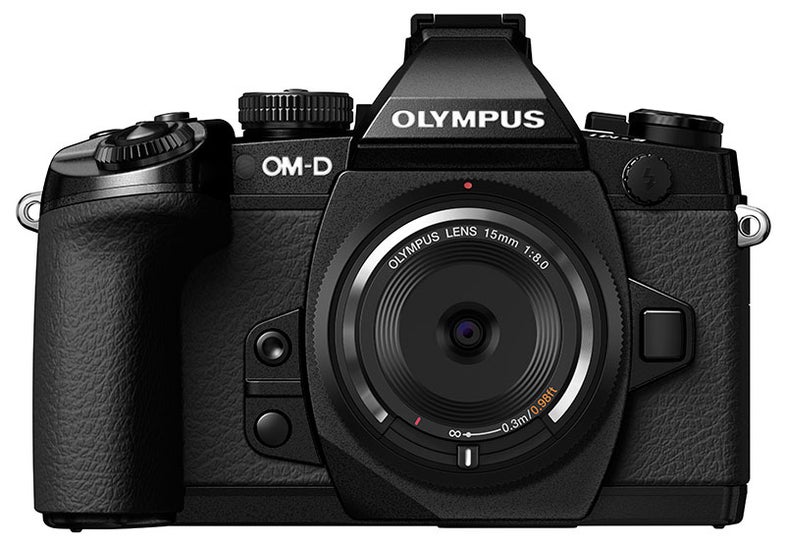 We may earn revenue from the products available on this page and participate in affiliate programs. Learn more ›
Olympus had an instant hit on its hands when it introduced the E-M5 to kick off their premium OM-D line. Now, from the looks of the new flagship E-M1, history may repeat itself. The E-M1 doesn't push the pixel count much higher, sporting a 16.3MP Live MOS sensor. But, Olympus fans will notice improvements to most other aspects of the camera.
One immediately noticeable change is in the grip. While the E-M5's built-in grip consists of a slight bump on the front of the body, the E-M1 sports a nice solid protrusion that won't make us resort to an accessory grip unless we want to go vertical. If you do want to permanently (and comfortably) orient for portraits, the HLD-7 power battery holder lets you do so without sacrificing the E-M1's extensive weather sealing. The camera is dustproof and splashproof and can operate in temperatures as cold as 14 degrees Fahrenheit. Should any dust get on the sensor during a lens change, the Supersonic Wave Filter dust reduction system might help shake it off. While on the topic of sensor movement, the E-M1 includes Olympus's five-axis image stabilization to let you shoot at shutter speeds slower than you'd otherwise be able to shoot.
**See our Hands On video for the OM-D E-M1 here. **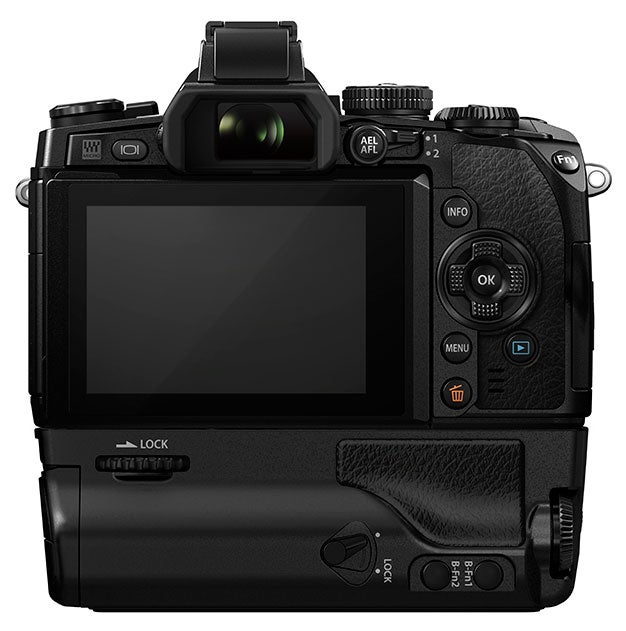 Like the Olympus Pen E-P5, the E-M1 includes the company's 2×2 dial control system. This small lever switches the two command dials between two different sets of functions. So, you can control aperture and shutter speed with them while actively shooting and then switch them to control ISO and white balance (or other such combinations) when adjusting for the next shot. Once you get used to it, and it didn't take us long on the E-P5, it's a fantastic way to provide direct access to more settings while keeping the camera's small-ish size.
Compared to previous Olympus electronic finders, the EVF in the E-M1 is anything but small. With an equivalent of a 0.74x magnification factor on a full-frame DSLR, the 1.48x, 2.36 million-dot LCD in the E-M1 provides a wonderful way to frame your shots. According to Olympus, their engineers upgraded all the optics in the finder to make it their best yet in an ILC. As usual for an EVF, it provides a 100% view of what you'll capture and reflects differences in white balance, exposure, aspect ratio, and other such settings as you change them.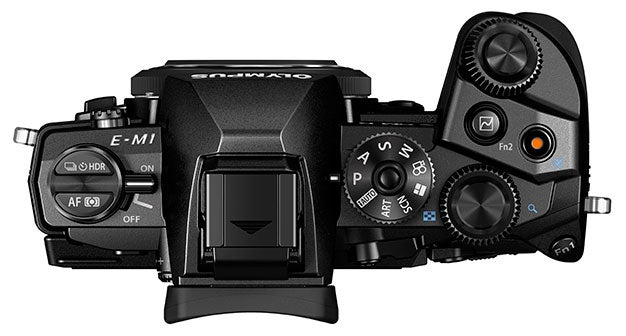 Owners of Four Thirds Olympus glass should be happy with the E-M1's new Dual Fast AF system. It incorporates 81 contrast detection points, as well as 37 phase detection points embedded in the imaging sensor. The phase detect points made the AF much faster with Four Thirds lenses in the pre-production unit we saw during our briefing on the camera. Plus, when using Micro Four Thirds lenses, the contrast and phase detect systems work in concert during continuous AF to bolster the camera's AF tracking performance.
Burst shooters can look forward to both speed and buffer depth in the E-M1. With continuous AF and metering, the E-M1 is said to allow 6.5fps capture for up to 50 RAW shots. If you don't need continuous AF, you can boost it to 10 fps for up to 41 RAW shots.
Like many new cameras these days, the E-M1 has built-in Wi-Fi. While Olympus's old camera control app only supported auto shooting, the new Olympus Image Share 2.0 app gives you access to all the camera's main shooting modes for full manual control, should you want that. It'll even operate in Olympus's Live Bulb shooting mode, which shows you the progress of a Bulb exposure as it's being captured.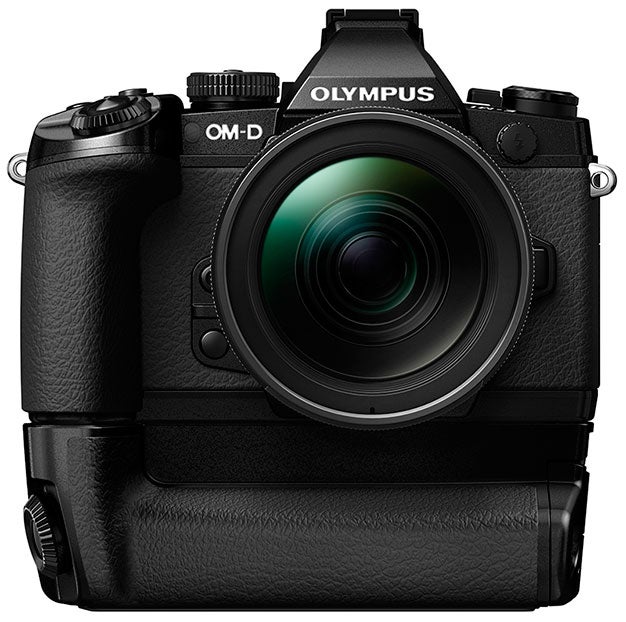 Instagram fans should take a look at all the E-M1's art filters. The new Diorama II let you mimic the stripe of sharpness flanked by blur of a tilt-shift lens, though this time with a vertical stripe of sharpness, rather than the horizontal one offered by Diorama I. In addition to the filters, the E-M1 can automatically create an HDR from three exposures, automatically assemble a time lapse movie up to 100 seconds long, or automatically shoot at intervals from 1 second to 24 hours, for up to 999 frames. If you want to let the camera sit capturing images for 999 days though, we suggest you spring for the AC adapter.
As if all of the new camera features aren't enough, Olympus has also announced two new lenses. One, the M.Zuiko Digital ED 12-40mm (24-80mm equivalent) f/2.8 Pro lens, will be available when the E-M1 start shipping. The other, the M.Zuiko digital ED 40-150mm (80-300mm equivalent) f/2.8 Pro, won't be available until the second half of 2014. Together they represent the launch of a new line of lenses that Olympus is calling M.Zuiko Pro. These new lenses are meant to be the best that Olympus makes for the Micro Four Thirds system and will have dustproof and splashproof construction to compliment the weather sealing in the E-M1.
The E-M1 and 12-40mm f/2.8 lens are expected to start shipping in October. The body-only price is estimated to be $1,400, while the kit with the 12-40mm f/2.8 lens is estimated at $2,200.