New Gear: NEC Display 30-inch MultiSync PA302W Monitor
For when color accuracy is super-important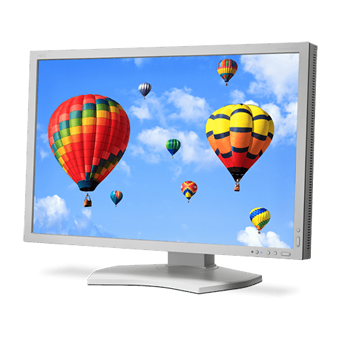 We may earn revenue from the products available on this page and participate in affiliate programs. Learn more ›
Color is crucial. So, if you spend a lot of time staring at a screen, it should probably be chromatically consistent. So for situations where you really, really need to have the most accurate color possible, you'll want a monitor like the newly announced 30-inch MultiSync PA302W from NEC Display. Capable of showing 99.3% of Adobe RGB and 100 percent of sRGB color space, it uses GB-R LED backlights, which provides a wider color range than conventional white LEDs, and uses 44% less power than comparable CCFLs.
The MultiSync PA302W is a 30-inch screen, with a 2560 x 1600 resolution and 10-bit wide color gamut AH-IPS LCD panel. It can be used in both portrait and landscape orientation, has 1000:1 contrast ratio, and 340cd/m2 brightness. There's a laundry list of features, including:
10-bit active matrix AH-IPS panel with GB-R backlight and no-sparkle, antiglare coating
2560 x 1600 resolution
340 cd/m² brightness and 1000:1 contrast ratio at 44 percent less power than CCFL
Near perfect (99.3 percent) coverage of Adobe RGB and 100 percent of sRGB color space
Internal 14-bit programmable 3D lookup table (LUT)
Comprehensive input panel, including DisplayPort, mini-DisplayPort, HDMI and DVI-D
Built-in USB hub (2 up, 3 down) with DisplaySync Pro to control two computers with only one keyboard and mouse
4-way ergonomic stand (150mm height-adjust with locking base, tilt, swivel and pivot) with quick-release capability
AmbiBright™ ambient light sensor, which automatically adjusts the displays' brightness based on external lighting conditions
SpectraViewII Color Calibration Solution, which includes software and colorimeter to provide automated monitor matching and calibration for accurate, consistent and repeatable color performance (included with PA302W-BK-SV and PA302W-SV)
Optional accessories, which include a Mini DisplayPort to DisplayPort cable (PA-MDP-CABL) for connecting devices using Mini DisplayPort or Thunderbolt technology, display hood (HDPA30-2), SpectraViewII software (SVIISOFT), NEC custom colorimeter (MDSVSENSOR3), complete SpectraViewII Color Calibration Solution (SVII-PRO-KIT) and 2W USB sound bar (SOUNDBARPRO)
The basic model will set you back $2,499, and that price will climb to $2,649 if you want the version that comes with a calibrator. Both are available in black or white, and should be available this month.