Enfojer is an Enlarger For Your Smartphone
Ever wanted to do some dark room printing from your smartphone?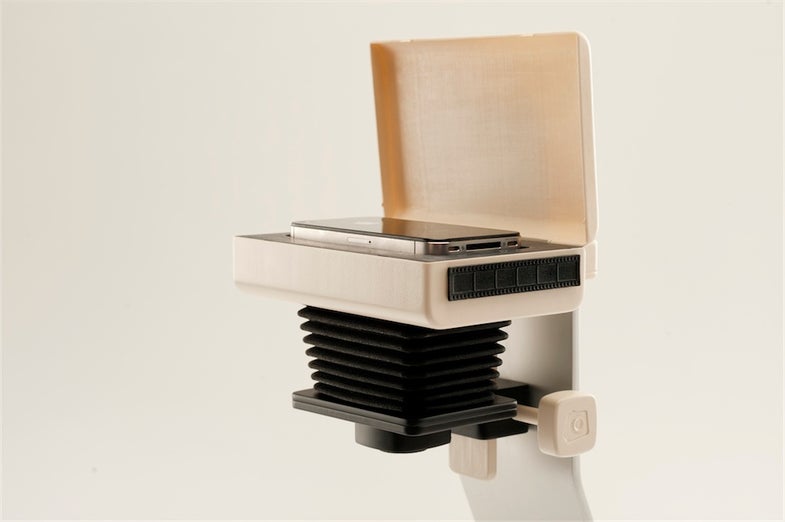 We may earn revenue from the products available on this page and participate in affiliate programs. Learn more ›
The Enfojer is an IndieGoGo campaign that will merge two very different types of photography: shooting images on your smartphone, and then printing them in black and white using this special photographic enlarger. It brings the world of smartphone photography into the traditional techniques of home photo developing and printing, but without actually needing film.
The Enfojer works by using any smartphone as both the negative, and light source for the enlargement, beaming it down onto photographic paper up to 6×6 in size. If you've used an enlarger before, the basics of focusing and size adjusting seem essentially unchanged — but for this, you load up the smartphone instead of film. But, since the phone is entirely encased in the enlarger, how do you start the process? Simply by snapping your fingers, which starts the exposure.
Since the project is on IndieGoGo and not Kickstarter, Enfojer gets your money regardless of if it hits the goal or not. The actual Enfojer will set you back $200 if you get in early, and up to $450 if you want the version with a red LED light, photographic paper, and trays.
You can also use the Enfojer to print from film negatives, which uses the smartphone's display as an illumination source to beam through the celluloid. It'll probably be dimmer than a traditional enlarger, but there's no real reason it shouldn't work.
Of course, you'll still need to track down the printing chemicals yourself, but you can grab those from your local photograph store, or online if need be.