Review: Lowepro Photo Hatchback 16L AW
A small, versatile bag that actually fits quite a bit of gear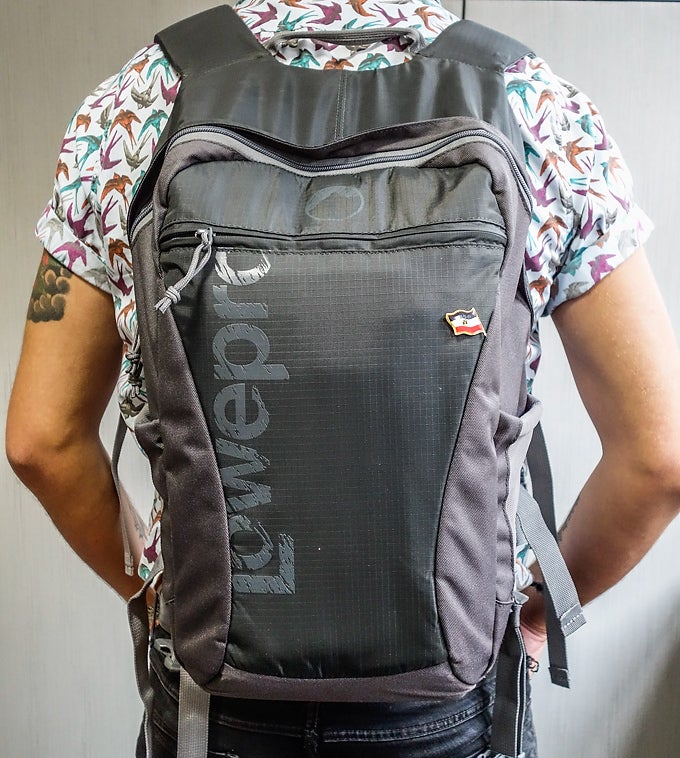 We may earn revenue from the products available on this page and participate in affiliate programs. Learn more ›
What Is It?
The Lowepro Photo hatchback is a small, light-weight camera backpack consisting of a three primary compartments, with versatility as a primary concern. A "hatch" compartment that opens from the back is the primary gear storage area. The bag also offers a front pocket, which can easily fit an 11″ laptop or a tablet, and a front upper pocket for carrying personal items.
Storage
The bag itself weighs in at only two pounds. It is approximately 18 inches tall, 10 inches wide and 7 inches deep. Despite its very small size, this bag can actually fit a surprising amount of gear.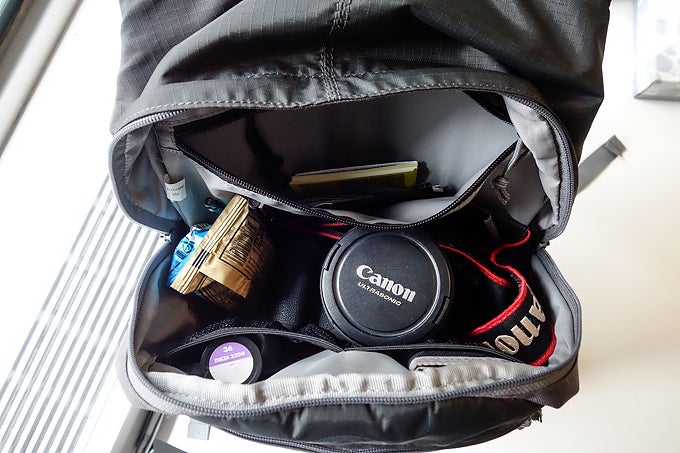 I recently brought it to a concert and managed to fit a Nikon D700 with a 24mm f/2.8 lens affixed to it in the top compartment, alongside a flash. In the bottom gear compartment I stowed a Nikon D300, a 50mm f/1.8 and an 85mm f/1.4 lens along with a few memory card wallets and several packs of AA batteries. I even had room to bring along some snacks, a notepad, and a water bottle. The ability to carry non-photographic stuff is essential in a daypack.
When I got to the concert, the bouncer took one look at my tiny bag, and waved me through without even asking to look inside. It's unassuming and makes use of its internal space in a more efficient way than nearly any bag I've used.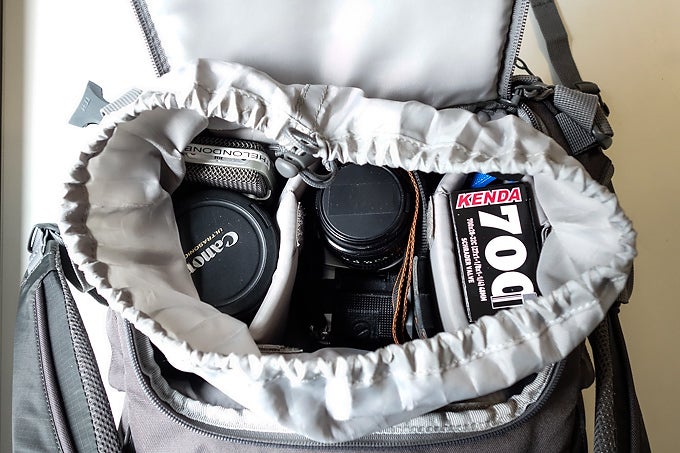 The hatch zippers open, revealing a drawstring which opens to the gear compartment. Lowepro made it so one can simply remove that entire gear compartment, and stow it, if need be–pretty nifty. It's secure and easy to access, but it's not great if you're often grabbing for gear in a hurry.
The hatch is perfectly places to sit right above you butt, resting computably against your back. This placement makes even quite a lot of gear feel reasonably lightweight. I also found out that when not using the bag for gear, the compartment makes for an excellent cooler for drinks and food.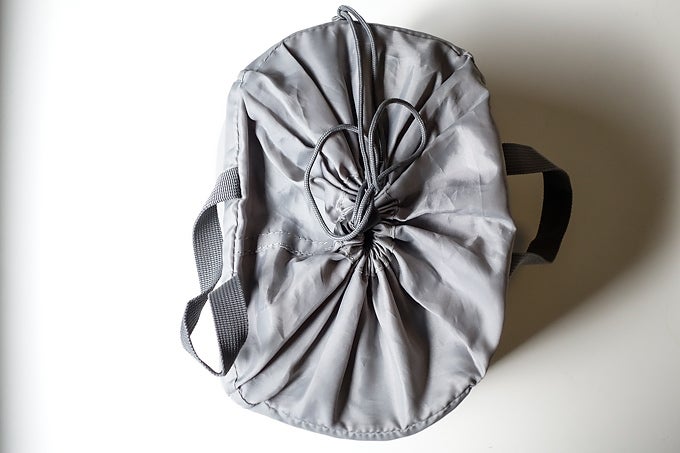 The top personal compartment is fairly deep. It consists of two mesh elastic pockets and a zipper pocket with a key hook. Again, its big enough, without too much else crammed in it, to fit a mid-size DSLR with a small lens attached. The front pocket is split into two sections, but definitely don't expect to fit anything in it that is any larger than an 11″ notebook.
Fit
**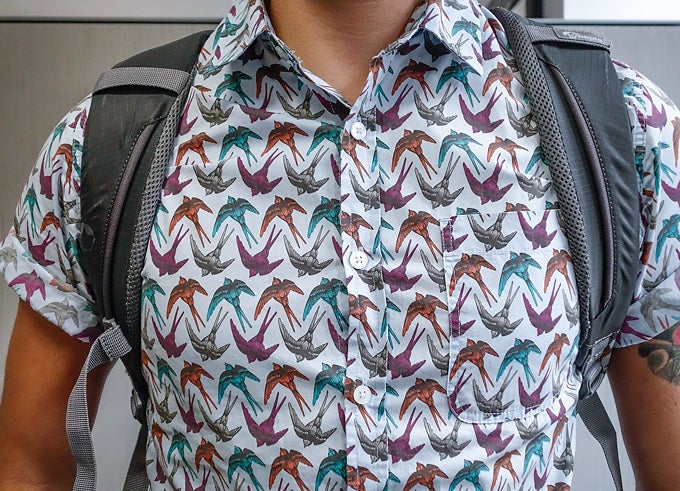 **
This bag is small. If you are a very large individual, stepping up to the next size might be a better choice. That said, the Lowepro Photo Hatchback 16L AW is very comfortable. The backside is well padded with thick, squishy mesh, making it both soft and breathable. The straps are also nice and thick with a similar squishy material. lt also offers a chest buckle and bottom buckle which we consider to be essential for a bag meant to be worn all day.
Other Stuff We Liked
All Lowepro bags feature a rainsleeve that tucks into a compartment under the bag. Unlike other bag manufacturers, Lowepro actually attaches it to the bag, which is very convenient. So convenient that I actually find myself using the rain cover.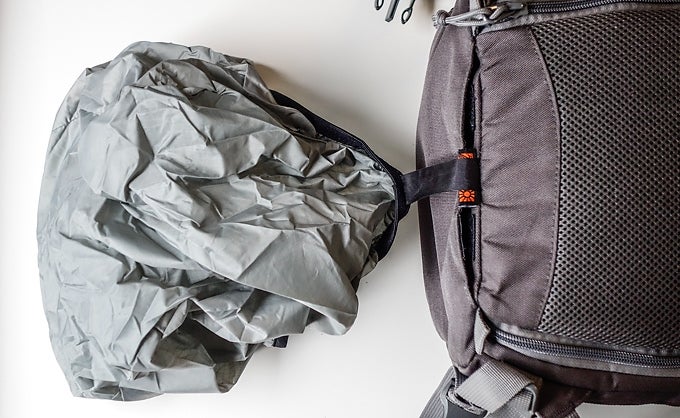 Since beginning the field test, I've started using this bag as my primary biking bag when I go out for rides. Instead of storing a camera in it, I use it to carry a water bottle, some snacks, a bike pump and extra tubes. I can easily do 30 miles on a bike, and not even notice that bag is there.
Another advantage of bringing the bag riding is its supreme weather resistance. No matter how much rain we're talking, my stuff always stays dry.
Who Should Buy It?
This bag is perfect for city-slickers and rural adventurers alike, as long as you aren't hauling any big lenses around. It offers ample storage and versatility, in a comfortable, breathable package.
The subtle styling doesn't scream our "Hey I'm hauling camera gear!," but it won't get you denied at the door of a swanky party either (ehh maybe it will). My only complaint is the giant Lowepro logo on it, but if you can get past that, you're looking at a top notch choice, and for $80, how could you go wrong? Get your's here.
More photos below: