LightRight Combines Video LED and Flash Bouncer Into One
Why choose between a flash or an LED array, when you can use both?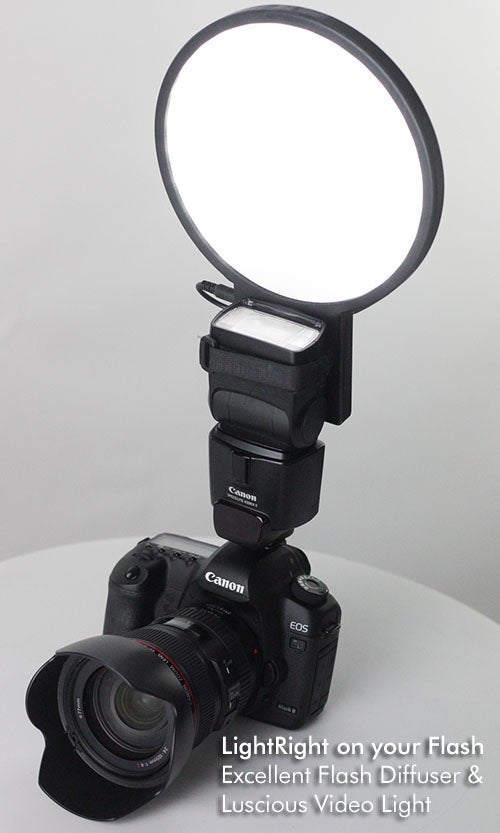 We may earn revenue from the products available on this page and participate in affiliate programs. Learn more ›
With just one hotshoe to your camera's name, choosing between an LED array for video or a flash can mean either leaving one at home, or swapping between two in the field. A new IndieGogo campaign aims to change that by combining the devices into one. The LightRight is a small, thin LED set that serves double duty as a bounce card for your flash.
Using everyone's favorite high-tech attachment technology (velcro), it's a half-inch thick set of LEDs that's small and light enough to attach to the strobe that you have set on your camera. So when you need a constant light source for video, you just flip on the LEDs, and the rest of the time it performs like a bounce card for your flash.
It looks a bit large and ungainly, manufacturers ColorRight have managed to design a setup that weighs less than 1lbs, and is only half an inch thick. We'll still be curious to see how it affects the handling of the camera. It uses Samsung LED chips, and outputs light at Daylight 5600 ± 200 Kelvin. It hits about 1200 lumens of illumination, and is available in either standard kit ($89-$99), or a pro kit with a few more accessories ($139-$149).
Keep in mind that since this project is funded over IndieGogo, and not Kickstarter, even if the LightRight doesn't hit its full $25,000 funding goal, the company still gets all the funds that were pledged.
Full press release follows: