Lens Test: Nikon 18–35mm f/3.5–4.5G ED
Nikon's new wide-to-normal has awesome distortion control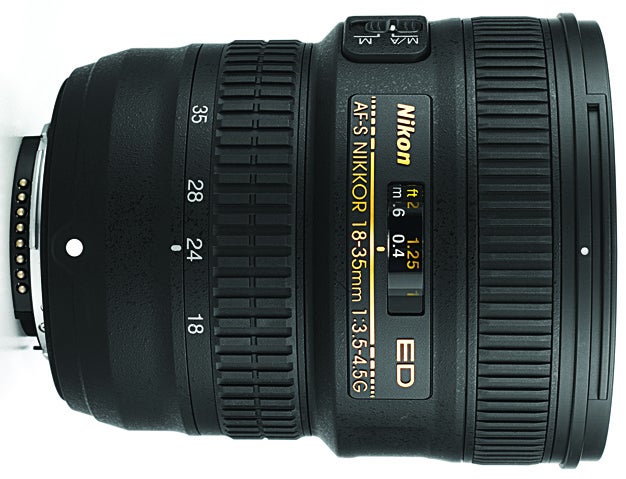 We may earn revenue from the products available on this page and participate in affiliate programs. Learn more ›
Announced in January 2013, Nikon's new full-frame 18–35mm f/3.5–4.5G ED AF-S ($747, street) will undoubtedly soon replace the still-in-stores 18–35mm f/3.5–4.5D IF ED ($610, street). That zoom, tested here in April of 2003, has grown long in the tooth, and doesn't have the optics to compete in today's lens market, especially with regards to distortion control.
Our test lens is the lightest of Nikon's current full-frame, wide-to-standard G-series zooms, and it is also among the lower-priced FX zooms in the company's catalog. Like all AF-S lenses, it harbors a built-in AF motor that suits it to all autofocusing Nikon SLR and DSLR bodies.
Upon picking it up, we were immediately struck by its light weight (it almost feels hollow), though it balanced nicely on our Nikon D4. Its focus and zoom rings turn smoothly and evenly. While the autofocus action isn't the fastest we've seen, it is adequate in speed and among the quietest, thanks to Nikon's sonic SWM focusing motor.
In the Popular Photography Test Lab, we found Excellent-range sharpness and contrast numbers (SQF) that nearly matched those of the 2003 test.
But our DxO Analyzer Version 5.0 tests of distortion control uncovered dramatic improvements. The new lens suppressed barrel distortion to the Slight and Visible ranges, while the older lens showed Very Visible distortion at the three tested focal lengths. At 35mm, for example, barrel distortion was reduced to 0.17%, down from 1.35% on the old lens—a huge improvement.
The new lens also offers significantly higher maximum subject magnification at 35mm—1:4.33 versus its predecessor's 1:6.5. (Neither Nikkor, however, beats the Tokina's 17–35mm f/4 AT-X PRO FX, which at $599 sells for less, yet delivered Imperceptible-range distortion at two out of three focal lengths and 1:4.02 magnification at 35mm.)
A good choice for vacations, landscapes, interiors, street shooting, and any time you want to pack light, the 18–35mm f/3.5–4.5G is a welcome new player. If you're leaning toward Nikon's bargain D-series 18–35mm, think of the hours you'll spend tweaking perspective control in software to correct for that barrel distortion, then reconsider.
SPECIFICATIONS
18–35mm (18.59–34.41mm tested), f/3.5–4.5 (f/3.29–4.50 tested); 12 elements in 8 groups. Focus ring turns 110 degrees; zoom ring turns 70 degrees. Focal length marked at 18-, 24-, 28-, and 35mm.
Diagonal view angle: 76–44 degrees
Weight: 0.92 lbs
Filter size: 77mm
Mounts: Nikon AF
Included: Lenshood, soft case
Street price: $747
Website: nikonusa.com
TEST RESULTS
Distortion: At 18mm, 0.67% (Visible) barrel; at 28mm, 0.27% (Slight) barrel; at 35mm, 0.17% (Slight) barrel.
Light falloff: At 18mm, gone by f/5.6; at 28mm, gone by f/5; at 35mm, gone by f/5.
Close-focusing distance: 10.16 inches
Maximum magnification ratio: At 18mm, 1:7.46; at 28mm, 1:5.19; at 35mm, 1:4.33