New Gear: Toshiba to Offer World's Record Write Speeds With Exceria Pro SDHC Cards
How does 260MB/s read and 240MB/s write speeds strike you?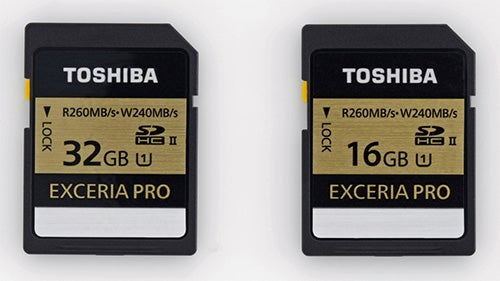 We may earn revenue from the products available on this page and participate in affiliate programs. Learn more ›
Toshiba has just announced two new lines of SDHC cards, both of which are UHS-II compliant, and one even hits what the company is calling the world's fastest write speed at 240MB/s.
Set to launch later this year, the Exceria Pro and Exceria cards will both offer extremely high-speed data transfer, suitable for your enormous Raw and video files. The Exceria Pro is expected to launch this October in both 16GB and 32GB sizes, with a read speed of 260MB/s and a write speed of 240MB/s. Come November, the slightly slower Exceria will launch in the same size capacities, and also a read speed of 260MB/s, but a write speed of 120MB/s.
Toshiba hasn't announced what the cards will cost when they initially launch in Japan, but with those high write speeds, they'll probably cost a pretty penny. But if you're dealing with high-speed, large files (especially Raw format), being able to shoot without worrying about getting stuck buffering could be a life saver.