New Gear: Manfrotto Top Lock Quick Release
Manfrotto has a new quick release system — and it's Arca-Swiss compatible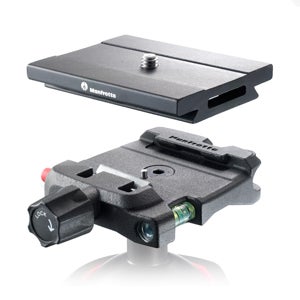 We may earn revenue from the products available on this page and participate in affiliate programs. Learn more ›
Manfrotto's recently announced a new quick release system for its tripod heads, designed to be light, easier to level, and quicker and easier to use. The Top Lock Quick Release System was just announced in the UK, but has been around in the USA for a short while.
The new system is available as either just the plate, an adapter for extant heads, or as ball-heads with the system built in — with prices likewise ranging from less than $30 to more than $350.
The Top Lock Quick Release System allows you to drop your camera in from above, rather than having it slide in from the side, and most interestingly it's Arca-Swiss compatible. In a press release, Manfrotto said:
The Top Lock Quick Release System also has three bubbles for accurate placement, and ease of leveling. It's also constructed from "light aluminium and stainless steel offering weight savings without any performance sacrifices."
If you want to try out the new system on your existing tripod gear, an adapter will set you back $112.