New Gear: Manfrotto Goes Mini with Pixi Tripod
Small enough to fit in a bag, but strong enough for a DSLR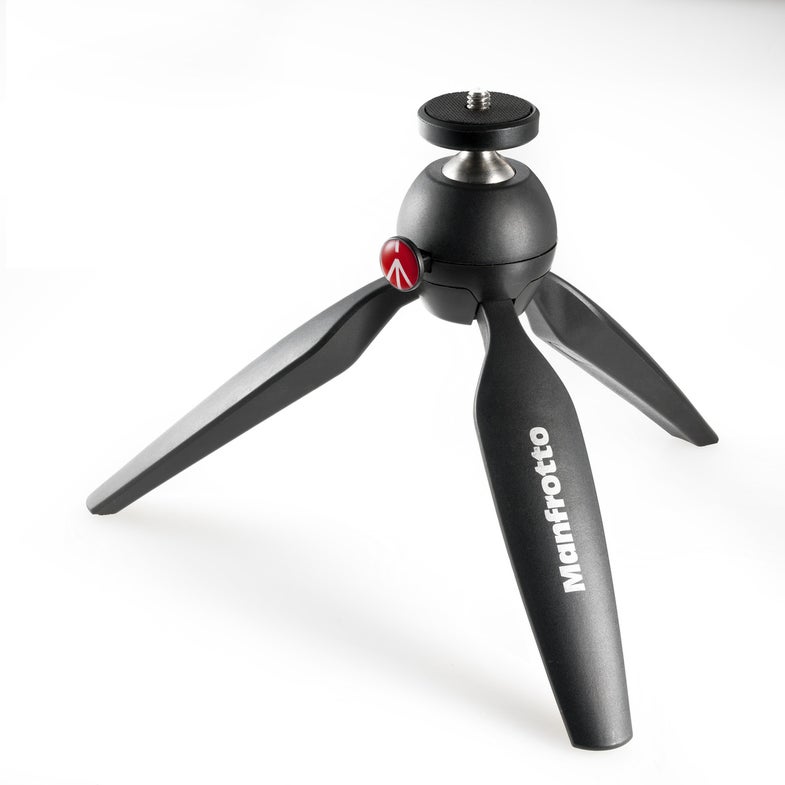 We may earn revenue from the products available on this page and participate in affiliate programs. Learn more ›
Manfrotto's newest enty in its expansive line of tripods is decidedly on the tiny side — the appropriately named Pixi mini tripod. Designed for smartphones, compact cameras, and the smaller varities of ILCs and SLRs, it provides stability in a package that weighs just half a pound.
With a closed length of 7.28 inches, the Pixi collapses down to a size that's easy enough to slip into a purse or small bag. It has a standard 1/4-inch tripod screw for compatibility with most devices, and can either be used with its legs splayed as a tripod, or collapsed as a video grip. The maximum height of just over 5 inches isn't going to have your camera shooting from particularly high angles, but for grabbing group photos or long exposures using a small camera, it should be ideal.
While Manfrotto does claim that you can put a DSLR on the Pixi, this isn't the proper place to load up your full frame camera. It's rated for a maximum body weight of just 1.4lbs, and lens focal length of 85mm, up to a max total weight of 2.2lbs. In other words, an entry level DSLR, with either a kit lens or fast prime — which is probably what the majority of DSLR owners shoot with.
The other cool feature of the Pixi is that the Manfrotto logo acts as a button to lock and unlock the ballhead. Just push it in to unlock the head, adjust, and then you're ready to shoot.
The Pixi is available for just $28, which should make it affordable enough for most folks to just pick one up and throw it in their bags. For comparisons sake, the Gorillapod Hybrid will set you back some $40 for the same 2.2lbs of camera gear.
[via The Phoblographer]