Zoom H6 Audio Recorder Has Swappable Microphones, Mounts to DSLRs
The new Zoom H6 puts professional level audio quality and controls on your DSLR — or the palm of your hand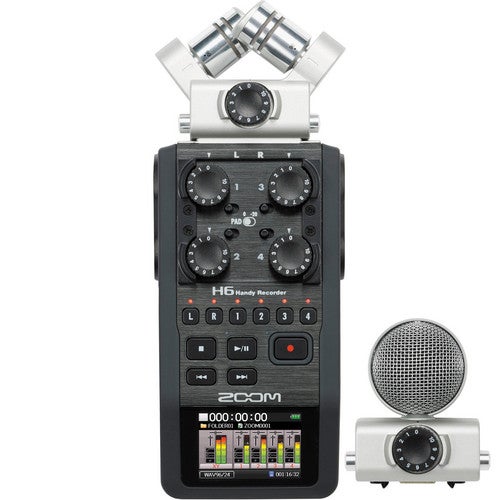 We may earn revenue from the products available on this page and participate in affiliate programs. Learn more ›
If you're thinking about getting serious in DSLR video, you'll quickly realize that the built-in microphone is, well, not very good. So, an external recorder is essential. One of the most popular models is the Zoom H4N, but now there's an update in the form of the H6 and it brings some substantial updates.
Available for pre-order and expected to ship next month for $400, the Zoom H6 is billed as the world's first ultra-portable six track recorder. It offers six track simultaneous recording; along with multiple mic inputs, each with dedicated gain controls and pad switch. There's a large, full color display to keep an eye on levels and control the device, and it records to SD, SDHC, and SDXC cards up to 128GB in MP3 or WAV formats. You can also squeeze 20 hours of recording time out 4 AA batteries.
There's a laundry list of other features designed to impress sound recorders, like:
But probably the most impressive feat for the Zoom H6 is that it features a variety of hot-swappable microphones, allowing you to easily switch to an input method that suits you best. The base unit ships with XY and mid-side stereo modules (pictured above), but you can also purchase a shotgun mic, extra inputs, or other accessories.
The Zoom H6 will go for $399.99 when it becomes available, and we haven't heard more information about what the extra mics will set you back. For more of a glimpse at the huge feature set of the H6, check out the YouTube video below.