New Gear: Zeiss Touit Lenses Now Available, Gets Pricetag
The first few of Zeiss' new range of mirrorless prime lenses are available to purchase, and they aren't cheap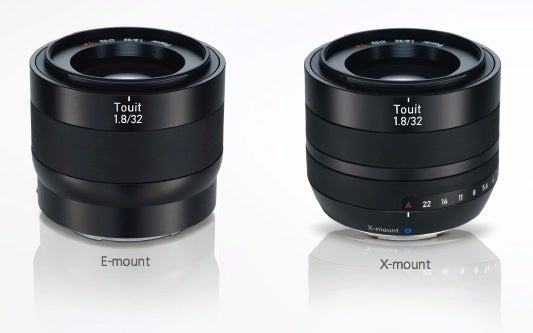 We may earn revenue from the products available on this page and participate in affiliate programs. Learn more ›
Designed for Sony NEX and Fujifilm X-series ILCs, the Carl Zeiss Touit lenses are the premium lens manufacturers new push into the world of mirrorless cameras. The first two entries in this series, a 32mm f/1.8 and 12mm f/2.8 have been given an official price, and are now available to buy.
The 32mm f/1.8 has a recommended price of $900, and the 12mm f/2.8 will go for $1250. Both lenses are available for both Sony and Fujifilm mounts, feature autofocus (but no image stabilization), and are designed for lightness as well as optical quality. Since Fujifilm X-mount lenses require mechanical aperture control, these Touit lenses use 1/3 stop steps on a control ring.
The wideangle The Touit 2.8/12 features 11 elements in eight groups, floating elements, two aspheric lenses and three lens elements made of high quality glass materials with anomalous partial dispersion. The Touit 1.8/32 is designed as an everyday normal lens, has eight elements in five groups, and weighs just 210g.
The third lens in the family, the Touit 2.8/50 Makro, is expected at the end of the year.
As for how the lenses perform, the first reviews of the Touit glass are just starting to arrive.