Review: ioSafe SOLO G3 Rugged External Hard Drive
A truly disaster-proof drive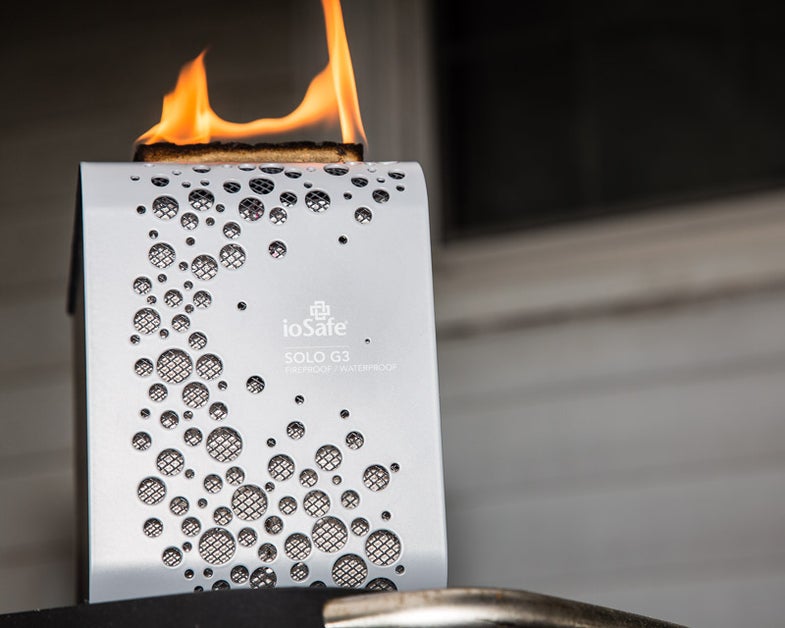 We may earn revenue from the products available on this page and participate in affiliate programs. Learn more ›
It's not often I find myself holding a high-capacity hard drive above a bathtub full of warm water. So, when I tested the ioSafe SOLO G3 External Hard Drive, it made me a little nervous. But, as far as backup solutions go, it promises to be one of the toughest, so I gave it a dip. Later, I lit it on fire. It kept on working.
What is it?
Hard drives are crucial, but can be rather fragile, so ioSafe locked theirs up in a veritable fortress that's resistant to water, fire, and theft. They also promise to help recover data that is lost in the off-chance it does fail. The idea is to keep your most important data as safe as possible.
What's good?
There's a lot to like about the SOLO, but the first talking point is clearly its durability. The G3 can survive total submersion in water to a depth of 10-feet for up to 72 hours. I reluctantly dunked it into a full bath tub for one minute and it came out unscathed. Later, I left it in the tub for an hour and it still came out just fine.
Fireproofing makes it resistant to temperatures of 1550-degrees. After several minutes on my grill, it was clear that they weren't kidding about that part, either.
The extra protection they offer with their Data Recover Service is also nice. The first year of coverage is free. After that, you pay a monthly rate ($.99 or $2.99 per terabyte per month depending on how much coverage you want). That way, if your drive gives up the ghost, you get a chance for a forensic data recovery team to get it back for you. I didn't actually end up killing my test unit, so I didn't have to try this, but it's nice to know that it's there for sure.
The warranty is similarly robust, promising to fix or replace the hardware no matter what kind of disaster happens to send the drive to its grave. Even if it's an embarrassing mistake on your part, which it often is.
Transfer speeds are as you'd expect for a USB 3-equipped drive and thanks to its fanless design, it runs incredibly quietly. It's not quite silent since you can still tell the drive is spinning inside, but it's quieter than many of my smaller drives.

Not so good
As the SOLO in the name suggests, there's only room for one drive inside the housing, so capacity options are limited to 3 TB. That also means you can't double up your data using RAID, which is always a nice safety feature. If you're planning on cracking it open and swapping the drive for a higher capacity, this also probably isn't your best option. The drive needs to be in there tightly to keep out the elements so swapping isn't as simple as it it with some others.
That tough housing also makes the whole box extremely heavy for an external hard drive. It weighs in around 15-pounds, which is impressively hefty. It's about the size of a small toaster. Luckily, it probably won't be moving around munch once you've set it up, but you'll need to clear some room on your desk for it.
Features
Despite its size and rugged nature, the G3 is actually a very nicely-designed drive. The circular vents on the front of the device are rather artfully arranged. There's a hardware switch to turn the drive on and off, which is nice in a system like this that you might want to turn off when there's the chance of power surges.
The back panel of the drive has very little going on, leaving openings of the power cord and the USB cable and not much else. Simplicity, in this case, is desirable.

Who should buy it?
For some people, this drive seems like overkill, but when it comes to backup, overkill can be a good thing. At $300 for 1 TB of storage, you're definitely paying a premium, but you're also getting a year of data recovery and a drive that honestly seems like it could survive just about anything. If you're going to buy one, though, it seems spending the extra $100 for the 3 TB version makes the most sense.
Ideally, this would be a secondary backup drive where you keep your most valuable data. Since you can't make the data redundant within the SOLO, you'll need another backup to go along with it if you truly want to be safe, which makes it a nice complement to a cloud service or a less-burly (and cheaper) hard drive.
Most importantly, though, it inspires confidence in your backup. Even if you don't need the data recovery service, it's nice to know it's there. And if your'e the type that sweats over stuff like that, the extra cost is probably well-justified.