New Gear: Think Tank Mirrorless Mover Bags
Think Tank's newest bags are aimed squarely at portable ILCs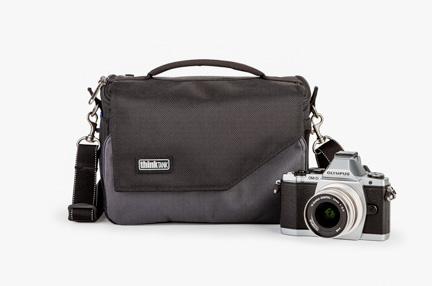 We may earn revenue from the products available on this page and participate in affiliate programs. Learn more ›
Think Tank has unveiled a new series of small camera bags, aimed at ILC-shooters who use bodies that are smaller than traditional DSLRs. The Mirrorless Mover series of bags will be available later this month, and are the perfect size and shape for slipping in your NEX or Micro Four Thirds cameras, and maybe a lens or two, depending on which size you opt for.
The bags range from $35 for the diminutive Mirrorless Mover 5, which has space for a camera, a small lens and a smartphone; all the way up to the $70 Mirrorless Mover 30i, which has a dedicated tablet pocket and space for a body and a couple of lenses. Of course, just because there's Mirrorless in the name doesn't mean you can't use the bags for other things, the smaller options would be excellent protection for a slightly bulkier high-end point-and-shoot, and you could easily put a small SLR in the 30i.
The bags all feature belt loop attachments, easily accessible front zippered pockets, stretchable side pockets, and built-in rain covers. The top flap also features embedded magnets to quickly open and close the bag to get to your gear.